`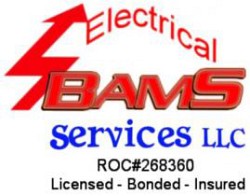 BAMS Electrical Services LLC
BAMS Electrical Services LLC

License:

268360

Years In Business:

1980

Company Overview:

BAMS Electrical Services LLC offers licensed electrician, electrical services in Phoenix, AZ since 1980. BAMS Electrical Services is a full service Licensed Electrical Contractor.

No matter how large or small your electrical job is, we have professional and courteous electricians ready to respond to your home and business electrical needs.

When you call some electrical contractors, you may not know what to expect. When you call BAMS Electrical Services you can expect great service from the first call, and you can expect a clean cut, drug tested and background checked electrician who you can trust to be around your family, your pets, and your possessions. We're ready to help, so give us a call!
Reviews By Customers
Review by: james koza from Mesa AZ
Work Description: worked on breaker box
Comments: brian was great
Review by: Willbo
Work Description: Electrical Check for overheating Pool Pump
Comments: On time. Nice guy. More than Fair Price. I will be calling on Brian agian.
Review by: Scott Erickson from Mesa AZ
Work Description: Diagnose & repair not functioniing spa. Founbd shiorted heater. Replace.
Comments: Part had to be ordered, Brian maintained contact with me and kept me informed of progress. Excellent service,
Review by: Ryan
Work Description: Install two new 20 am breakers and lines to back patio of home.
Comments: Brian (and Steve) exceeded my expectation. Their quote of the work to be done was more than fair. They showed up when they said they would, were courteous, and did a great job. I had no issues and am so satisfied that I will certainly use them again in the future and gave my mom their number for running a new line for her hot tub. These guys are great.
Review by: C.D. Fountain Of The Sun
Work Description: He handles all my electrical work (you name it he does it!)
Comments: He is a very good electrician, the best I ever had!