`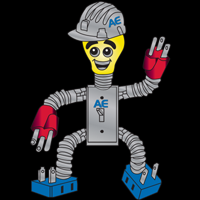 Affordable Electric

License:

CA04160

Main Services:

Electrical contracting

Years In Business:

1992

Company Overview:

Welcome to Affordable Electric, your complete source for all your electrical needs. We are a fully licensed, bonded, and insured company offering the very best in service in electrical wiring, repair, and rewiring. New Construction wiring is our specialty. We offer full wiring service for manufactured homes, without disruption to ceilings or walls. 24 hour emergency electrical services available. All work is guaranteed completion on time, and we are reliable, honest, and offer firm, flat rate pricing for all jobs.
Reviews By Customers
Review by: robert (Bob) Stanton from Minneapolis MN
Work Description: have not had work done as of yet. But I no sooner logged out from e-mailing you I had a call from affordable electric ( Nick) if the quality is as good as their response then its a 10
Review by: Richard D. Howell
Work Description: Determine reason for no current at an outlet in kitchen. Having been fairly knowledgeable of home electricity, I had already eliminated every reason I remembered to check for the reason, but to no avail. Being 72, and that many years have passed since my active application of what I knew, I was very embarrassed when he located 2 GFIs outlets in the circuit that I was having trouble with. He re-set one of them, and I was back in business.
Comments: Although I had agreed to the quoted price, I feel that the electrician should have had a little authority to make an adjustment to the quoted price. He was in the home for less than an hour, and the labor actually performed minimal, to say the least. He should have been able to call his office to advise them of the simplicity of the work involved, and suggest an adjustment to the price quoted. I AGREED TO THE QUOTE BEFORE THE ELECTRICIAN ARRIVED, SO THAT WAS MY CALL. I am satisfied with everything else.
Review by: Harriet Stahl from Andover MN
Work Description: Installed 220 plug in for electric cook stove, but the huge job was running the wire from the electrical box to the room where the stove was. (through the ceiling, etc.)
Comments: The owner and his assistant were both very courteous, careful, clean and prompt. I highly recommend them. Their price was my best estimate.
Review by: Randy Keillor from Cambridge MN
Work Description: Replace all smoke detectors and install carbon monoxide detectors.
Comments: Everything was outstanding. Prompt service, efficient, punctual, reasonable price. Aaron was outstanding.
Review by: Tim Peterson
Work Description: Install a light fixture in kitchen over island.
Comments: I scheduled an appointment for Friday, but Aaron was in the area and stopped by the same day I called for an estimate. He was very pleasant, his knowledge and skill was impressive. He was done in less than an hour and the cost was very affordable. I will definitely call them again.
Review by: Dennis Hope
Work Description: Replace exhaust fan and light fixture in bathroom.
Comments: Aron showed up exactly on time, was friendly and professional. The work was done quickly and exactly as I requested. I will recommend them to everyone.
Review by: Tim from Saint Bonifacius MN
Work Description: Replace service panel inside and out
Comments: Very knowledgeable in what needs to be done no cutting corners
Review by: Randall Hild from Anoka MN
Work Description: I needed a short fixed. Affordable came out and found an underlying wiring problem. They had me fixed up the very next day.
Comments: Their rates were affordable and they took the time to explain the problem to me. I would recommend to friends.
Review by: MIKE HILTNER from Minneapolis MN
Work Description: FIND OPEN GROUND WIRE.
Comments: 1st. people to call. Heard form another 2 days later. These people are excellent and should I have another problem, I will call them. Price was high, but for a weekend I can't blame them. These people are nbr. 1 in my book!
Review by: Dave Nixon from Inver Grove Heights MN
Work Description: Fix wiring short and then had them do some other odd electrical jobs that I had been wanting to do.
Comments: Excellent service. Called back instantly and showed up sooner than expected which was great. Highly recommend Tim and his company to anyone.
Review by: rich pranke from Saint Paul MN
Work Description: Repair and replacement of old wall sockets and lights.
Comments: Quality work in less time than I would have ever thought imaginable. The electrician was also informative and helped me understand the problems, etc.
Review by: Tom N
Work Description: Ran a new 20A dedicated circuit for over the range microwave.
Comments: Would rate 99% of the work as exceeding expectations. One minor nit - didn't clean up wood shavings after drilling through the joist. Price changed several times for "added" work and since I thought it was high to begin with, was a little annoyed. Nice work otherwise.
Review by: Scott from Saint Michael MN
Work Description: Tested circuits that we were having power issues and located problem outlet. Replaced outlet to fix problem, and presented options to fix the problem from happening again. We will look at these options and have the necessary work done at a later date. We were pleased with the professionalism of the tech. and the quick response. It was a matter of minutes from the time I sent the email, to having someone call me. It was 20 minutes later we had the tech in our home correcting the power issue we were having.
Review by: neil carls001@umn.edu from Saint Paul MN
Work Description: Light bulb and ballast replacement. Installed dimmer switch on a light
Comments: The electrician was very neat and courteous. The work was completed on time. The communication was great. I am very satisfied with the work.
Review by: Gary Harris from Minneapolis MN
Review by: Customer
Comments: Nick is GREAT
Review by: Suzanne Wood from Minneapolis MN
Review by: Sybil Luft from Champlin MN
Work Description: Repaired switch plate wiring
Comments: Really nice guys, flexible with me in the scheduling, great price and fixed my problems quickly!
Review by: Brett Brett Klooster from Saint Louis Park MN
Work Description: Changing a hard-wired oven connector to a plug-in connector.
Comments: I appreciated the ability of them to be able to get a technician out there same day so that I could hook up my new oven. I took a day off work to receive the oven and didn't want to take another day to wait for an electrician. I was very happy with the speed of which they were able to service me. I was pushed back ETA-wise until late evening which was originally early in the afternoon, but the fact that they could get to me same-day was still a lot better than others quoted. I paid $200 dollars for 1 hour of work. However, the technician was nice enough to hook up the new connector and help me install the new oven and move out the old one. However, due to the way that the outlet plug was placed they had to tape it to the floor which wasn't an ideal situation. However, it's a plug to an oven that no one will see until they put in a new one so I can't really dock them much on it. I would say overall it was a good experience, I wish it was a little cheaper but I feel that the service was very prompt and quality of the service was high.
Review by: Sue from Minneapolis MN
Work Description: rewire and install new electrical box to make room for new electric water heater
Comments: Knowledgeable, hard working electricians--three of them helped with our project and all were great.
Review by: Kim Olson Olson from Minneapolis MN
Work Description: Upgrading an old electrical panel with breakers.
Comments: I received a call to set up an estimate only a few minutes after sending the email requesting one. Nick came out and gave me a few options, then I called a few days later after receiving several other estimates and choosing Affordable Electric. The work was done quickly and well the only mix up was a plug in that wasn't grounded correctly and once it was noticed they came out within a few days to fix it. Overall it was a pleasant experience.