What to do if You Suspect Your Cleaner is Stealing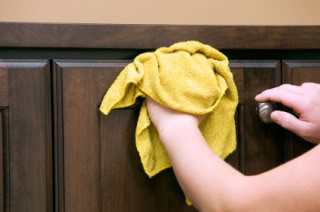 Hiring a cleaning service can be a helpful, stress-relieving act. It can free you from time-consuming activities like making beds and tidying up, and allow you more free time to spend on hobbies, relaxing, and your family. However, if you don't fully trust your cleaning service, or if you suspect them of stealing, that once relaxed feeling of carefreeness they provided will vanish instantly and transform into stress and worry.
Any time you allow a worker to be alone and unsupervised in your home – whether it's a service technician or a cleaner – there are risks involved. Whether you live in New York, Los Angeles, or anywhere in between, hiring a cleaner who you feel is trustworthy cannot ensure that theft won't occur.
Unlike landscapers, a cleaner is often given a key or left alone in your home for long periods of time. Though he or she may not be looking to steal, if they come across valuable items or money it may be too much to resist. If you are suspicious of your cleaner, the following are some steps you can take.
Verify the Theft
If you suspect that your cleaner may be stealing from you, it's important to gather actual proof. You may have spotted some things missing, but this alone is not enough to prove that theft has occurred. One way to check is to leave out a certain amount of money. Don't leave it in an obvious place that makes it look like bait, but put it somewhere slightly out of the way yet easy to find. Make sure you know exactly how much money there is. The more bills the better; and you might want to have a few different denominations. Leave the money out when you know that only the cleaning person or staff will be home. Check the money after the staff is gone, before anyone else has had time to enter your home.
Alternatively, if you want actual proof of the theft and to see who's doing it, you can install surveillance cameras. These items are not too expensive and can be hidden in a variety of discreet locations. However, you'll need a minimal knowledge of computers and technology to set up the cameras.
What to do Once You Have Proof
Once you have proof that a cleaner or number of cleaners are behind the thefts, you have two courses of action. If you did not hire the cleaner through an agency, you can contact the police and tell them exactly what you have discovered. If you used an agency, you can either contact it or go right to the police. It's important to know your cleaning employee's full name and address if possible. Confronting the cleaner directly may be unwise because they will probably disappear without returning any of the items.
Tips
When you begin to notice missing items, keep a record. This will help you verify exactly what has been taken and will provide you with details which you can pass over to the police.
When hiring a cleaner or a cleaning service, it's important to make sure they are reliable. This includes, among other things, that they are both bonded and insured. As long as they are, you should probably be able to your items returned or at least reimbursed for them.
Top Cities Covered by our Cleaning Services