Steve Graham

|

Jan 24, 2011
Replacing a Tub or Shower? What to Spend On & What to Save On
You can save money on your bathtub, and put the savings toward other bells and whistles for your bath or shower.
Posted by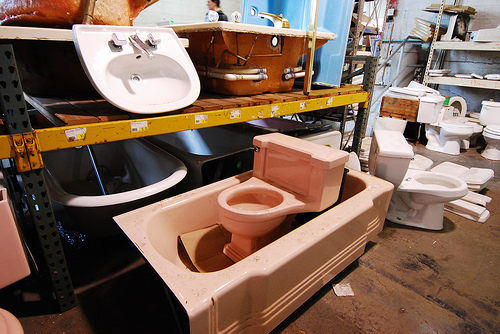 It may seem counter-intuitive, but the biggest item in your bathroom remodel need not be the most expensive. If you are replacing a bathtub, you may be able to cut costs on the tub and put the savings into flashy upgrades for the tub surround, faucets and showerheads.
Where to Save
Bathtub: A cast-iron tub can cost far more than the four-figure initial price tag. As soaking tubs get larger and deeper, all that cast iron gets very heavy. The extreme weight could cause structural damage, and may make DIY installation very difficult, particularly on upper floors.
With the proper care, solid acrylic bathtubs are nearly as durable as cast-iron, but may be much cheaper. On the other hand, avoid the cheapest fiberglass tubs. They typically do not last as long.
Where to Spend
Tub surround: A leaky tub surround is a prime source of potential water damage and mold. Buy the right material and install it correctly to avoid leaks and problems. Solid-surface tub surrounds and shower enclosures are expensive but durable, and impervious to water. Quality tile can be much cheaper, but installation is trickier. Make sure to properly use high-quality grout and grout sealer.
Avoid cheap plastic tub surrounds. They may seem like a good deal, but you will likely end up replacing them within a matter of months.
Shower heads: Massagers and other bells and whistles can turn your bathroom into a spa. Consider that a high-quality $100 showerhead is cheaper than a couple of hours at the spa — for years of pampering. A hand-held sprayer with multiple massage settings means every family member and guest can customize the shower every day. Hand-held sprayers also make cleaning the shower easier.
If you install multiple shower outlets, make sure you are able and willing to install larger water-supply lines, if needed. Without enough water pressure, your pamper factor will be diminished.
Be sure to consider a showerhead arm extender for tall guests, and an anti-scald fitting to protect children.
Faucet: Look for solid brass or copper bath and shower faucets. They are worth the extra cost as they will last longer than zinc-alloy alternatives. Don't fall for cheap plastic. You'll pay at least twice because plastic faucets will need to be replaced in short order.
Also spend a little more for special coatings that protect the metal. Delta Brilliance line and other similar products have special protective coatings that limit damage from minerals in the water and cleaning products.
There are also some great new faucet options. Some high-end faucets have pressure-balance valves that prevent the water temperature from suddenly spiking, such as when someone else flushes the toilet. Other shower faucets have electronic or manual heat memory, letting you quickly return to the same heat setting as your last shower.