Guide to Eliminating Cigarette Smoke Smells
Homes that smell like smoke don't appeal to most prospective buyers. Eliminating the smell of smoke from your walls isn't impossible, though there are a few steps that you'll want to take to get rid of the stench prior to putting your home on the market.
Posted by Harriette Halepis

|

Nov 11, 2009
---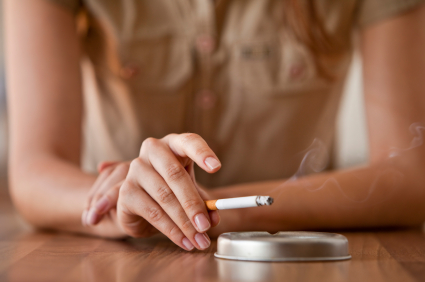 How do you rid your walls of the smell of cigarette or pipe smoke? Before you think about putting your home up for sale, make sure to take a look at this guide. While buyers may ignore the fact that your home belongs to a smoker, it's nearly impossible to ignore a home that reeks of smoke.
Elbow Grease, Vinegar, and Baking Soda
Removing the residue caused by cigarette smoke is no easy task. Not only will you have to get rid of the smell of cigarettes, but you will also have to brighten up walls, molding, and windows. Believe it or not, windows, walls, and crown molding become a shade or two darker after being exposed to cigarette smoke for a number of years.
The best way to brighten your home is to mix vinegar with warm water. Mix one cup of regular vinegar with two cups of warm water, and add a dash of baking soda. Then, remove all furniture from the room that you are working on, and cover any installed rugs with plastic or fabric. Next, dip a clean rag into the vinegar mixture, and start scrubbing room-by-room (top to bottom) until ceilings, windows, and walls are no longer stained from cigarette smoke.
Paint
If you cannot get rid of that smell completely, then you may have to paint each room inside of your home (ceilings and walls). Paint fumes will likely get rid of any cigarette smell, though you should be careful about the colors that you choose.
Keep in mind that most home buyers do not like bright or unique colors. To remain on the safe side of things, make sure that you choose a neutral color such as "eggshell" or "cream" (these colors will also make your home appear larger).
Removing Smoke from Carpets
Any wall-to-wall carpeting inside of a home will also have to be cleaned prior to opening a home to prospective buyers. Cleaning carpeting is a bit tough, since years of smoking can really seep into carpet fibers, though it is possible.
The best way to clean carpets inside of your home is to rent a carpet cleaning machine. By thoroughly washing and drying your carpets, you can get rid of the smell of cigarettes. If you aren't sure of your shampooing abilities, then you may want to call a qualified local carpet cleaner to handle this job.
Alternately, if you have hardwood underneath your carpets, you can rip up carpeting completely, and refinish any hardwood. Not only will this get rid of smoke smells, but you'll also increase the value of your home, since most people enjoy the look of hardwood.
After Your Home is Clean
If you still smoke, try not to smoke inside of your home once you have cleaned your house. Non-smokers will be able to detect the slightest smoke smell right away, which may mean that all your hard work has been for nothing. You can eliminate the smell of smoke from your home by following the steps listed above. Getting rid of years of smoke will take some work, but it will be time well-spent when you sell your home.
---
Top Cities Covered by our Cleaning Services: