---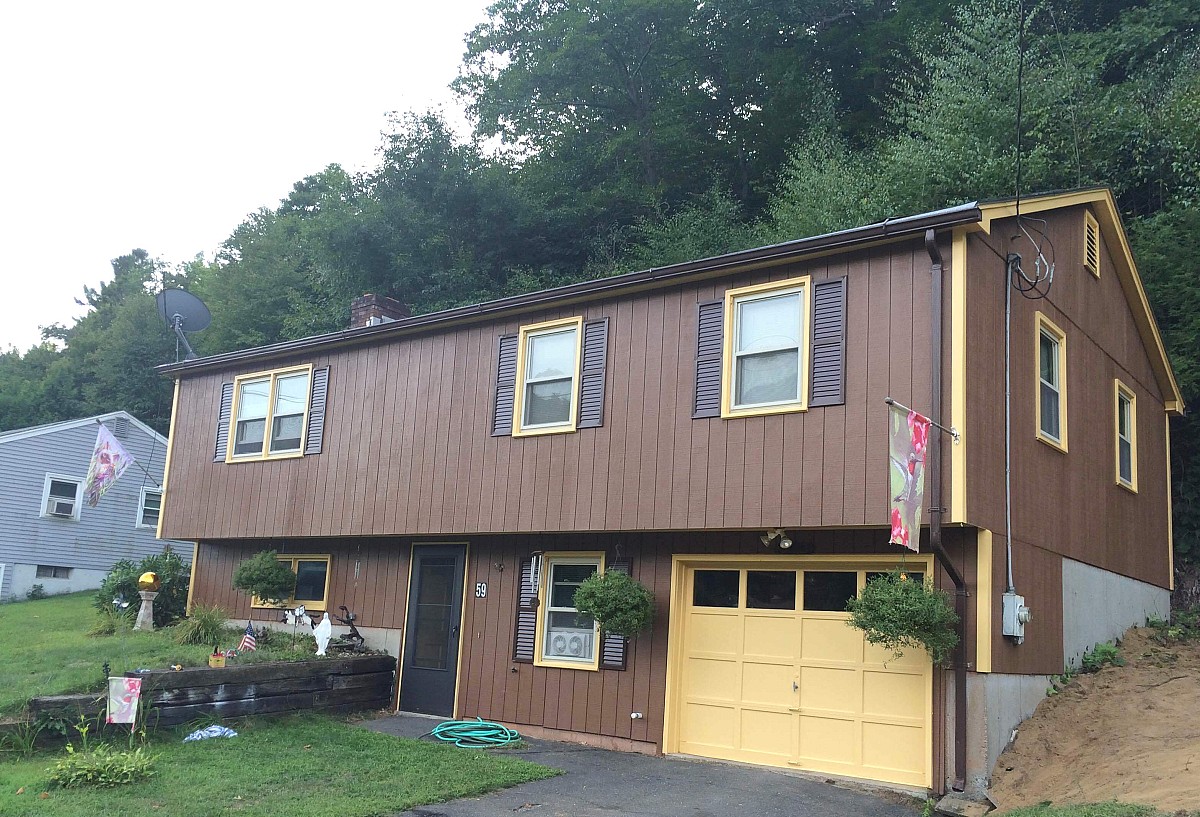 Mom and Dad bought this house in '78. I was born in western PA. My dad was a salesman for the railroad back then. And then we went to Wisconsin, Long Island, Connecticut, and we ended up a few miles up the road in Chester. After that, Dad got transferred to the state of Washington. My twin sister and I were only 12 years old, and my mom told him, "You're going by yourself or getting another job." He took an office job, so we ended up here in Massachusetts.
To make a long story longer … I lost my dad 10 years ago, I lost my mom 3 years ago. I never planned on living here in their old home, but I took care of Mom right till the bitter end. Then I ended up buying my sisters out. The house needed some long overdue TLC, because it had been neglected for over 3 ½ years. Looking at it, I said, "I can't do it myself." So I needed a contractor.
It was really weird – I was on my iPad and I was just looking for house painters and stainers. Whether I pushed the wrong button or not, Andy of Golden Feather Painters called me and said, "I see you were looking for some work done on your house." I answered, "Yeah, as a matter of fact."
One thing led to another and the price sounded right. When he said, "This is going to be done in a couple of days," I kind of chuckled a little bit, because they had a few other jobs going.
Andy and his crew took care of the job fast, though, and when they were done, man! It was like night and day.
They did a fantastic job of stripping and staining the wood siding. I just couldn't believe it. I mean, it looks better now than it did in 1978. It's gorgeous, absolutely gorgeous. I love the wood with the stain. Everybody's going vinyl now but wood lasts so long. Like Andy said, "Every year, we'll come in and we'll throw the clear on it and you won't have to worry," and I said, "Great."
I also did a lot to the inside of the house – I've gone right through it. It looks so nice. I sit up on the end of the street and I go, "That's mine." It makes you feel pretty good.
Now everybody on the street says, "We're going to have to fix our places up because ours look like crap and yours is the best one on the street." I had the house refinished, then I put a shed in, and the reaction was "Is Kenny selling the house or what?" I said, "No, I'm getting it done so I can relax."
Andy was great at things like getting to know me and what I wanted, explaining everything to me in detail, looking at things, measuring things right to the button, and figuring out what needed to be done and what we might have to do down the road. He knew how much money I had to spend and told me, "Cut a couple of corners now and in a few years, you might have to replace this." He was very, very honest.
There are some things I want done here eventually, like a new bathroom window in my shower. I just couldn't swing it this year, but definitely next spring I'll call him up and have him do it. I'd absolutely call Andy. Because if I called him tomorrow, he'd be here tomorrow.
Golden Feather are good. These guys know their business.