---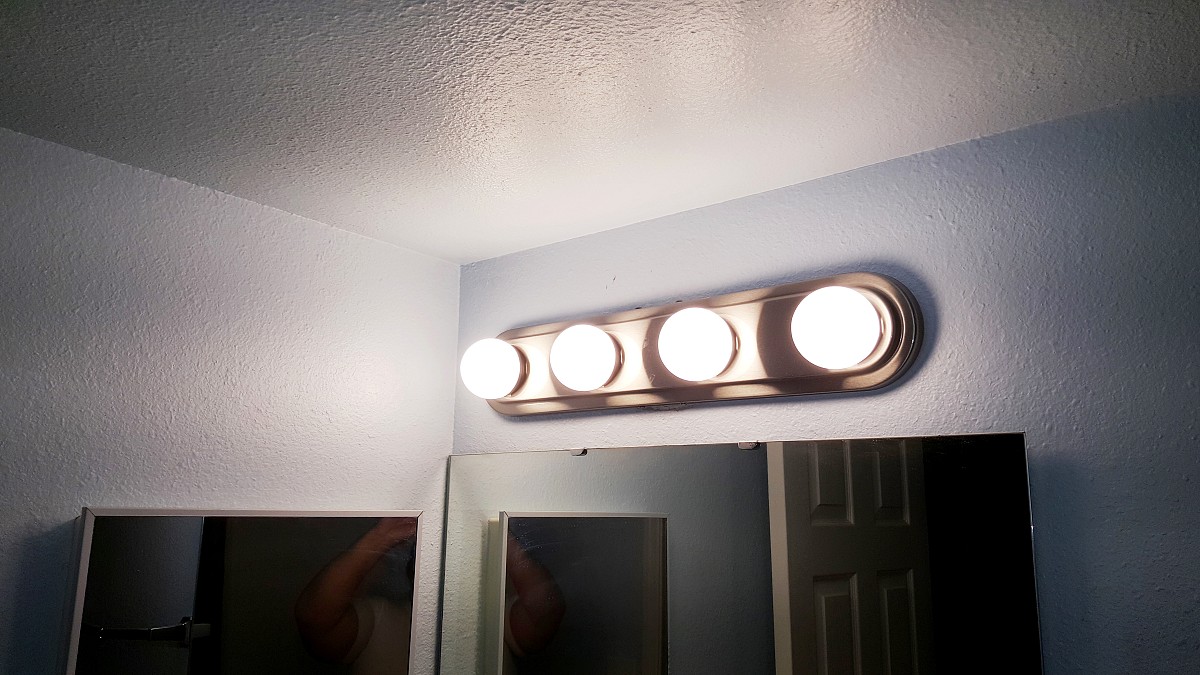 This is going to make me sound bad, but I'm a procrastinator when it comes to getting stuff fixed around the house. First my bathroom vanity light went out and I just put it off. Then my kitchen overhead light went out and I put that off. Then finally the master bathroom exhaust fan went out and I decided, "I can't do this anymore!"
That was the tipping point. Then I got it all taken care of at once.
I wanted to repair but also upgrade, going from fluorescent lighting to LED and a fixture with 4 bulbs instead of just 3 over my bathroom vanity. I purchased the supplies at Lowe's and had things ready to go. I'm very particular, I like what I like, so I wanted to make sure that I chose everything myself. I don't want to sound difficult, but you don't want to put just anything in your home. If I'm married to these lights, I'm going to choose them because I'm not afraid to go down with the ship. If I end up not liking the lights, I have nobody to blame but myself, right?
I'm big into reviews and using somebody certified; I'm also cautious and wanted to make sure I found the right person. When I went online, I described the projects as best I could and was matched with several certified contractors. I went ahead and called some of them. Honestly, I wanted to run these people through my own test, which means seeing how they are and how they interact on the phone.
I wasn't really that excited about the first few I contacted because they were tough to get hold of and whenever I did actually reach them, they just weren't that professional. It wasn't a sterling experience, so I kept trying until I found Lights & Switches. First I read their reviews and then called them when I got home. I had a really good conversation with Frank from Lights & Switches, brief but we had a great rapport. He said he couldn't fit me in until the following week, though. I told him I'd prefer not to wait but would get back to him if I couldn't find anyone else.
Probably 30 minutes later, Frank called me to say that he'd be able to adjust his schedule to fit me in, assuming I could do it very first thing in the morning. That worked out perfectly for me … and it could not have gone better. Frank was polite, professional, respectful, and good at what he does. He estimated how long it would take and what the work would entail. He was very upfront and direct, telling me on the phone, "I estimate it will take me about 2 hours. I can't guarantee anything because I haven't seen it yet." That's exactly how long it took and I ended up paying exactly what he estimated. I was very impressed!
I cannot give enough glowing remarks about Lights & Switches and Frank. I've dealt with contractors for other things and Frank is customer-facing but also obviously technically skilled, because he's an electrician. He's the whole package.
Honestly, the experience was so positive that it has made me start thinking about all these other things I can do, like hang up ceiling fans and install a flat screen TV on the wall in my living room. It was that good. I told him "Frank, you're my electrician now and I really look forward to working with you in the future." It really feels good to get things done.
When you're looking for a contractor, remember that you know what you like, you know what you expect. Don't sacrifice your own values for anybody. Don't just settle for "good enough." You know what you want what you need and if the guy – or the person, I should say – just doesn't do it for you, keep looking, because there are so many options out there. You've just got to find the right fit.