Qualified Pros

Get matched with qualified carpentry services in Daleville, AL.

Read Reviews

See what users in Daleville, AL are saying about these carpenters.

Compare Bids

Daleville, AL carpentry services will contact you with free quotes for your job.
Qualified Carpentry Pros in Daleville, AL
Articles and Tips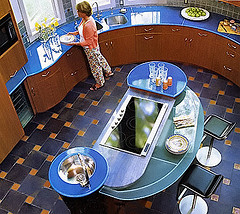 Whether you're replacing old cabinets, remodeling your entire kitchen, or building a new home,... Read More Anyone who's helped a friend move has most likely learned a few things. The first is that they may not... Read More
Searching for a Carpenter in Daleville?
Are you in Daleville and in need of a carpenter's expertise? Whether you want to build a deck, install shelving, or create custom kitchen cabinets, you'll need a professional woodworker to help with the task. Let Networx pair you with the best carpenter in Alabama for your next big project. How do I find carpentry services near me? Using Networx. Our mission is to connect residents in your area with professional carpenters in Daleville. Each carpenter we work with has been thoroughly screened to ensure that they're qualified, licensed, and accredited. To get going, enter your zip code and you'll instantly receive a list of contractors and bids to choose from. After that, it's time to get to work with local carpenters.
Carpentry Services Provided
Stop searching "carpenters near me". Networx contractors are well loved and admired in Daleville. Whether it's a small repair or a larger install, there are few tasks these carpenters for hire can't do. Asking, "How can I find carpenters in my area?" Connect with these handyman carpentry services near me. Common services offered include:
Structural carpentry
Deck build
Disability ramp build
Gazebo build
Custom kitchen cabinets built
Closet addition
House framing
Finish carpentry
Window installation
Built-in shelving
Crown molding
Trim
Doors
Cabinets
Repair
Deck repair
Dry rot removal and remedy
Do you live in Daleville and require carpentry service? If so, we've the right pro for the job. Simply enter your zip code into the
project cost guide
to get going. The carpenter handyman near me will show up. Once that's completed, you'll be given a fee that will depend on the size and scope of the job as well as the following factors:
Labor
Cleanup
Tools
Materials
Whether you need a qualified general carpenter or a finish carpenter, Networx has the right journeyman at an affordable price. Searching for carpenters near me? We have you covered.
Get Building in Daleville
Networx has helped other residents of Daleville; let us help you too! Together, we can find the optimal carpenter for your job, so work can get started (and finished) immediately. You'll be amazed by how fast and affordable the entire process goes. Stop stalling. You know what you need to do. Carpenter quotes for free with these handyman carpentry services near me. Sign up with Networx today and we'll immediately get you your free quote for a carpenter in Daleville.
Carpenters Near Daleville, AL
More Pros in in Daleville, AL
When you have a carpentry problem in your Daleville home or business, choose a carpenter located in Daleville, AL.
By reading reviews posted by your neighbors, you can hire the Daleville Alabama carpenter you want, and be assured of their professionalism.