Main Services: Tile and natural stone installation.Bathroom and kitchen remodeling.
Description: Professional Tile and Stone Installation.
The Quality Your Home Deserves.Let's Turn Your Home Into Beautiful Home.The Place Where Natural Stone Comes To Life!
We offer very professional tile and natural stone installation .High quality of installation with just 1/16'' grout line.
Kitchen back splashes and floors.Bathroom remodeling.Fireplaces.Medallions.Creative wall design.Special floor designs.Patios.Counter tops and a lot more beyond your imagination.Call us today at (925) 639 7114 Dimitre or visit our website:TILESTONEART.COM for more information,some great ideas and a lot more pictures.
See More
3 Reviews
Review Me
Work Description: Demo of shower and installation of new tile on shower and bathroom floor; repaint
Comments: Mr. Mankov, the Tile Artist is a gem. Very proud of his work. If anything seemed a tad off, he would lose sleep, I'm sure.
Work Description: He was referred to me from where I bought my tile and he finished my master bathroom and my mom's kitchen floor and outdoor patio.
Comments: He is fantastic! He is a very hard worker and shows up on time.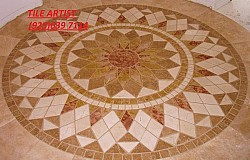 Thank you Jenifer...:)
Work Description: Kitchen floor
Comments: "We originally had'ent planned on including a new floor with our kitchen remodel, but decided it needed to be done half way through our process. Tile Artist was able to come in and tile the entire kitchen and breakfast area in three days! They where able to us valuable time and money, with the best quality we have ever seen. Thank you Tile Artist!"