Main Services: Remodeling, painting, texture, stain cabinets, tile and carpentry
Description: We are a well respected company with 20 years+ experience and counting, we love to travel and meet new people!
We love our work and it shows when we bring smiles to our clients faces!
We do residential and Commercial paint, tile, drywall, texture and carpentry! And more...
We have work insurance.
See More
10 Reviews
Review Me
Work Description: Interior Painting-1 to 2 rooms
Work Description: Leak in stone wall and repair/add drainage in retaining wall
Comments: Soni and his son, Julio, repaired a leak in a stone wall of my house. I liked the job they did on that and had them repair damage to a retaining wall that needed extra drainage. They are reasonably priced, likable and are hard workers. They did exactly what they said they would. I plan on using them for additional work in the future.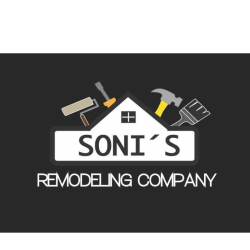 Thank you, we hope to do more work for you.
Work Description: Tile Floor Install also some plumbing work on toilet
Comments: Rogelio and Julio did an outstanding job. They are thorough, careful and know what they are doing. They keep you informed and clean up after the work very well. I will use them again and refer them to others gladly.
Work Description: The job was to repair the wood skirting around our hot tub.
Comments: The job was to repair the wood skirting around our hot tub. The wood was rotting in places and had collapsed. Soni Remodeling came round to quote for the job. The original price was less than I ended up paying, They said that the job would take a day. We organized for them to come on Thursday of the same week. By the end of the day hardly any progress had been made. They asked whether they could come back at the weekend. They came on Saturday and Sunday. We had to change our arrangements so that we were in for them. They still didn't finish the job. Progress was extremely slow. I had to go to Denver for a week. They said they would be back on the following Wednesday while I was away. I left the money with my son, They did not turn up on the Wednesday and called me to say that they would come at the weekend. They did not turn up on Saturday. They came on the Sunday. My son had his kids over and they were running around the garden. The guys said they would finish around 4.00.p.m. but they were still working when my son had to go out and take the kids back to their Mom. He left the money with one of his house mates. The contractors loaded up their truck when they had finished. I think they should have given the woodwork another coat of paint. They left all their mess and lots of nails everywhere, which is dangerous for the kids. They said that they had no room in their truck to take away all the discarded wood they did not use. Now an unsightly pile of wood is in the garden and the whole area around the hot tub needs cleaning up. They are very thorough and meticulous with their work and I am surprised that they did not clean up properly after the job. The hot tub looks much better now and the repair is good. However, the stress of them not finishing and promising to come back and then didn't and kept changing the days meant that the job took much longer than it should have. Leaving a mess afterwards was very surprising and not at all satisfactory. They are lovely gentlemen. They said they might come by last weekend to clear up their mess, but they didn't appear. Such a pity.
Work Description: Tile & painting work.
Comments: Julio & Soni did excellent job for us. Both are very detail oriented.
Work Description: Painting and repairs shrock
Comments: Excellent work done on the inside of my house , painting and repairs Shrock Thanks
Work Description: Painting the trim on the exterior of the house and replacing some rotten wood
Comments: Very happy with the paint job.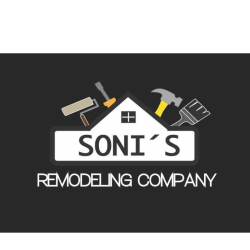 Thank you,
Work Description: paint outside of home
Comments: did a very good jod
Work Description: Painted outside of house.
Comments: Very good job.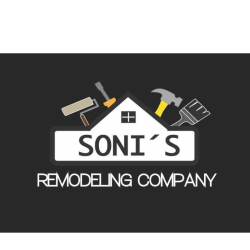 Thanks
Work Description: Soni's Painting did some texturing work for us.
Comments: They did and excellent job and were quick and professional about it. I would recommend them to friends and neighbors.