Main Services: general remodeling, paint, decks, roof and more.
Description: we are focusing on each job.
Service Area: Sequatchie, Ooltewah, Bakewell, Guild, Mc Donald, Whitwell, Hixson, Collegedale, Lupton City, Signal Mountain, Jasper, Cleveland, Lookout Mountain, Soddy-Daisy, Whiteside, Apison, Harrison, Chattanooga, South Pittsburg
What sets us apart from other contractors: same or better job, wirh decent price.
We are best known for: Every customer satisfied for every job done.
See More
3 Reviews
Review Me
Work Description: Pool deck rebuild
Comments: Alex and his crew did a beautiful job from taking down the old pool deck to constructing an entire new deck. The under deck support system is fabulous and the composite decking is beautiful. We highly recommend this Gentleman and his crew to construct a masterpiece. We had extra needs that he took care of and pricing was very fair. We highly recommend Alex. Thank you Alex. See you when we are ready for the next change.
Work Description: Decks/Porches/Ramps - Build
Comments: Alex worked with us on our deck decision. We are excited for him to begin. I will visit this site for final outcome. We have more home improvements for him. Thanks Simon Remodeling! See you soon.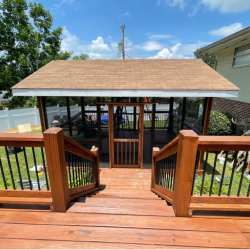 Thank you for let me build your deck project, enjoy it. Thank you for your comment.
mary ann Signal Mountain TN
Work Description: Exterior Painting - Whole House
Comments: They did a wonderful job....