Main Services: Heating & Air Conditioning Service Installation And Repair
Description: Quality and Value Heating & Air Conditioning is licensed by the State of Texas and Insured for your protection. With over 40 years of combined experience, we are the right company to meet all your comfort needs. Big enough to handle your problem, small enough to know YOU! We personally guarantee our work for one year after service.
See More
19 Reviews
Review Me
Work Description: INSTALLED A/C INSIDE AND OUT AND BLEW IN INSULATION AND RE-ROUTED AIR DUCT
Comments: I was so pleased with the work from this company. If you need a/c work done, these are the guys to call. Thank you Darrin and crew, Great Job
Work Description: On time n great workmanship
Work Description: He was a great worker and everything works great
Work Description: Replaced zone control board for HVAC system.
Comments: Great response time and service! Darren is extremely professional and provided fantastic communication of diagnosis & repair actions. Saved a lot of money over other estimates. Highly recommend!
Work Description: Removed ancient gas wall furnace and installed new Cozy 55,000 btu
Comments: I cannot praise that company enough. Several firms came to look at the project. Two of them did not even want to take on that task because it was too much work and probably not worthwhile for them. Another company gave me such a high estimate that there was no way I would want to hire them. Before I made my decision, not only because of the good price, but also because everything was explained so well, I had many questions and they were all promptly answered by e-mail. When I gave them the go-ahead, they put an urgency on the project because we had another cold spell on the way, and they wanted to make sure that I had a working furnace in place and even worked after regular working hours to make that happen.

If there were more than 5 Stars to give, Quan Air Quality and Value would definitely receive them from me. Anyone in San Antonio and surrounding areas would be fortunate and very satisfied if they would let Quan Air take care of their repair or replacement needs. They could not select anyone who is better. All the guys at this company are terrific and I cannot praise them enough.
Work Description: Replaced 20+ year old gravity wall furnace .
Comments: Mr. Quan responded within minutes. Set up an appointment, he and son Darren arrived early. Very neat , professional appearance. Gave me the most reasonable estimate for same furnace as others. They installed as promised and even made re-adjustment as I requested. No questions, problems.. Seamless ! Would definitely recommend to others. Happy Customer :)
Work Description: The furnace was not heating, blowing cold air.
Comments: Joe came out and gave an estimate which I thought was fair and was hired to do the job. He promptly came out the next day and repaired the problem. Darren came out a few days later and did a quality check and did a tweek on the thermostat and all is well. Great job!
Work Description: none
Comments: helped me over the phone
Work Description: Fixed a/c after hours.
Comments: Great service from these guys. Jose came out to fix the a/c at about 9pm. He was very nice and very informative about why the air was not cooling. He had everything with him that he needed to fix the unit. Our landlord could not be reached to approve the fix that night, and Jose even offered to let us borrow a window unit from his personal home! Now that is customer service! Highly recommended!
Work Description: I needed my system fixed cause I was only getting cool off for the heating system.My heater wasn't working.So I needed my heat during these cold times
Comments: I contacted Quan Air and Joe Vallejo contacted me back and we set up an appointment so he could come out and look at it and advise me of my problem.Well Joe did just that and much more.He informed me step by step on what he was doing and even showed me where the problem was and I have never had a tech do that.This shows me that Joe is a very informative Tech and knows his job and he enjoys talking to people.If I ever have any problems Joe will be the first I contact.Quality service and good price.Great Job Joe.These are the type of Individuals that need to be recognized by their supervisors.
Comments: I called on Thursday @ 4:40 pm Joe called me immediately informed me he was out of town, but he would come by later which was better for us due to working late hours. Joe came out within 30 minutes a/c was cooling. Joe gave my husband tips on what to do if other issues arise with a/c
Work Description: Changed out a capacitor? (capacitator?)
Comments: I would definitely recommend this company to my friends and use them again if need be. Darrin called me back immediately, was punctual, and my A/C was up and running before long. Great customer service and very professional. Thank you very much for your great service.
Work Description: Service AC system
Comments: Very professional and would refer everyone to use them!
Work Description: Spring A/C maintenance
Comments: Explained and showed what they did and gave tips on year round maintenance. Will do business with again.
Mary Frisce Mary San Antonio TX
Work Description: Clean out unit.
Comments: Very knowledgeable, helpful and efficient!!!! Would recommend highly to anyone.
Work Description: Clean Pump of slime and hook up pump to the overflow indicator. (Evidently the previous AC installer had never even hooked up my pump leaving me subject to an overflow that would not be automatically cut off and could have ruined my whole unit.) Thanks Joe for identifying this when it wasn't even really the problem. I would have never known. The issue was my filter was working too good. It was a 3 month expensive filter but after 2 months it was completely clogged and I hadn't noticed. My unit froze over.
Comments: It was late on Saturday at 5:30pm and I came home to a hot house. I googled AC repair in SA and came across HVAC Networx. I put in my info and Joe called me back from QuanAir/Quality AC. He was able to identify on the phone basically what the issue was and when he got here it was exactly what he said. He was prompt, thorough and for a Saturday late night call the price was exceedingly fair. I will use them again (but I hope I don't have to) and I recommend them highly as fair, prompt, courteous and above and beyond. At least Joe was and that is who I worked with. :)
Work Description: A/C annual servicing - hard start capacitor kit, starting relay and digital thermostat applied.
Comments: Quan A/C service demonstartes professional workmanship and it is great to see quality services still exist to the consumer.

I would recommend Quality And Value Heating & Air Conditioning to anyone!

Thanks Darrin!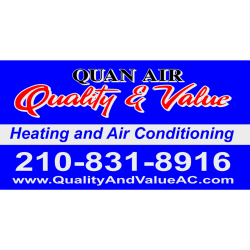 Thank you for allowing us to be your service company.
Work Description: Replaced a motor on AC had a problem in defroster unit and they spoke to manufacturer to reset circuit board.
Comments: I am real pleased with them, very responsive, seemed to know what they were doing.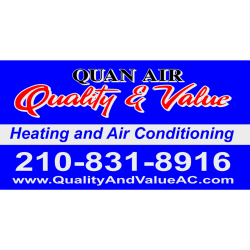 Thank you for your Business. Look forward to serving you in the future.