Description: Welcome to Pride Electric of Central FL, Inc! We have been serving Central Florida for over 13 years. We are a proud "accredited" member of the BBB. Our company offers a wide range of electrical services. We specialize in trouble shooting electrical issues, lighting, wiring and re-wiring, & panels upgrade in both Residential and Commercial properties. Some of these services include ceiling fans, chandeliers, motion sensors, bathroom lighting, Malibu lighting, fiber optics, generators, spa equipment, pool equipment and more. We accept all major credit cards.Contact us today and we will gladly give you an estimate on your electrical needs.
See More
8 Reviews
Review Me
Work Description: Replace ceiling fan and bathroom vanity light with connection box.
Comments: Punctual, efficient and a reasonable price. I would hire this company again for my electrical work.
Kelly Altamonte Springs FL
Work Description: Found bad wire which had been wire wrong sometime in the past (by a do-it-yourself person) (really bad idea) and fixed it. He contacted me and came out the next day. Fixed it right then.
Comments: Nice guy, works fast.
Work Description: 4 ceiling fans was put in
Comments: The person that came out to do the work was on time, did a wonderful job, and was very polite. The price was very good. I had electrician with progress energy come out and the price he wanted was so high, we told him forget about doing the job. I am so glad I came to this site to seek out different options. I would recommend this company to do electrical any time.
Work Description: Replace outdoor panel box
Comments: Responded with quote ASAP, very professional.
Work Description: Run a 110 volt line around the exterior of my home for a septic tank lift pump.
Comments: Outstanding in every way.... good work... fair price.... on time service. I highly recommend this company
Work Description: wired septic tank pump.
Work Description: They have done most of the heavy duty industrial wiring for two of our buildings.
Comments: Extremely satisfied, I highly recommended him, he's very good.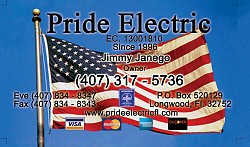 Thank you for your comments. We take "pride" in offering exceptional service.