Main Services: Move-In / out, Commercial, Carpet, and staging cleaning! Pressure washing services also!
Description: Move-In/Move-Out/Post Construction Cleanings:

These are deep cleanings in a house or apartment where there is little or no furniture, or in a home that has had recent construction. These cleanings are done hourly from a list of priorities, typically completed via email.

Ongoing House Cleanings:

We charge a fixed rate for regular service (weekly, bi-weekly or monthly). We may not be able to accommodate tri-weekly schedules. This rate includes the basic tasks listed below:

Living Spaces

Dust knick knacks, furniture, cobwebs and window sills; dust moldings and baseboards as needed; vacuum floors and carpeting; and spot clean wood floors.

Bathrooms

Scour all visible interior and exterior parts of toilets; clean sink, counter, cabinet face and mirror; scour shower/tub walls, floor and fixtures; dust shelving, knick knacks, mirrors and picture frames; and clean flooring including back behind the toilet.

Kitchen

Clean exterior of large appliances; clean inside and outside of microwave; clean underneath and behind small appliances; clean counter tops and cabinet faces; clean sink area; and clean flooring.

Optional Cleaning Services:

Additional cleaning services are provided upon request, for an additional charge. Popular optional cleaning services include, but are not limited to:

• Remove trash and recycling, and replace bags

• Clean small countertop appliances

• Detail clean kitchen items such as burner knobs and dish washer screws

• Clean fingerprints on doorway trim, doors and light switch covers

• Dust blinds (we are only equipped to do a superficial blinds dusting. Scrubbing or thorough cleaning requires a blinds specialist.)

Specialized Services:

We partner with specialists for housecleaning needs that go beyond the regular maintenance of your home. Please contact our office to schedule an appointment if you desire any of the following services:

• Carpet cleaning

• Ultra Premium carpet cleaning

• Area rug cleaning

• Upholstery cleaning

• Blinds cleaning

• Window washing
 
  •   Pressure washing

OUR AGREEMENT

 

Cleaning Times: We do our best to be prompt and meet the cleaning time indicated, but traffic and other clients may affect our schedule. If your scheduled cleaner is going to be more than 15 minutes late, we will contact you. If no arrival time is indicated, then the cleaning will be completed between the hours of 8:00 a.m. and 5:00 p.m. Our cleaners appreciate your flexibility. When possible, please allow for an open time frame rather than an exact arrival time.

[  ] Payment Policy: Payment is due on the day of service. Sorry, we no longer accept checks!


Late Cancellation/No Show Fees: If you wish to cancel or reschedule a cleaning appointment, at least 48 business hours' notice (excluding weekends) is required. We must adhere strictly to this policy in order to prevent lost wages for your cleaner.

If a cleaning appointment is cancelled less than 48 hours in advance, or if the cleaner is unable to enter the house, a cancellation fee of $50 of that cleaning's cost will be charged.

If a cleaning is rescheduled by the client less than 48 hours in advance, rather than cancelled, a fee of $25.00 will be charged.


On the rare occasion that Precise Pristine Cleaning must reschedule an appointment with less than a 48 hours advance notice, a $25.00 credit will be offered on the next cleaning.
What sets us apart from other contractors: If we also electrostatic spray for covid, we specialize in sanitizing
We are best known for: Quality work, good price, & satisfaction
See More
2 Reviews
Review Me
Work Description: Pressure washing
Comments: Reggie did a great job pressure washing my home got all of the mold and algae off my siding!
Work Description: House Cleaning
Comments: They did an impeccable job on Attention to detail. I highly recommend them to anyone looking to do a move in or out cleaning or even just a standard live in cleaning!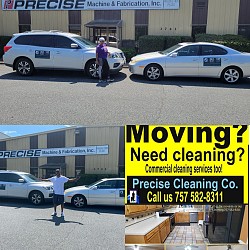 thanks Mr Z. we appreciate your business