Main Services: Drywall contractors
Description: Drywall contractors drywall hanging and taping and repair plus metal framing
Service Area: Gray, Monmouth, Greenwood, East Poland, South Casco, West Baldwin, Lisbon Falls, West Paris, Topsham, Canton, Auburn, Sumner, Fryeburg, Livermore Falls, Freeport, Sebago, Casco, Paris, Bridgton, North Monmouth, Poland, Durham, Oxford, Pownal, Buckfield, Cumberland Center, North Yarmouth, Center Lovell, Raymond, North Bridgton
See More
4 Reviews
Review Me
Work Description: Drywall
Comments: We hired pauls drywall to hang a house we would hire him again
Work Description: Drywall installation
Comments: Did a horrible job and started not showing up and never finished it. Ended up firing him. He complained about his help for the entire time saying it wasn't his fault it was his helper.
Work Description: Drywall Installation
Comments: Excellent work,will hire again to do other project,highly recommended.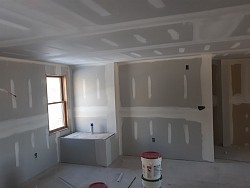 ty
Work Description: Garage Ceiling
Comments: Disappointed, made appointment and did not show or call.