Main Services: Residential Roofing & Commercial Roofing
Description: NY'S FINEST ROOFING & SIDING INC. is a family owned and operated Company in NY, USA. We Service ALL Areas off NY, Long Island, Brooklyn, Queens, Bronx, Staten Island, Westchester, Suffolk and Nassau Country and Other Location's within the vicinity. Our Team has been expertly providing Roofing and Siding Installations for Over 25 Years- Making US the TOP CHOICE among ALL the other contractors providing Similar Services in the Area.

We are FULLY EQUIPPED and LICENSED & INSURED Roofing and Siding Contractors. Our Team Specializes in ROOF INSTALLS, ROOF REPAIRS, ROOF REPLACEMENTS in Areas of NYC, LONG ISLAND, BROOKLYN, Westchester, Suffolk and Nassau County Plus Many Other AREAS of NY, USA
What sets us apart from other contractors: Top Quality and Best Practices........Branding......
We are best known for: Shingle Roofing Installer and Flat Roofing Installer
See More
2 Reviews
Review Me
Work Description: Roof, skylight, and gutter installation
Comments: Excellent work with impeccable results! The team was professional, talented, responsive, and overall amazing! My results are show-stopping. They did an wonderful job. I could not be happier with the results. I would recommend this company to anyone that asks (even if they don't ask). They are that good. The compliments are endless. So happy with the results. Cannot say anything but great things about their work. If you want quality, they are the way to go! Trust me.
Work Description: Roof Rip and Install
Comments: Thank You NY'S FINEST ROOFING & SIDING INC. for keeping us informed ALL the way thru and also for keeping Your Word.......We are so happy with the OUTCOME of OUR PROJECT. 5 Star Performance and I Will Highly Recommend you to everyone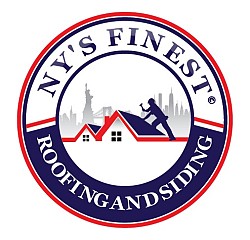 Thanks for the review and the Referrals