Main Services: Concrete Installs and Repairs.
Description: Since 2003, Noel's Concrete has been providing high-quality concrete services to customers in the Denver metro area. Whether you are looking to install a concrete driveway or a concrete patio, rely on us. Our well-trained contractors work with you closely to better understand your requirements and deliver outstanding results. We deliver long-lasting solutions in a timely and professional manner. We use the latest technology and high-quality materials in all our projects. We specialize in a variety of concrete services, including stamped concrete, decorative concrete, concrete staining, colored concrete, concrete patios, concrete driveways, concrete sidewalks and much more. Call us for more information about our services.

Call us today,

720-755-7355
720-451-2911
Service Area: Longmont, Morrison, Thornton, Buffalo Creek, Idledale, Pinecliffe, Dumont, Arvada, Littleton, Indian Hills, Aurora, Eldorado Springs, Golden, Watkins, Commerce City, Lafayette, Wheat Ridge, Firestone, Boulder, Nederland, Eastlake, Dupont, Mead, Niwot, Castle Rock, Parker, Keenesburg, Hygiene, Berthoud, Henderson
See More
39 Reviews
Review Me
Work Description: pour sidewalk
Comments: Noel did the work quickly and it looks great! Based on the quotes that I got, his prices are very reasonable.
Work Description: Foundation and Slab
Comments: The foundation for my build was complex and required that the anchor bolts aligned with the steel columns. Almost every single column lined up perfectly with the anchor bolts. Noel's team was great to work with and I will be glad to work with them again . The flat work was impressive as well!
Work Description: Patio, sidewalk and small fire pit.
Comments: I'm going to have to say one of the BEST experiences I've had. After a month of several home renovations. Dealing with somebody that truly cares about their work, professionalism, and customer satisfaction. Noel, and all of his staff are hands down tops in my book. I truly appreciate every thing. With out a doubt would use again and or recommend for anybody's future projects.
Work Description: Remove & Replace severely damaged back patio, back and side sidewalks
Comments: Mr Noel and his Crew did an Amazing job during tear out and Replacement of my Back Covered Patio Concrete as well as the back and side walkways!! His crew tore it all out on Wednesday and by Thursday evening I had new poured/finished Pario and Sidewalks. Noel is very responsive by phone and text👍👍
Parker Seniors say DO NOT USE THIS Parker CO
Work Description: Tore out and replaced concrete patio
Comments: We tried and tried to get these people to do the right thing and stand behind the product that we paid them $5500 for, but they would not. My only recourse is to let others know about our experience and to strongly suggest that you DO NOT USE NOEL CONCRETE UNDER ANY CIRCUMSTANCES!
In July 2019, we hired Noel's Concrete to tear up and replace our concrete patio at our home. We paid them $4000. We are seniors and this is a lot of money for us. They provided a 1-year warranty. Unfortunately, before the end of 2019, the concrete began spalling, or flaking off the surface of the concrete. We contacted Mariana from Noel's Concrete and, after some unanswered emails and some back and forth with them, they agreed to replace it, but WE had to pay for the concrete, which cost us an additional $1500. The cement was becoming a tripping hazard and was very unsightly, so we agreed and they replaced it in June of 2020. However, this concrete developed a crack before the end of 2020 and began spalling, again, in early 2021. We contacted them in June of 2021, just a few days beyond the 1-year mark, and told them of the crack. Mariana said she would have Noel come and look at it, but we had to pay him for gas. (WHAT?!) This was right in the middle of the global pandemic, mind you, so the fact that we were literally a few days (two days, I think) beyond the one year mark would've been excused by another business in the middle of the pandemic, but not them. They continued to try to hold us to that 1-year warranty, forget the fact that concrete should last decades, not break up after a few months. We finally got Noel to come out in April of 2022 and by this time I was very angry about the whole thing. He said he would put some sort of a sealant on the concrete, but because I wasn't born yesterday, I told him that was not going to stop the rest of the concrete from spalling since it was all the same faulty concrete, nor stop the crack that was already there from getting longer and wider. Clearly, the concrete is faulty and the entire patio will eventually be spalling. At this point, we just want our $5,500 back so we can hire some actual professionals to re-pour our concrete patio. Again, we are seniors and we cannot risk leaving it to continue to spall and create a fall hazard for us.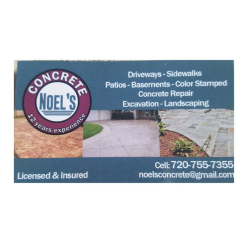 Our contract says one year warranty for ONLY concrete CRACKS bigger than 1/4 of an inch. Not in the flaking off the surface of the concrete a lot of times chemicals are added to the concrete that is not our responsibility this was also explained. We were very nice to replace the CONCRETE once we can't be replacing the concrete at all times, we are a small company and we can't be doing that. Even though a lot of things happened not being treated with respect I'm very nice enough not to mentioned any of that here but we were very respectful at all times. We never charged any gas just want to clarify that, Because you are seniors we are very RESPECTFUL at all times our priority is to treat EVERYONE with respect and we mentioned that many times in our calls. Thank you.
Work Description: Replaced garage floor
Comments: Noel and his team took out my 100 year old crumbling garage floor and poured a new one. Their work was efficient and affordable and my new floor looks great. I recommend their service and pricing.
Work Description: Replaced garage floor.
Comments: Noel's Concrete did an excellent & efficient job of removing the cracked & crumbling floor in our 2-car garage. They set rebar reinforcement before the new concrete was poured & finished. The crew showed up on time & finished the job in one day. Best of all Noel's Concrete had made the most competitive bid. I would gladly recommend the company to friends who need concrete work done.
Work Description: Concret
Comments: This company did a few projects for me. I am satisfied with their work. They provide efficient, proficient work. They are polite and respond to the owner's needs. I definitely recommend them. I will use them in future projects also.
Work Description: Remove/replace old concrete- new driveway + new patios(2)
Comments: We were happy to hire Noel's Concrete and we would again. We had a large job with multiple slopes, steps, old work tear out and several new parts of the job.
3,500 square feet total. They were quick to respond, quick to estimate, provided continuous communication and they provided additional information each time we asked. We wanted to make changes during the project, and they were fair about it all with a great attitude. Work was continuous from the start of the project to the finish. The finished product looks very good (it has been 1 week) and I will work again with them for other projects (my background is 10+ years of residential home improvement and residential real estate) The overall value was very good.
Work Description: Concrete Patio and sidewalk
Comments: Noel was quick and professional with the install of 20 yards of concrete in my back yard. I am impressed and very happy with the end product. The company was also very reasonable with pricing.
Work Description: Concrete Driveways/Floors - Install
Comments: Very professional and polite and have been great with communication for our project and helpful. We look forward to working with them.
Work Description: Remove & Replace Driveway
Comments: This company does very good concrete driveway work. The owners are a hands on people. Their crews work hard, do good work, they are organized in every step of the work. The estimating & price is real. I recommend them. They respond to the homeowner's needs & questions immediately. They keep everyone apprised of the work schedule.
Work Description: Concrete patio and walk way fix
Comments: Noel and his crew did an amazing job with our patio. We love it!
Work Description: Walk way and driveway
Comments: Noel and his team did a fabulous job. Poured exactly to my design. Even suggested an improvement! His team includes his wife who is a delight to work with. His crew is pleasant and professional. Would highly recommend and would definitly use Noel again.
Work Description: Garage floor and driveway replacement
Comments: Noel and his team were fast, efficient, polite, and kind. They did an AMAZING JOB on our new garage floor and driveway!! I highly recommend them for your job!
Work Description: They removed old concrete and landscape and did a new larger driveway.
Comments: Great work at a fair price, I will use them again!
Work Description: Cut out for windows
Comments: Crew showed up on time and performed work in professional manner. Would definitely use Noel's again
Work Description: Replace Driveway
Comments: Noel and his workers cleaned up each day on this project, started on time and completed when promised. Communication was great. Handled crazy neighbor to boot.
Work Description: Concrete path on side of the house tied to the driveway and back patio.
Comments: Work was done in a neat and orderly fashion and very timely.
Work Description: Replaced driveway
Comments: Noel's Concrete did a very high quality job
Work Description: replaced driveway, porch, and added a step
Comments: Noel and his team are a great group of professionals. They were easy to work with and produced a great product. I would recommend them for any job. I can't say enough good things about them.
Work Description: Replace crumbling driveway
Comments: On July 15th Noel began the job of tearing out the old driveway and by the morning of July 17th he began the completion by pouring the new driveway/walk way. The work is beautiful and done professionally. I will absolutely refer him to others.
Work Description: Replace damaged driveway
Comments: I have worked with Noel before and he guaranteed his work. Unfortunately vandals damaged the first driveway replacement and Noel returned and replaced the driveway. It look wonderful.
Work Description: Porch Stairs, side path
Comments: Noel did a great job pretty timely and gave a great price. He's very proud of his work, so much so he wanted to fix another section of concrete to make sure his work didn't look bad. He even did it at a discount just so the existing concrete would not effect his work. I will definitely work with him in the future.
Work Description: Concrete.
Comments: Noel is the best. His quality of work is the best. He was on time and professional. Price was the best. I am very happy with my patio. Use Noel and nobody else. You will not be let down.
Work Description: New driveway
Comments: Noel did exactly what he said he would do in the timeline he quoted! Working with he and his wife was a pleasure and the workmanship is perfect. I will recommend this company to clients and friends!
Work Description: Concrete Patios, Walks & Steps - Install
Comments: He never showed up for the project. Really 🙄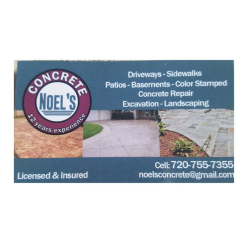 It wasn't a concrete job related. We are specialized in concrete.
Work Description: Porch and stairs re done
Comments: Very satisfied with the work the crew did. Highly recommend. On time, friendly, updated us on progress and timing though out the process. Porch looks wonderful.
Work Description: Resurfaced front porch
Comments: Porch looks great. Friendly crew and on top of things. Was in contact with me though out the process and at end of the work days followed up with me on how things where going. Very satisfied with the work that was done and highly recommend.
Work Description: Concrete Patios, Walks & Steps - Install
Comments: Noel and his team did a fantastic job pouring numerous concrete projects for me at reasonable prices. Noel along with his team were very professional, and polite. I recommend Noel Concrete to anyone who is wanting concrete work done in a timely manner. I will definitely hire Noel again. Don Garcia Bennett Co.
Work Description: Tear out and replace old driveway with new concrete
Comments: My experience with Noel Concrete is a very pleasant experience. The job was completed is a very timely and professional manner.

I would definitely refer his business to family and friends.
Work Description: replaced section of walkway
Comments: I found out about Noel through another concrete company that would not do smaller jobs. He is very fairly priced and did a terrific job replacing a section of our walkway that had buckled. His company also did a great job at communicating when things would be done and any delays (weather related).
Work Description: floor,patio concrete
Comments: They did an amazing job I recomend them 100% I love my new concrete.
Work Description: Install Concrete Driveways & Floors
Comments: They're really great and very friendly.
Work Description: Repair or Resurface Concrete Driveways, Patios, Walks & Floors
Comments: We had an issue with one part of the work, and the owner came over right away and fixed it the way we needed...amazing customer service
Work Description: Concrete Install
Comments: Noel and his crew came in tore out a driveway, side walks and the porch, they did a great job getting the project done, just needed a little more care in removing all of the concrete. and putting things back to the way they found them. They corrected almost all of my issues. Still waiting to get a final concrete patch. I would recommend this company for all of your concrete needs, Noel take a lot of pride in the quality of the work! and will fix any issues if needed.
Work Description: concrete
Comments: They are the best. Noel did what we asked for the best price in Denver.
Work Description: Replaced existing driveway
Comments: This company is the best. Noel listened to our requests. Was very knowledgeable and did a better job than the original builders. I highly recommend this company. Great people!
Work Description: They made our driveway wider and did the steps going up to patio and extended the patio
Comments: They did an excellent job they started on Tuesday were done on Thursday. And at a very good price