Main Services: PLUMBING
Description: Mahoney's Plumbing LLC 636-467-2130
LIFETIME WARRANTY ON RECOMMENDED REPAIRS
OVER 20 YEARS EXPERIENCE. SERVICING ST.LOUIS COUNTY,ST.LOUIS CITY,JEFFERSON COUNTY AND ST.CHARLES COUNTY
SOME OF OUR SERVICES INCLUDE:
WATER HEATERS CODE VIOLATIONS
SUMP PUMPS DISPOSALS
TOILETS (REPAIRED OR REPLACED) DRAIN CLEANING
FAUCETS GAS LINES
HOSE BIBS WATER CONDITIONING
STACK REPLACEMENTS
WATERPROOFING
Service Area: Fenton, Kimmswick, St. Louis, Mapaville, House Springs, Arnold, Ballwin, Liguori, Imperial, Herculaneum, Valley Park, Morse Mill, Hematite, High Ridge, Pevely, Cedar Hill, Eureka, Hillsboro, Crystal City, Barnhart
See More
4 Reviews
Review Me
Work Description: Replaced the faucet that is already bought by owner.
The problem was the leak to under the sink. It was done within an hour.
Comments: The plumber was a gentleman Dennie (not sure of spelling) came 9/23/15 and estimated $200 to replace the faucet, that owner had bought already. He gave me a face, I told him that's too much, he said the best he can do is $165. Denny finished the job without sealing the faucet. When I touched the plastic parts it moves. Dennie said that's the best he can do.

When I splash water on top of the faucet, the water immediately went down THROUGH the spaces and under the sink! I told him about this before I wrote check. He then proceeded to seal it with a clear sealer.

The next day, I had another company's plumber came and inspected the job. This plumber loosened the faucet to put lots of plumber's putty to seal the spaces, then tighten it, put another clear sealer on top to finish the job. I had to pay someone else to correct the lousy job that Mahoney's Plumbing, LLC's had done!!! I can't trust this company's reviews anymore!! It was rated 4.5 out of 5. It's baloney!! It's fake!!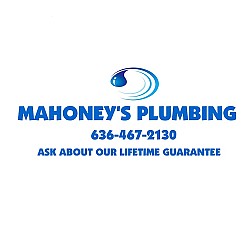 After reading this review I called customer to see what happened seeing how service tech was a new employee and this is not how we perform work. After our conversation I deeply apologized and told her I would have corrected any issue for free but could understand her frustration. I have sent the customer a full refund. As the owner I have always prided myself in the best quality and craftsmanship and I believe my reviews show that. Thank You.
Work Description: Replace main valve, also installed 2 ball valves and a shower valve.
Comments: Mike was excellent. I will definitely use him the next time I have plumbing issues. He knew I was losing $$$ due to my shower continuously running and completed the job in just a few hours. Thanks Mike!!
Work Description: Gave an estimate on sump pump replacement then performed the replacement.
Comments: He arrived 15 minutes early to make the free estimate and had all equipment on hand to make the replacement. He kindly cleaned the tank our before installing the new pump. All in approximately an hour.
My only complaint would be the pump he carries is a higher quality than the one I would have chosen and he did not have a different option. Because of this I paid 20% more than I anticipated. The product and the lifetime warranty he included was worth the extra but I would have preferred a bargain option as well.
Work Description: Clogged dain
Comments: Many thanks to Mike for a quick response and a next day follow up call from his office.