Main Services: Install - Sand - Refinishing
Description: -Install,Sanding,Refinishing
-Custom/Design Flooring
-Staining
-Reparing

(857)615-4907
(781)983-1646
(857)615-4253
Service Area: Allston, Waltham, Mattapan, Somerville, Natick, Newton Upper Falls, Walpole, Sudbury, Milton, Billerica, Wakefield, Newtonville, Norwood, Concord, Arlington, West Roxbury, Wayland, Melrose, Belmont, Waverley, Newton Lower Falls, Wilmington, Nagog Woods Community Corporation, Waban, Lexington, Brighton, Stow, Winthrop, Roslindale, Medford
What sets us apart from other contractors: We Pay attention to small details, Our work is exceptional with no flaws. We treat every project with respect
We are best known for: Installing/sanding/staining
See More
11 Reviews
Review Me
Work Description: refinished two hardwood floors in my home
Comments: JWC exceeded expectations. Reasonable price, on time start and finish of work, but most important their craftsmanship was superb. I intend to use them again when I upgrade my kitchen. Finally, the entire team was friendly and helpful during the process.
Michael & Marguerite Milton MA
Work Description: 300 sq ft of Laminate Floor
Comments: I was given a price by the owner. The co Owner came to do the job, and then charged me $209.81 more than the Owner gave me. When I refused to pay the 209.81 extra. The son called the police. Humiliated me. As I paid up front the owners charge. I felt
SCAMMED .HUMILIATED. And son refused to take box of extra Laminate. Showing me He couldn't even
Figure out. 300 ft. Of flooring. Inexperienced. Told me the laminate cost extra. When the owner His Father said was the same price. Wouldn't recommend this Company!!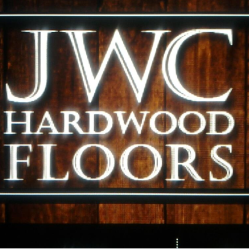 A estimate is given 2 weeks before job started. My father went to measure the job, because I wasn't available, I wrote down the estimate. A estimate changes price is never a exact price, as the officer told you. A estimate is different then a invoice, and as I should you the receipt before I started the job that the material went over the price I quoted, and you said that was ok and we could start the job. We bought extra material because usually laminate floors comes with bad wood flooring, that's what a smart and experienced person does is buy extra in case we need so we don't use bad wood. As you seen other reviews of us, we are very honest people, we do very good work as you mentioned to me when I was there, that was the reason why I should you the receipt of the extra material that we were going to use. A estimate is an approximate calculation or judgment of the value, number, quantity, or extent of something, is not a exact, and you were well aware of that because I should you the number before I started the job. IM EXTREMELY SORRY FOR THE EXPERIENCE YOU AND I HAD AT THIS JOB, AS I SAID THIS HAVE NEVER HAPPENED TO ME. Usually when there extra charges I always let customers know before starting or doing anything.
Work Description: Floor installation
Comments: These guys did an AMAZING job! They were friendly, fast workers and very professional, and our floor looks beautiful.
Work Description: Kitchen floors refinished
Comments: They went above and beyond. Their work excellent. Showed up on time would recommend them
Work Description: 111-year-old house with three stories of hardwood floors brought back to life with patching, sanding, and refinishing.
Comments: This company is amazing. The owner and his crew were on time to start the job, they finished on time, they were friendly, well mannered, and very clean. We have been dealing with contractors for a couple of months renovating our house. The crew at this company has been the most pleasant to deal with and on top of that they were very affordable compared to the other quotes that we got. Our floors came out stunning. They were able to take wood from other places to patch the floor where old for electrical sockets were. They also build sizable home in areas with cracked would. They refinished the floor so beautifully that you can't even tell where those patches were made. Our floors are gleaming. I don't think anyone out there could've done a better job. Thank you!!!
Work Description: Install, Sand and finish multiple rooms
Comments: Jackson and the crew at JWC Hardwood floors were wonderful! We started with having them re do our floors and ended up finding other projects that we wanted them to complete because we were so happy with their work. They have a great attention for detail and were very professional. They always kept us up to date with status of the work and we never felt rushed nor forgotten about. We will definitely be keeping them in mind for future projects, in fact they are going to be working on a family members home.
Work Description: Kitchen and basement floor repair and install. Repair , install, sand and stain.
Comments: If you want quality, look no further. These guys are the real deal! I've used other flooring companies in the past but no one is as good as this company.
Work Description: Refinished 4 rooms and repaired/refinished a staircase.
Comments: Jacson and his Dad were extremely easy to work with. Communication was very easy, and they got back to us immediately. They refinished 4 bedrooms that were in fairly poor condition and they now look brand new. They also repaired and refinished a staircase that was old and very creaking. It is now very solid, without a sound, and gleaming.
Their work is exceptional, and they were very neat and clean. I would highly recommend them!
Work Description: Sand and coat floors
Comments: Jackson and his dad were extremely easy easy to work with and the quality of there work was second to none
Work Description: Installed beautiful hard wood floors in my house
Comments: JWC overcame my expectations when it came to quality and competence I really love the flooring that they did for me it turned my house into a home. From the first time we talked on the phone Paulo the owner was very respectful, friendly but most of all honest and I loved that about JWC they were completely honest and straight forward to what was going on and what needed to be done for the job to come out perfect as Paulo said to me "if it's not perfect it's not JWC". I usually don't go out of my way to write a review and hate it when people ask me to but with this company I had to share the amazing experience I had with them and best of all they didn't even ask me to do this which was surprising and one of the reasons I did do it. I am very thankful for my floors and from now on JWC is the go to flooring company for me and all my friend thank you very much
Work Description: A friend indicated me Jwc Jacson arrived to give me a estimate, he was communicating with me from day one always making sure any questions where answered. The communication was great, I could say there quality of work was amazing I loved my floors and for the price was way more then I expected there work was of great quality and they were always punctual. I would always refer them for flooring my overall experience with them was excellent.