Main Services: Interior and Exterior Painting/Roof Wash & Pressure Cleaning/Popcorn Ceiling Removal & Crown Molding
Description: We Make It EASY...You Pick The Colors, We Do ALL The Work!!

We are Residential Specialists
No Down Payments!/ No Sub Contractors
VISA/ ACCEPTED
10% OFF
FREE DRIVEWAY CLEANING or POOL DECK CLEANING with EVERY EXTERIOR!!!!
10 YEAR WARRANTY.... CALL TODAY 727-542-2946
We Solve ALL Your Painting Problems/Accredited BBB Member
What sets us apart from other contractors: Our team is always on time, clean, friendly and courteous
We are best known for: Cabinet painting,interior painting, garage floor epoxy
See More
5 Reviews
Review Me
Work Description: Repaint complete interior of 2275 sq ft townhome.
Every room, a total of about 14 colors with high ceilings - one wall, in stairwell is about 20 ft tall with very tight cutting in around railings.
Comments: Remarkable job and totally professional. Since doing this job, the HOA had Integrity Finishes pressure wash the entire complex and repaint all wood trim - not a simple task: the rear of one set of units (about 250 feet long) hangs out over water with no place to erect scaffolding or place ladders. Another set of units is three stories tall with a lot of high wood trim. In addition, they repaired and re-stained a walkway over the water. The result was outstanding - we will use them again.
Work Description: Exterior painting and some interior painting
Comments: Very neat, prompt, friendly. Could have done a little better job in cleaning the ouside paint chips that were a result of the pressure wash. Overall very satisfied and I have given two recommendations.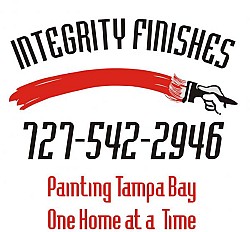 We greatly appreciate your recommendations
Helen Clearwater Beach FL
Comments: I only received 1 call. The owner was extremely pleasant and said he would agree to meet me next week
Work Description: Integrity Finishes Painted the living room, dining room, kitchen and master bath. All rooms had vaulted ceilings with an open floor plan.
Comments: Integrity Finishes did an awesome job!!! The paint team was punctual, and efficient, finishing the job in a day and a half. The paints used match those I picked exactly and coverage was complete. The cost was the extremely reasonable compared to the others I obtained.

Awesome, Awesome!!!

I would recommend Integrity Finishes and will definitely use them again in the future.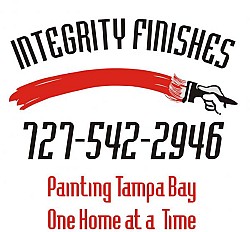 Thank you for choosing Integrity Finishes to help make your new house a home!!
Work Description: Painted the trim and finished the base and added a second coat.
Comments: Very friendly service at a great price! I will recommend them to others.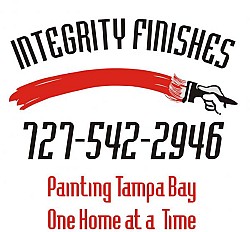 Thanks Dawn! we were happy to help you finish your project