Main Services: Termites rodents bedbugs roaches ants dead animal removal animal removal pest control inside and out side termite report
Description: Hunt exterminating co inc has been in business since 1931 we are a full service company to help with all of your exterminating needs you can call 24 hours a day for emergency services 727544 3067 or 727447 3200
Service Area: Mango, Valrico, Gibsonton, Port Richey, Wesley Chapel, New Port Richey, Riverview, Wimauma, Lutz, Oneco, Land O' Lakes, San Antonio, Sydney, Spring Hill, Clearwater, Saint Leo, Tampa, Oldsmar, Seffner, Seminole, Thonotosassa, St. Petersburg, Bradenton Beach, Palm Harbor, Dover, Dunedin, Cortez, Safety Harbor, Belleair Beach, Palmetto
What sets us apart from other contractors: We have been serving the Surrounding area for over 85 years
We are best known for: Every thing we are a full service company
See More
14 Reviews
Review Me
Work Description: Stinging Insects
Work Description: Roaches
Comments: Wonderful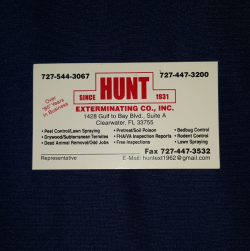 Thanks
Work Description: Termites
Comments: Very polite. On time. Great job.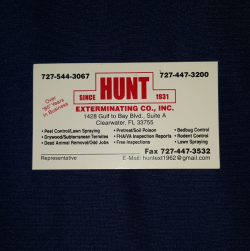 Thank you miss reinhardt if you need anything please feel free to call anytime enjoy your new home
Work Description: Stinging Insects
Comments: Overpriced for what they did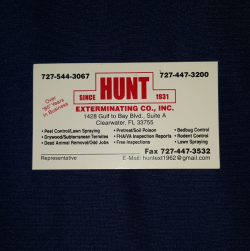 Sorry you feel that way mr Patterson but when you are dealing with a Specialty service on a three story building as complicated as your situation it might seem a bit high but in reality it's not skilled workers special chemicals equipment for a complicated stinging Insect it was very reasonable if you have any further problems feel free to contact us we will help you in anyway thanks
Work Description: Extermination
Comments: Best pest control company in the state of Florida!!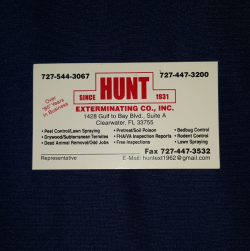 Thanks
Work Description: Extermination
Comments: Took care of my problem great company I recommend them to anyone Vicky was very easy to deal with an knows her stuff.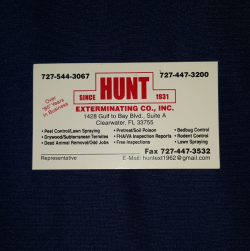 thanks
Work Description: Extermination
Comments: I called Hunt and got a good price, they came out the next day and did a great job.
I would recommend this company.
Work Description: Exterminator
Comments: We have been customers of Hunt Exterminating for 30 yrs and have been extremely satisfied with them. Hunt has been taking care of all our pest control needs not only the contracted/warranty service but the extra that

have been needed. They are on time and if going to be late have called to let us know, their tech are knowledgeable and courteous. Hunt has given us quality service and is a good value for the money. I highly recommend Hunt to all that need pest control service.
Work Description: Extermination
Comments: I called Hunt Exterminators because I have had pharaoh ant problems on and off for the past 5 years and have never been successful treating them on my own. Robert (the owner) asked me questions first and then recommended the subterranean treatment in order to attack the colonies that are most likely under the foundation. I felt that I was quoted a very fair price for the work that was performed. They did my entire duplex, the large shed out in the backyard, and surrounding decks and woodwork.
They treated my attic, applied dust chemical in my outlets and sprayed inside the entire house.
I received my estimate the day that I contacted them and they were able to start the work immediately the next day.
All of the employees that I have had contact with so far have been so pleasant and professional and have been with the company for many years.
I normally read reviews when seeking out services unless I have recommendations from friends, however I happened upon them by seeing their truck in the neighborhood at the exact time that I was feeling at the end of my rope with these ants so I thought it was a sign!! I checked out the online reviews the day after my service and then spoke to Robert about them when he called me for follow up and he explained how fake reviews can be posted. I do believe in freedom of speech but posting negative comments when you have never even been a customer is not only hurting local businesses - it also hurts the customer who is looking for a qualified / professional service.
I thank Hunt Exterminators for being a company that I feel that I can trust with my business.
Work Description: Insects
Comments: Charles was absolutely marvelous. He could not have done a better job.
Work Description: Pest Control
Comments: Very knowledgeable, responsive, and accommodating. I would highly recommend.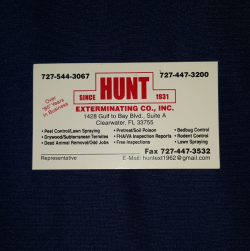 Thanks it's a pleasure doing business with great people like you
Karen Frisk - St. Petersburg FL
Work Description: Mice/Rats
Comments: Would not recommend this company, not trust worthy, very
Sly dealings. One employee very accomadating other was not have to pay up front than owner trying to sell more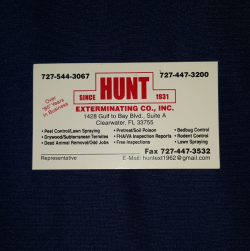 We bent over backwards to please her we gave her extra services we saved her thousands of dollars doing the ac duck work I stayed in contact at all times the place was a abandoned mobile home with a ton of rodents we solved her problem immediately with all that she still complained her niece said she is always like that and apologized never the less she still is a customer and she has a year warranty we thank her for the business maybe she will change her opinion and time and realise we had to take our time getting the work done correctly she wanted us to rush but we needed supplies and we needed to do it Wright
Work Description: Bed bugs
Comments: Very thorough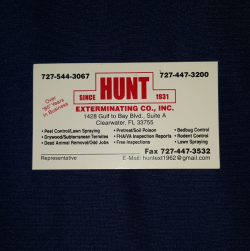 Thanks
Work Description: Dry wood and Sub Termite Treatment
Comments: Very friendly people and customer service is excellent! However, the workmanship could use a little upgrading. The pricing I don't think you will beat any were unless you know someone. Over all I was very happy.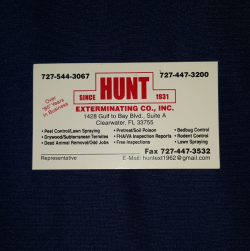 Thanks