Main Services: Concrete and masonry ....Driveway,Retaining Wall,Pavor ,Stairs,Decorative Concrete
Service Area: Gig Harbor, Federal Way, Hansville, Rollingbay, Burton, Poulsbo, North Bend, Puyallup, Seabeck, Duvall, Tacoma, Edmonds, Tracyton, Maple Valley, Mercer Island, Silverdale, Bellevue, Lynnwood, Startup, Ravensdale, Fall City, Preston, Snoqualmie, Retsil, Olalla, Southworth, Fox Island, Keyport, Medina, Auburn
What sets us apart from other contractors: Experience
We are best known for: 15 years
See More
18 Reviews
Review Me
Work Description: Patio
Comments: Made the mistake of paying for the job a couple of hours before they finished. They left and never came back. We are stuck with a patio that has many loose and wobbly tiles. Have called many times to get them fixed but they never came back . Very dissatisfied.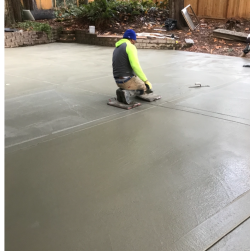 I don't know what are you talking about!The job was completely!You went through everything before the last payment!You called me later just for one pieces of paver
Work Description: Driveway, patio area and walkway with stairs
Work Description: Driveway and walkway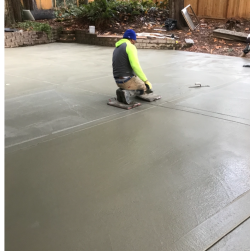 can you remove your review because I don't know you and I didn't do business with you!
Work Description: New concrete driveway
Comments: David and his crew did a great job on my new driveway. They were always on time and worked very hard removing the old driveway,. David consulted with me on the layout of the forms for the new driveway, the finished color and texture of the concrete. On the pour date, he had a crew of 7 guys to ensure the pour went smoothly. They did a great job finishing the project on time as promised and the new driveway looks spectacular. I would highly recommend David and the crew at NFO for concrete work.
Work Description: Concrete Patio & sidewalks
Comments: There are companies who do excellent work— who exceed your expectations. There are company owners and crews who are incredible to work with, do what they say, and care for your property like it is their own. NFO construction— the owner David, and his crew are that rare unicorn and are both.

This was the second time I've hired them for concrete work at my home, and I could not recommend them more so. Thank you NFO & team!
Work Description: Concrete Driveways/Floors - Install
Comments: Tevita and his crew did great work through difficult weather and difficult concrete delivery. I recommend them for challenging flatwork.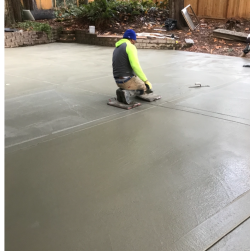 Thank you Forest
Work Description: Concrete Driveways/Floors - Install
Comments: The job itself was done fine. The crew was nice. But there was lack of communication regarding when the crew came to the site and when they came back to finish up ( had to ping, got promised a date, then delayed). The biggest issue is that they left visible and ugly marks on our existing driveway and did nothing to fix them!!!!
Work Description: Concrete Driveways/Floors - Install
Comments: NFO designed and poured a beautul sidewalk for us. We had thought about a straight sidewalk just to move our trash bin, recycle bin and yard waste bin to the curb. They did an excellent job for what we feel was a fair price. David is so nice to work with!
Work Description: Interlocking Pavers-Driveways, Floors Install
Work Description: Concrete Driveway
Work Description: Stamped concrete driveway
Comments: NFO was great to work with. They were able to suggest a design that works well with our property. We are beyond happy with the work they have done!

UPDATE
updating my previous review. After I posted that review the drainage they installed failed due to faulty installation. They had to rip out the entire driveway an start over. Fast forward a year and they have not completed the driveway color and seal. I would not recommend or hire this company.

Update 14 months later.
They returned after multiple contacts and they stained and sealed the driveway. The end result was good. There was overspray that got on the exterior paint and trim in some areas and they missed some spots that they will fix. Overall the end result was good, but the time to get there was longer than agreed to.
Work Description: Old deck removal and new concrete patio installation
Comments: We could not be happier! David and his crew poured a PERFECT patio to our exact specifications. David and I were in communication every step of the way, and he made sure we shared the same vision of the completed project. The crew was professional, punctual, and finished our patio quickly. I would not hesitate to hire NFO again for our future projects!
Work Description: Chimney or Fireplace Clean and Inspect
Comments: Excellent work done. I would hire this company again.

Thanks very much for putting them in contact with me.
Work Description: Concrete - Applications
Comments: David and his crew are great guys-friendly and they listen to comments and are very helpful and knowledgeable. They poured my concrete patio and helped me pick the colors and design to stamp on it. They also are building the new fence around the patio. They have done the work in just a few days and everything looks great. I highly recommend them and their work.
Work Description: Concrete Patios, Walks & Steps - Install
Comments: Great people , outstanding work! I will use them for future projects. Their word is as solid as the concrete they finish.
Work Description: Overlays/Stamp
Comments: David and his team did a nice job overall. They were responsive to our requests and made adjustments when necessary. We worked together to procure materials in order to expedite the process. The project was a learning curve for us and we would do a few things differently in the future. We felt the price was fair for what we had done. ( stamped concrete, planter box, fire pit) David worked with us on a payment schedule and is a very nice person. We would recommend him and use him in the future.
Work Description: Extra large stamped concrete patio
Comments: I can't say enough good things about Dave and his FPM crew! Professional, friendly and knowledgeable. We are beyond pleased with the finished project and the speedy completion. We had originally planned on turf stone, but after consulting with Dave, he recommended a different product that would suit our needs better - even though this product was less expensive. I HIGHLY recommend FPM Construction!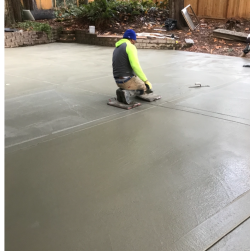 Thankyou very much Roberta Swenson for this review and I really appreciate your highly review!Once again thankyou very much!
Work Description: FPM poured a 12x14 exposed aggregate patio slab for my Costco Gazebo.
Comments: David and his crew where a joy to work with, their work was that of master masons. David and crew paid attention to every detail and produced a beautiful patio. If you need a patio they will give you an excellent price and outstanding craftsmanship.