Main Services: Home remodeling
Description: We take pride in our work and take your need in home improvement.
See More
35 Reviews
Review Me
Work Description: hot water install
Comments: Doug Chavis is a thief, hired him to replace my hot water heater, he came gave me a price of $900.00
said he needed the money up front to buy the heater and materials. was suppose to start job the next day and never showed up. After several attempts to get ahold of him was unsuccessful. No Hot Water Heater and no money back. Do not trust this man. He take your money and ghost you. I learned a lesson don't trust anyone.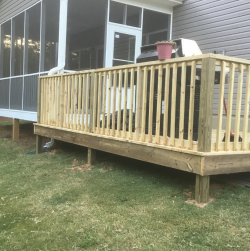 mrs romona stop the check so how can I steal money when the check was stop same day she wrote it she didn't have money in the bank she try to get a free heater water out of me
Work Description: Decks/Porches/Ramps - Build
Comments: Douglas started the project in a timely manner and got most of the work done, which is the only reason I'm rating at 3 stars instead of 2. However, he did not finish the work, despite assuring me he would, and has not communicated with me about when he will complete the project. I have reached out to him by phone and text several times. Communication was very difficult or non-existent. He left a messy work area, including broken glass in my driveway and paint splatters on my deck. The deck structure does not look professionally done. I would not recommend this contractor.
Work Description: Screen Porch Repair WARNING
Comments: Do NOT hire. He took our deposit in October 21 and then went ghost. Lied about ordering materials and when materials would arrive. Lied about when he would start the project. One of my calls was accidentally answered by a child who handed him the phone. As soon as I spoke saying I was calling to set up service, he actually hung up on me. Networx reached him when I requested a full refund; he agreed to mail payment in early December then lied about the payment getting lost in the mail. Tells Networx he's waiting for some other money to come in before he can repay us. No payment received to date so this nightmare continues after 4 months. Not responding to any other calls or texts. I'm positive he has blocked my number. Networx unsuccessful at assisting with resolution. Filing in Small Claims Court any day now. I would give zero stars if I could. Horrible experience.
Work Description: repair ceiling and walls. build tables and cabinet. possible paint walls and ceiling.
Work Description: Decks/Porches/Ramps - Build
Comments: I give them 10 out of 5 stars, totally awesome experience.
Work Description: Door Repair
Comments: Was pleased with the job will use again
Diane or vince Fayetteville NC
Work Description: Brick & Stone Fireplace Repair
Comments: Well I told MR. Chavis That i was not happy with the project . he changed from getting a new free insert to a medal around broken part to fireplace , which can be used it is a fire hasert. this will cause my house to catch on fire. I have to pay off this loan before I can even get any one to maybe fix his problem I called on thursday may 14 2021. I have not heard from him since. You know I have used the network before this is the second time I am not happy so I probably not use this company again either. Oh i give them credit for fixing my hall ceiling . Right now I know there was no build permit and not sure there was any insurance. Believe me I will not trust any one now. What Am I to do. with a fire place that is not up to building standards. If I want to sale this house which I was thinking of doing. I am not happy at all. except the hall ceiling.

UPDATE
Never happened not for free. it cost me I learned a lesson never believe what they say . all they are out for is the money and not do a job . like I said i can not use my fire place it is a fire hazard . And the Network people are not any better . Like I informed before the ceiling crack was doing correctly
Work Description: Handyman
Work Description: Door Install
Comments: Great job!!
Work Description: Handyman installed back porch shades
Comments: I was disappointed at the way he installed one of the shades. He cut off one end of the material of the shade and promised to come back the next day to put up a board to cover the big opening that was left. It's hard to Wind the blinds up or down. I tried calling and texting him and he didn't respond. I should have waited to pay him until he finished the job. I regretfully believed in his word. I will not recommend him for any jobs to anyone!!!
Work Description: Handyman
Work Description: Handyman
Comments: I was very happy with their work and they were very knowledgeable about what they were doing. And they finished the job very quickly. Plus they came & did the project the same day that they contacted me. Thanks guys.
Work Description: Decks/Porches/Ramps - Build
Comments: Real please,very happy with the way it came out.
Work Description: Home window screen Frames and vents in the Fondation of the house ,they also helped me with my a/c replacement and electric work inside the house along with with assembly of a dog kennel, a hutch and a playground.
Comments: Iam am very pleased with there work and professional experience, I will be very pleased to hire them again in the future. They did excellent work for me.
Work Description: Handyman
Work Description: Handyman
Comments: Can not get in touch with him now. Met him Saturday. Scheduled for today. No answer on his phone. Have not heard from him. Will have to find someone else.
Work Description: Handyman
Comments: I hired this company to repair a problem with a window, paint my house and build a pergola over my deck. The work was started after the weekend and completed in a very satisfactory manner within a week. They went above and beyond what I had requested and were very professional. I intend to use them for some inside work after the first of the year.
Work Description: Handyman
Work Description: Handyman putting together a ProForm Treadmill
Comments: Did the work to standard! I'd hire this professional again.
Work Description: Handyman
Comments: My bathroom remodeling was a night mare. Douglas knew that he did not know anything about bathroom remodeling. I gave him money to get the of it materials and I went with him. On the first day my brand new bathroom tub got a big chunk of paint off and steel. Douglas brought a helper to help and the tile was drop on it. So he said I fix that and that was a red flag right there about Douglas. The shower that he done was incorrect and he was suppose to be something else behind the sheet rock. Douglass install glass shower doors and that was done wrong. The shower doors are to short and water kept going through the walls in my bathroom. The bathroom faucet was install wrong and he did not put anything behind the faucet. Douglas brought two young men
which suppose to be his helpers. He left them there knowing that did not know anything about bathroom remodeling. They put tile on the floor with glue and broken all my tile up on the floor and tore up my vanity. The bathroom vanity
came with sink and cabinet all together and they pull the marble vanity top off of it. They put nails in the vanity and vanity did not need nails. It a cabinet already built. Not only that a brand new commode in the box and they cracker and broken the commode top. It was a nightmare from hell! I called several times and left messages after messages to come and fix and finish it. He still did not call and when I got him on the phone I told him that his helpers did and showed what they did. Instead he took up for them and never say that I am sorry and come back and make it right. I was stupid because I trusted Douglas and I pay him money up front. I know you don't suppose to pay the rest of the money until job is finish. Douglas made nothing to accommodate me. Instead he took my money and never finish the job. Because he did not know anything about bathroom modeling. I call several times asking about my money and ask him give me half of my money back and he did not. Douglas did not finish the job and I told never bring those two young men back to my house.. He was asking for money ever time he came over to fix something. Everything was brand new and they broken all of my stuff. I had to hire another contractor to do everything over again. He had to take the tiles up off the floor and I had to throw all titles in the trash can. Not once Douglass did not do anything to made amends. I call several times asking for my money and would give my money back. Douglas was only any for money. Do not get him to do bathroom remodeling. I have never seem anybody that did not care about people materials and say nothing about all of my stuff got broken. No one deserve that treatment. Douglass not honest at all. MY bathroom vanity did not need fixing it was brand new and I got to pay the contractor for fixing. I call D@N and ask for the manager and a woman answer the phone and she told me that manger was there. I perceive to tell her what Douglass had did to me. I told her that Douglas had put sheet rock behind the title where the shower and she would not let me finish and said LET ME STOP YOU RIGHT NOW YOU CAN GO TO LOWES AND THEY WILL TELL YOU THAT YOU DO USED SHEET ROCKER FOR THE MILDDEW AND HUNG THE PHONE UP ON ME.she did not let me finish. So I am taking Douglas to court and this Company that hired him to get all my money back. Douglass never finish the project because he did not know how to put title on the floor. Do not know anything about Bathroom remodeling. You cannot take people money and think it okay to beat people out of money and fake a bathroom project
Work Description: Decks/Porches/Ramps - Repair
Comments: So far content with work.
Work Description: Handyman screen in back porch
Comments: Douglas and helper screened in my back porch
it was done in a timely manner and a very reasonable price. he did what he said and was very respectful I will call him again
Work Description: Porch columns replaced
Comments: Did a nice job would hire again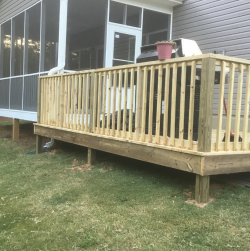 Thank u
Work Description: Handyman
Comments: I called Doug to replace the bottom of a kitchen cabinet that had warped due to water damage. He promptly came to give me an estimate and came on the day promised to do the job! He actually called and wanted to come sooner but I was out of town. I recommend this pro for handyman work in the Sanford area! Thanks Doug!
Work Description: Repaired my mail box
Comments: Excellent job!
Work Description: Caulking
Comments: Best service and Best price. Will definitely hire again.

Thanks again
Work Description: Installed 2 in interior doors
Comments: Very timely very professional give him a grade A
Work Description: Douglas ( the contractor I worked with ) did not finish the job. He repaired some damaged dry wall and told me he would come back on a specific date and time to continue the repair. He did not show up and when I called him he stated he was out of state. When I asked why he didn't let us know he had no excuse. I barely get time off and it was behind frustrating waiting around all day for a no show. I told him to come back the next day in the afternoon and again he was a no show. We decided to give him one last chance and he again never showed up. Haven't heard anything from him.
Comments: If you value punctuality and work getting complete on a set schedule do not use this company. Zero communication ( unless it was me trying to figure out what was going on).
Work Description: painted
Comments: Great Job. Do want other work done with this company.
Work Description: Douglas did a great job hanging my pictures. He was very friendly and we would hire him again!
Work Description: Replace water damaged, collapsed board at floor level under the back door. Involves door removal.
Comments: The contractor showed up on time, with the needed tools and materials. The job took about 2 1/2 hours, and the result looks better than the original.
Work Description: Exterior house painting, roof leak, popcorn ceiling repair and out building repair.
Comments: Couldn't ask for a better team than Douglas Chavis and D&N Home Repairs. They worked diligently and professionally. They did everything they said they were going to do and they did it on time. I now have a source for home repairs I can trust!
Work Description: Was great and very affordable!!!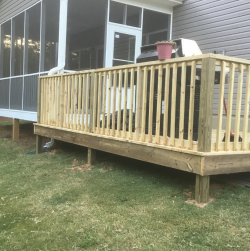 Thank you.
Work Description: Built a hand rail and repaired a wooden gate.
Comments: Douglas did a professional job building my porch handrail and repairing my gate. He replaced some of the wood on my fence because they were broken. He went beyond what I asked him to do. I highly recommend him to other customers.
Work Description: Repaired a 12 inch hole in my kitchen wall.
Comments: My son and husband were wrestling and they made a 12 inch hole in the kitchen wall. I requested a quote online just to see how much it would cost to fix and got a call from D & N improvements within 15 minutes. He came to look at the hole just to quote me a price and actually bought all his equipment with him. The hole was repaired within 4 hours. I'm so thankful!