Main Services: House Cleaning, Commercial cleaning, Construction cleaning, Pressure washing, Window washing, Carpet cleaning, Handyman service
Description: Trust your cleaning needs to the experts at Clean Source Janitorial. Affordable Rates, Friendly service. We specialize in Housecleaning, Office cleaning, Construction cleanup, Window cleaning, Pressure washing and Carpet cleaning.WE ARE HERE TO SERVE YOU 7 DAYS A WEEK.

$10 off cleaning when you LIKE our Facebook page (upper right hand corner) or www.facebook.com/CSJpowerwash just leave your name and contact info and we will honor the discount!
See More
4 Reviews
Review Me
Work Description: Patio and Window Washing
Comments: Clean Source's personnel twice washed dirt and debris from other floors onto my patio and power "washed" the dirt up onto the windows, door, and building both times on Friday afternoons so I came home from work to a MESS. The first time I had washed the windows and door two days before. I made Clean Source aware of it the first time that they'd washed all the above floors dirt and broken glass onto my patio and they did it AGAIN two weeks later. The debris they washed onto my deck was a danger should you step on it and they made no offer to cure it. They made these messes both times before leaving for the weekend. I use these types of services for business and will NEVER use Clean Source. Inconsiderate, dangerous, and extremely poor workmanship. F-
Work Description: Move-in cleaning for rental property.
Comments: Accomidated my schedule very well; were on-time; called the day before to confirm. I wasn't there when they completed the cleaning; but a day later. Found the kitchen cabinets were not wiped out; the moldings were not wiped down, dog hair in the floor of a bedroom; master shower not scrubbed. The price was good - but I would have paid more for a thorough job.
Work Description: Deep Cleaned 2000sf home.
Comments: Cheryl did such a great job. I will have her back again every 2 weeks.
Work Description: He took care of all the rotten wood in a house and painted it all.
Comments: Jeff did a great job. He also gave a great price.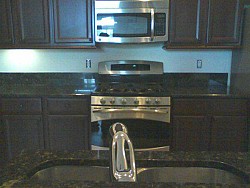 Thank you Fred! It was a pleasure working with you.