Services: Heating & Cooling
Description: Comprehensive HVAC Service in Alpharetta

Hello, My name is Brant Sturgill and I have been in the HVAC industry for over 35 years. My father had a business in the 70's and 80's. We are a small family owned business that will give you genuine quality with fair pricing. We will take the extra steps required for years of trouble free service. I personally inspect and review every system that is installed.

We are not like some large companies that are playing Russian Roulette hoping to get good installers and service people.We will personally do the work in your home. I will do what it takes to earn your business. I keep in stock many good used units only a few years old for emergency replacements or we can install you the latest,greatest in technology and efficiency. I also believe in charging fair prices on parts when the need does arise. Some companies will charge $300.00 for a $10.00 part and I believe this is criminal. You will never be overcharged with us at All Seasons heating and Air.

Affordable HVAC Service

At All Seasons Heating and Air, our goal is to offer the most reasonably priced HVAC work in Alpharetta. Because we value our customers, we do everything we can to keep service costs down without skimping on quality. We also pride ourselves on our:

Licensed and insured HVAC contractors
Continued excellence in workmanship
Industry experience
Flexible appointments
Prompt service
Wide selection of parts and equipment

Services at All Seasons Heating and Air

If you're looking for excellent service and a people-friendly approach, then you've come to the right place. At All Seasons Heating and Air, our ultimate goal is to serve you and make your experience a pleasant one, and our team will stop at nothing to ensure that you come away more than satisfied.

$89.00 Service Charge including in the repair. Free Estimates on replacement or new systems.
Satisfaction Guaranteed or it's FREE.
Service Area: Duluth, Braselton, Dahlonega, Winder, Clermont, Helen, Murrayville, Talmo, Dawsonville, Pendergrass, Maysville, Chestnut Mountain, Ball Ground, Homer, Gainesville, Cleveland, Dacula, Oakwood, Tate, Lula, Alpharetta, Auburn, Demorest, Marble Hill, Baldwin, Suwanee, Gillsville, Buford, Flowery Branch, Alto
What sets us apart from other contractors: In business since 1978
See More
14 Reviews
Review Me
Work Description: Thermostat - Install/Replace
Comments: Very pleasant and helpful.
Work Description: Ducts/Vents - Install/Replace
Work Description: Ductless (mini-split) A/C Install
Comments: Just investigating cost to install at this time. Called right away a gave me information related to the job as well as a price. Well informed and cordial, low pressure conversation. Did not hire yet
Work Description: Central A/C - Install/Replace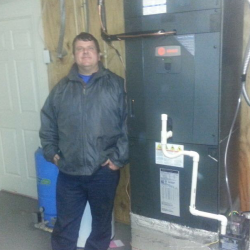 We were very Happy to install this system for you. I am very surprised by a 3 star rating on price. We give the best possible prices in the industry due to a quality install which results in years of trouble free service. A quality install upfront will provide energy savings and prevent multiple repair service calls due to cutting corners. Being Licensed, insured and veteran installers with over 25 years experience. It's impossible to due a quality job for less money which was only $4000 for a complete system. Most people unfortunately due not realize the cost of insurance, advertisement and overhead which costs us thousands of dollars per month.
Work Description: Was anticipating to replace a new HVAC unit, instead All Seasons Heating & Air repaired and had it working.
Comments: Therefore, we did not have to spend unncessary expense. Thanks to honest people like All Seasons HVAC.
Work Description: Install a Central Air Conditioning System
Comments: Installed a new AC and Furnace works great, home is much cooler now, Good job for a good price.
Work Description: Install a Central Air Conditioning System
Comments: The owner came to my home on time, we looked at my systems,came up with some needed changes. I received estimates in a timely manner. One of my systems stopped working, I called and his men were there that morning changing the system. His men were very professional and accommodating. I had my air up and running that afternoon. I give this company a 5 star rating and they will be putting my next system in. Their estimate was better than competitive and install was very professional,great workers.
Work Description: Repair or Service a Central Air Conditioning System
Comments: Had them service both A/C systems in my home. Did a through job at a fair price. They also cleaned my ducts and did an awesome job, we can already tell a huge difference! Highly recommend them.
Work Description: Install or Replace a Heat Pump
Comments: Stayed and got the job done in one day, worked through several unforeseen obstacles with no problem. Extremely happy. I don't write reviews but in this case, I had to. Hire them without hesitation
Work Description: Install a Central Air Conditioning System
Comments: I hired All Seasons to replace my aging A/C and furnace. Their equipment and labor quote was extremely reasonable enabling me to upgrade to high quality Trane equipment. The work was done professionally and in a timely manner. I highly recommend All Seasons and suggest all potential customers call them in to provide a quote or address your service needs!
Work Description: Installation of new AC and heating units.
Comments: Brant was punctual. He gave several options and was flexible. Thank you for help.
Work Description: Install of new AC
Comments: Brant helped me with all the questions I had. He got me a quote that I am happy with. I am yet to get the work done. Will get the work done soon.
Work Description: My ac was out and I needed a coil and freon. The price for repairs and age of my system made me decide to replace my heat and air unit . I needed an inspection and quote for an upgraded system.,.
Comments: Brant responded quickly and scheduled time to inspect my AC unit. He was very knowledgeable and thorough, answering all my questions. His knowledge made me choose ALL SEASONS. His staff went above and beyond to ensure my unit was installed as quickly as possible. I highly recommend this company.
Work Description: We had a fan that kept running in our outside air conditioner unit. Brant Sturgill of All Seasons called us early and we sent
a picture of the wires and he talked my husband through it. He is Wonderful! We will use him again and share him with all our friends and family. What a Great service this is.
Comments: He didn't charge us anything! But we will use him for all our air/heat in the future. Really knows his stuff.