Services: Heating & Cooling
Description: Welcome to Air Kustoms

Keeping cool in the summer and warm and toasty during the winter is an important part of maintaining a comfortable home. But in order to keep your home at an optimal climate, you need your heating and AC systems to be in the best working order. What's more, a properly functioning, modern HVAC system will run as energy efficiently as possible, keeping your utility costs down.

At Air Kustoms Inc, we understand that you want to be kept comfortable without breaking the bank. That's why for over 11 years, we've provided the Stanislaus, San Joaquin, Alameda, and Merced counties with top-notch HVAC services at affordable prices.

We fulfill all types of general heating and air conditioning services and are eager to give your home the perfect climate. If you are not 100% satisfied with your comfort system after installation then you pay absolutely nothing!

For more information or to schedule a comfort system installation estimate, call Air Kustoms Inc. today!
See More
4 Reviews
Review Me
Work Description: Heater Repair/Service
Comments: Technician was not able to fix the heater.
I have an old unit and all he did was quote me with a $1300 igniter adapter and still charged me the $74
Diagnostic fee. Since I was still without a heater my wife found a person recommended from a friend.
This older gentleman came and fixed the problem within 20 minutes. He said the gas was off and there was a type of breaker on the unit that was upside down.
He reignited the unit and has been working good since. Paid him and then called kustom air and explain what occurred. Told them that I didn't think it was fair and if I can reimbursed I'd have no problem. The secretary told me that the boss would call me back.
No call after a few days. I called again and secretary assured me I would receive a call later that day. Still nothing. Very displeased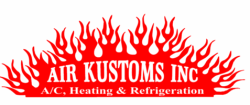 Hi Cesar ,sorry for the Inconvenience you had with us I believe our lead technician did give you a call back to clarify everything, We will send you a reimbursement of the fee that you were charged .
Work Description: Complete with pics and price quotes
Comments: Professional and courteous
Work Description: heater repair.
Comments: I apreciate leaving the working area clean and wearing cover shoes. verry profecional and respectful.
Work Description: He replaced a furnace for me.
Comments: The service turned out well.