Main Services: General Contractor
Description: Able Construction Services is a locally owned and operated General Contractor serving the Puget sound area. With over 15 years in the industry, Ryan's experience and uncompromising standards has created the foundation for Able Construction Services ensuring the highest quality of workmanship. Our goal is to create lasting relationships with our customers. We pride ourselves on working closely with you to develop solutions catering to your projects specific style, size, and budget. Able Construction Services strives to be the best at what we do and complete each project with integrity giving it the personal attention it deserves.
See More
10 Reviews
Review Me
Work Description: Concrete Driveways/Floors - Install
Comments: Work will be done later this summer. So far everyone has been very polite.
Work Description: Attempted to build a deck
Comments: Disaster from start until the point they had to be terminated! Misrepresented the materials and construction. Late by at least 2 hours on each appointment. Very poor communication, almost non-existent unless I initiated it. Was told a month to start for a one day job. Took almost 2 months to start but only after I called several times. The one day job turned into SEVERAL days because of contractor mistakes and deliberate poor workmanship. Built deck in the WRONG place then had to move it then took short cuts to make up for the lost time - HIS problem not mine. Did damage to my house when they moved it. Piers not installed correctly, did not use the flashing or concrete delivered to the job site. Owner was belligerent and threatening to me. Deliberately installed damaged finished decking trying to convince me the supplier required it! What? Ridiculous. I contacted the supplier and am working out the replacement as I write this. Buyer beware. This guy will take your money, lie, make excuses, build an unacceptable and unsafe structure, then try to intimidate and threaten you if you don't just let him do what he wants. Time bomb. You were warned.
Work Description: Concrete Patios, Walks & Steps - Install
Comments: I was very pleased with the the work done by ACS and would not hesitate to recommend them to anyone. The whole experience, from communication to finished construction was the best.
Nick Allen
Work Description: Concrete driveway extension and patio
Work Description: Concrete Patios, Walks & Steps - Install
Comments: The team was highly respectful, quick and clean. John is a great communicator.
Work Description: Tree deck with cedar railing
Comments: Ryan and Verne were fantastic! We are so thrilled with our beautiful deck. They built a Trex deck with cedar railing and post caps. The 316 sg.ft.deck was not just a rectangle...they had to work around existing shrubs plus a walkway and two sets of stairs! And the project was completed in just 3 days!!!
We definitely will recommend them! Very easy to work with and professional!
Work Description: Build a custom storage shed
Comments: ACS built a 12X16 custom storage shed for us. After looking at prefabricated ones at Lowes and Home Depot we knew we wanted one to be custom made for quality purposes and special details that would have increased the costs of the prefabricated ones substantially. They did a fantastic job! It's exactly what we wanted with an extra storage loft and sturdy construction. The work was done timely and the cost was exactly what they bid. They were friendly, professional, and easy to deal with. We would highly recommend Able Construction Services!
Work Description: Installation of new vinyl windows
Comments: I had windows installed in my older home the quality of the installers and windows was excellent it really updated my home built in 1960. They worked hard and efficiently. I would recommend and would use them in future home Improvement projects.
Work Description: Replace existing cedar fence which I share with my neighbor
Comments: Communication: Both Jennifer and Cory were awesome communicating work schedule, progress, and also answering all of or concerns during entire process. During the project, we've encountered schedule conflict which Jennifer had alerted us immediately when the issue came up and able to work out the new schedule. Additionally the staff who did actual work also told us of his concern on some odd thing growing in neighbor's yard against the fence that we may need to keep our eyes on after the work was completed. Professionalism: Cory and the staff who came to do actual work were very professional. I had submitted to multiple companies for estimate. While ACS wasn't the cheapest, I decided on ACS because Cory had been very professional throughout the selecting the contractor process and patiently provided answers to our concerns and requests. Service: Staff were awesome. The work actually happened during the wind storm and I had even offered that it would be okay to wait out until the storm ended. However they still showed up and finished the work. When I was scoping the project, I was given 3 days to a week to complete the project by other companies. ACS was able to complete the project in 2 days. Our main concern was that the ground was not leveled between my house and the neighbor's. We didn't want the ground to impact the durability of the fence. ACS was able to push out some of the extra dirt we had and flatten out to level without extra cost. Overall I am very happy how the project turned out.
Work Description: Angi D
Concrete floor, built garden shed. And built deck
Comments: Allee can say is WOW! Beautiful outcome
On concrete floor, really looks like a wood floor. They will get all my business from here on out. Professional, knowledgeable, kind, and fast!! Love the finished product so much! Thanks Able Construction, you guys rock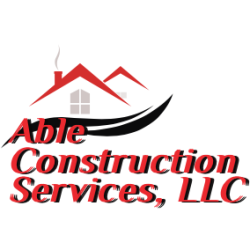 Thank you for taking the time to give your positive feedback! Our customers satisfaction is very important to us. It was a pleasure working with you Angi!