Main Services: Delaware Roofing Contractors, Painting Contractor for Exterior Painting, Rain Gutters, Gutter Guards, Seamless Gutters in Delaware, Delaware Siding Contractors, Deck Staining, Deck Painting, Basement Waterproofing DE PA MD
Description: A Parker Contracting will customize an affordable solution for your roof repair, painting and construction needs. Our emergency repair response time is unrivaled. We take pride in our clear communication with customers and the complete and professional Delaware roofing, painting and construction work we do. We are a trusted name in Delaware roofing, serving clients with exceptional work and unwavering integrity. Customers have come to expect excellence from the start of their job until completion of the project. Visit us at http://www.delaware-roofing.com or call us today for a free estimate! 1-855 PARKER-0 OR 1-855-727-5370
See More
7 Reviews
Review Me
Work Description: They installed a roof and siding on a property of mine.
Comments: Im a Paving contractor and hard to please.
However, these guys did a great job.
I was impressed in how good these guys are.
Connie (Joseph Wilmington DE
Work Description: New Roof
Comments: Old roof was removed and new one replaced in one day.job was well done. Would call back to do other work for me if needed. Thankyou and your team for all the hard work.
Work Description: Alex put new vinyl siding on one side of my home. It got damaged in a wind storm. They also installed a new roof and it looks great!!! I will never use any other company other than A.Parker Contracting.
Comments: I am very satisfied with every aspect of there company.
They explained everything in the estimate with alternate options. He didn't try to push new siding at me like other contractors did. He was very honest and nice.
Work Description: roof leak
Comments: work not done yet
Work Description: Remove satellite dish, repair roof, replace shingles
Comments: Al provided great service. Not only did he repair my roof but also tightened up my gutters and facia board free of charge. On time, quick response, great attitude, and great price--I would definitely use him again!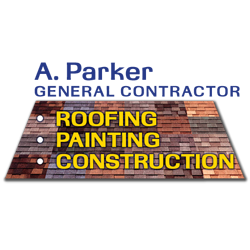 We are more than happy to be of service to you.
Work Description: I needed a new roof and gutters the roof was up in one day the next day the gutters were put up I like the people and the and the work is great.
Comments: Great co. I will use them again.
Work Description: A Parker Contracting installed a roof for me.
Comments: I am very satisfied with their work. All the guys were nice and polite. The cleanup after the work was done was fabulous.