Why Brutalist Architecture is Hated and Loved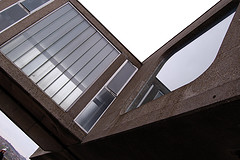 While it may sound off-putting or even a little scary, Brutalism is actually a distinctive type of architecture and a very interesting phenomenon. Brutalism was a controversial architectural movement in the middle of the 20th century. It led to the construction of some dramatic-appearing yet functional concrete buildings, many of which are still in use as of the present day.
What is Brutalism?
Brutalism is a style of architecture that descended from the Modernist movement. It was fashionable from the 1950s to the end of the 1970s and is now enjoying a resurgence in popularity in some circles. Named for its use of unfinished raw concrete (or "béton brut" in French), which was cast on the building site, uber urban Brutalist architecture tended to be imposing in scale and was often used for high-rise housing projects, civic buildings, universities, and shopping centers.
Public opinion about this striking approach to building design varies greatly. Critics of the style consider Brutalism to be cold, crude, cruel, and ugly, and point out that the concrete structures are now showing signs of wear (rust from metal reinforcement, water stains, and moss growth) in damp northern climates. On the other hand, enthusiasts appreciate its honesty, progressiveness, functionality, and low cost. Noted Brutalist architect Rodney Gordon, designer of Trinity Centre in Gateshead, England, summed up the variance of opinion by saying: "Any piece of architecture worth being called architecture is usually both hated and loved."
A Few Notable Examples of Brutalism Internationally
Habitat 67 -- Montreal's Habitat 67 is a well-known Brutalist project, which was originally constructed as part of the 1967 World's Fair. Inspired by Lego building blocks, the multi-dimensional apartment complex was assembled from prefabricated concrete forms. It was the first built project designed by Israeli-Canadian architect Moshe Safdie, a 23-year-old student at the time. Although Habitat was surrounded by controversy when first completed due to its unusual appearance, the building has stood the test of time and continues to house many of its original residents, including Safdie himself. Guided tours are offered to the public.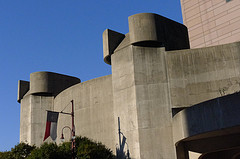 Alley Theater -- The Alley Theater was designed by the late German-American architect Ulrich Franzen as part of Houston's civic complex. A visually startling structure, the Alley houses two stages and combines softly curved walls with stark towers (which house both emergency fire stairs and mechanical equipment for the theater productions). Public reaction was very mixed when it was first completed in 1968. However, this Houston concrete building eventually received the American Institute of Architects/Houston's prestigious Twenty-Five Year Award in 1994, in appreciation of the lasting quality of its Brutalist design. The Alley is still in use as a theater today.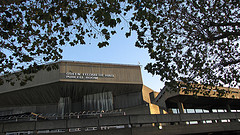 Queen Elizabeth Hall -- In London, the Queen Elizabeth Hall is a 900-seat auditorium, opened in 1967 as part of the Southbank Centre arts complex. The QEH was designed by Hubert Bennett, with the assistance of Jack Whittle, F. G. West, and Geoffrey Horsefall. This massive v-shaped concrete building, with a "prow" pointing toward the nearby Thames River, is an impressive example of Brutalist architecture. It was placed on the World Monuments Watch list, a sign that Brutalism is recognized as an important part of architectural history, and one which is worth preserving. The hall currently hosts daily performances by a variety of musicians and dance troupes, while its undercroft has long been popular with skateboarders and street artists.
Laura Firszt writes for networx.com.
Updated July 3, 2018.
Looking for a Pro? Call us at (866) 441-6648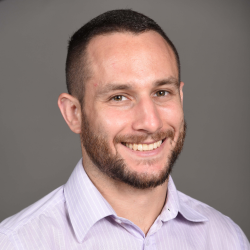 Top Cities Covered by our Concrete Contractors