What Color Should Your Kitchen Cabinets Be?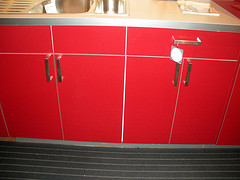 The kitchen is the heart of your living space, and an excellent place to express your personality. Today's kitchen cabinets come in a vast array of colors. Which to choose for your home? The key word here is "your" – pick a color you love that will make your family feel at home. Here's a guide to six of today's most popular cabinet colors, their pros and cons and how to work with them.
1. WHITE
+ Pro
White is classic, cool and clean-looking. It looks right in every type of kitchen, from ultra-modern to country farmhouse style.
- Con
An all-white color scheme can give a cold impression. White cabinets, particularly those with a high-gloss finish, show the dirt readily. Some folks find this color – or rather, non-color – boring.
** Fix
Add contrast to liven up your kitchen. Countertops in earthy olive, sleek black or brilliant scarlet turn white cabinets "wow." If you prefer a more subdued effect, try small pops of strong color – peach hand towels or a turquoise vase on an open shelf, for example. And choose an easy-care finish for these cabinets.
2. BLACK
+ Pro
Bold black kitchen cabinets make a dramatic and unexpected statement. Especially combined with stainless steel appliances or backsplash, this is a terrific contemporary look, perfect for designers and other artistic types.
- Con
Black will darken any room when used in large quantities. It can easily feel overpowering.
** Fix
Make sure lighting in your kitchen is adequate and use the light fixtures themselves to inject bright color (think copper, fuchsia or lemon). With a large expanse of cabinetry, consider staining rather than painting for a less heavy effect.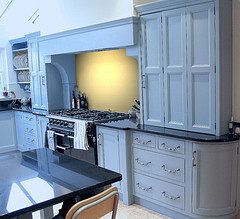 3. BLUE
+ Pro
Blue is a cabinet color that has recently been making fashionable waves. An extensive range of hues is available to suit your personal taste – from trendy teal to classic navy.
- Con
Blue can be a downer for both mood and appetite. Because it is an unexpected color choice for kitchen cabinets, your friends – or partner – may find it a turn-off.
** Fix
Blue cabinets are similar to black in that they can benefit from warm accent notes, perhaps rust or beige with pink undertones. Choose a pale neutral for the kitchen walls or backsplash.
4. NATURAL WOOD
+ Pro
A simple finish with a stain or glaze shows beautiful wood to its best advantage. You can select from among popular kitchen cabinet woods such as luxurious light-colored and fine-grained cherry; deep-toned, durable walnut; creamy-shaded, smooth textured maple and many more.
- Con
High quality wood tends to be pricey. If kitchen cabinets are to be painted, an inexpensive material is acceptable; not so when the wood will be exposed to view.
** Fix
Opt for natural wood cabinets if you can afford them, love their look and know you will be happy with them for a long time to come. Due to its broad appeal, wood is also a good choice when you plan to put your home up for sale.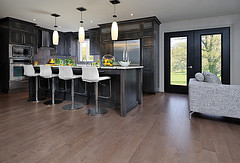 5. GRAY
+ Pro
Gray is very much in style in today's kitchens. Cabinets in this soft neutral are equally at home in modern or classical decorating schemes and will match just about any color that strikes your fancy.
- Con
The color of thunderclouds can be depressing if not handled with care, say Seattle carpenters, who know a thing or two about rain. What's more, gray cabinets tend to make a kitchen appear smaller.
** Fix
Depending on the amount of sunlight in your kitchen, as well as its size, you may wish to choose a lighter shade of gray (or one with a reddish undertone) to avoid overwhelm.
6. RED
+ Pro
Fun and youthful, red is a color with a great deal of energy. Focusing on red in your kitchen color palette will stimulate appetites and emotions.
- Con
Red decor seems to generate heat. In a kitchen, this can feel stifling.
** Fix
Make sure there is plenty of ventilation in a kitchen where you're planning to install red cabinets … as well as multiple exit routes in case passions start running too high to handle. Balance the red's spiciness with cooler colored accessories.
Find a reliable carpenter near you to install kitchen cabinets in whatever color you fancy.
Laura Firszt writes for networx.com.
Updated May 29, 2018.
Looking for a Pro? Call us at (866) 441-6648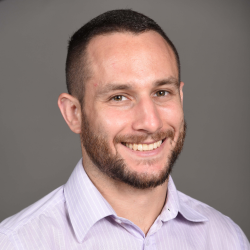 Top Cities Covered by our Carpenters