Under Bed Storage Solutions
Under-Bed Storage Solutions
Whether our home is a mansion or a dormitory, we're all in need of additional storage. And the space under the bed is prime real estate to keep things organized! From off-season clothing to crafts and holiday décor to valuable textiles, there are many cost-conscious options available to help us keep it together.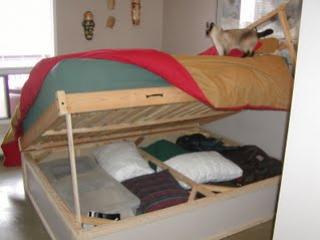 Smart Under-Bed Storage
This fantastic Smart Under-Bed Storage DIY project is a hack of the Ikea Dalselv Bed Frame. A home improvement "hack" means adapting an existing product to meet your needs and tastes. Here the hacker cut off the bed frame's legs, built a box and attached the frame on top with hinges. (You could hire a carpenter to do this for you if you're the all-thumbs type.) And voila ... a cost-effective custom solution that provides tons of long-term storage, right at your fingertips! Photo credit: ikeahacker.blogspot.com.
Under-Bed Shoe Bag
Those of us who love our shoes know how they can sometimes take over! This Under-Bed Shoe Bag is one that Imelda Marcos herself would have loved. Your shoes will be kept neat and clean and you won't be hunting around for matched pairs. A great price and excellent storage, this bag holds up to sixteen pairs of women's shoes. Photo credit: www.organizeit.com.
Clear Plastic Under-Bed Storage Tote
Sometimes, all you need is a simple box and this clear plastic under-bed storage tote is just the ticket. At their affordable price, you can afford to buy a bunch of them. They are stackable -- and sturdy enough to be transported if required. Photo credit: www.spacesavers.com.
Under-Bed Ornament Storage Box
Once annually, many folks haul out Christmas decorations and deck the halls. But for those short on storage, this under-bed ornament storage box offers a solution for the other 11 months of the year. Each ornament is kept in its own cell to avoid tangling and damage. So easy to hang and easier still to store! And your lifetime of memories can be stowed safely for a cheery low price, too! Photo credit: www.shopgetorganized.com.
Peterboro Oversized Under-Bed Storage
A beautiful tall bed offers the ideal storage spot, but if you want it to be attractive, these Peterboro oversized under-bed storage baskets are the way to go. Perfect for storage of magazines, books, small craft items, or even your socks! Handmade in America, these classic woven baskets offer decorative space savings at a very reasonable price! Photo credit: www.peterborobasket.com.
Degernes Under-Bed Storage
This stylish Degernes under-bed storage basket from Ikea has a casual, country style that works in many of today's settings. The washable canvas bag fits inside the sturdy woven basket, which sits on glides for easy movement. This product provides a stylish storage option at a down-to-earth price. Photo credit: www.ikea.com.
Under-Bed Storage Bag
The under-bed storage bag includes not only ample inside storage, but a series of mesh bags along the outside for small storage items or last minute cleanups. The bag also features two pull handles to make retrieval from under the bed a snap. This would also make a fantastic gift wrap or craft organizer, with smaller items stored in the mesh bags and bigger items kept clean inside. A fantastic, budget-friendly product! Photo credit: www.bedbathandbeyond.com.
Archival Under-Bed Garment Box
Delicate items such as wedding gowns, baby clothes, and vintage apparel require special treatment. This Archival Under-Bed Garment Box offers a great space-saving solution that repels dust in a light- and acid-free environment. Protecting your valuable textiles can be difficult when space is limited, but these boxes provide a budget-friendly solution. Photo credit: www.containerstore.com.
Updated August 19, 2018.
Looking for a Pro? Call us at (866) 441-6648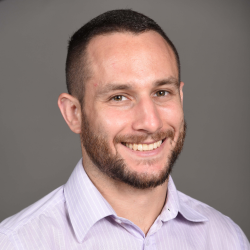 Top Cities Covered by our Cleaning Services