Stenciling Design Ideas for the Bathroom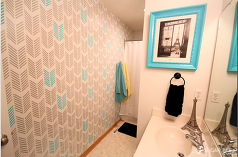 Decorating a bathroom offers a wide array of style choices. From fun and whimsical to sophisticated to feminine and frilly, every bathroom's decor is a unique reflection of the people who use it the most. An inexpensive way to enhance the bathroom is to incorporate stenciling into the room's decor. Whether purchasing pre-made stencils or creating them from scratch, stencils can accent a room and tie a theme together from the ceiling to the tiled floor. The stenciling suggestions below provide some ideas for a variety of bathroom decors.
Sophisticated and French
Formal bathrooms require formal decors. Yellow rubber ducks and cabbage roses are completely out of place, so opt for a more sophisticated stencil to create a uniquely French appeal. The fleur-de-lis is a traditional symbol that is commonly associated with French themes and linens. Bring that same pattern into a formal bathroom by stenciling a fleur-de-lis pattern around the top of the walls, at chair rail height or on tile backsplashes or floors. Use water resistant, high-quality paint that is designed for use in moisture rich areas. Instead of a traditional craft paint, it may be better to purchase a small can of interior acrylic paint from a paint store for a longer lasting finish. After the stencil has been painted on the walls, incorporate the pattern in towels, wall accessories and other bathroom necessities.
Kid-Friendly Quacking
Almost every home with small children has had, at one time or another, a yellow rubber duck as a bathtub toy. Use that quacking piece of plastic for inspiration and stencil yellow rubber ducks on the bathroom walls. A fun idea is to paint the lower half of the wall a dark blue with a wave edge at the top and stencil the duckies along the waves. Ducks can also be stenciled on plain shower curtains and window treatments. A bathroom shelf displaying a row of rubber duckies would look great if painted white and stenciled on the sides with smaller versions of the ducks. Kids, and parents alike, will get a giggle every time they go into the room.
Super Feminine
Not every woman has her own bathroom retreat, but it is not for a lack of desire. The ultimate feminine bathroom getaway transforms an ordinary bathroom into a luxurious room of relaxation. One way to highlight the feminine feel of the room is to add stenciling to the walls and accessories. Feminine florals are always a sure bet, but for a truly unique room, create a stencil of favorite sayings, phrases or even names. Trace the words on the printed side of a cut open brown paper grocery bag and cut them out. Use painters tape to adhere the paper to the wall and stencil on the words. This creates an intimate, special and relaxing space that is unlike any other bathroom's decor.
Using stencils to enhance the look and feel of a bathroom's decor is inexpensive and allows for great creativity. It creates possibilities that traditional wall-covering methods cannot offer and for a fraction of the cost. To find the perfect stencil, visit craft stores, home improvement stores, paint shops, online retailers, or create one from scratch. Stenciling is a great way to truly personalize a bathroom space.
Learn more about decorating with fleur de lis wall decor and wall art and decor from our exclusive designer and staff writer, Alyssa Davis, of Metal-Wall-Art.com.
Looking for a Pro? Call us at (866) 441-6648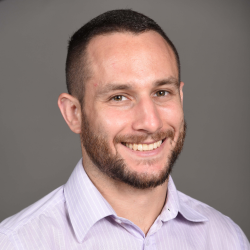 Top Cities Covered by our Painters