Setting a Table Like a Designer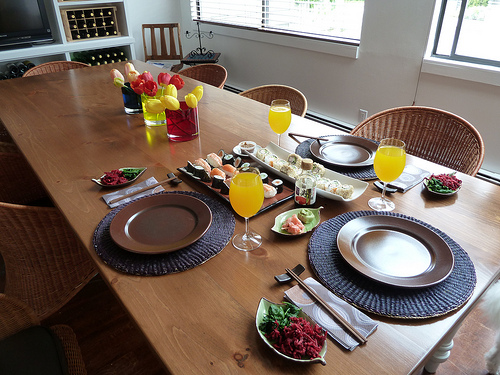 Entertaining may have become more casual over the last couple of decades, but that doesn't mean the fun has gone out of setting a beautiful table. Interior designers and party planners love to create "tablescapes" that set the mood for a dinner or party. However, it doesn't take a design degree to create a beautiful table that will complement the food and celebrate the moment. And best of all, you don't need a lot of money to do it, either.
Start with the plates
First and foremost, table setting is about the food and the company. Start with the plates, glassware and utensils and make sure they serve a purpose. If you are serving soup, you will need soup spoons; if steak is on the menu, then steak knives will be appreciated. The utensils are there for the comfort of your guests and the job of the host is to make the guests comfortable.
Whether it's a backyard party with plastic cutlery or a more formal affair using Grandma's old world silver, the concept is the same. It's okay to use paper and plastic for picnics and backyard events, although silver adds an unexpected twist, but I never use them inside the house. These days, it's fine to mix and match china and silver and use an assortment of serving pieces. What's important is the feel of the pieces, not that they are all flawless and matchy-matchy. A mix of hand-me-down pieces and those found while treasure hunting at flea markets have stories to tell and are always appropriate.
Choose linen and cotton
Tablecloths and cloth napkins are preferred for indoor dining. Of course, it's quicker to just toss out paper, but washing tablecloths and napkins isn't really all that tough either. Cotton and linen textiles wash well and are a snap to iron if done while still slightly damp. Cotton/poly blends are less likely to wrinkle, which can be a big time-saver, and white linens can easily be bleached clean – that's why hotels always use white. Tablecloths are also great cover-ups for tables that have some wear and tear. If you're lucky enough to own a beautiful dining table, using elegant place mats instead of a tablecloth is a nice way to let the finish shine!
Adding pizzazz
Once you have the basic serving pieces set, it's time to add the pizzazz! Candles are a great addition to evening events as they add a warm and flattering glow. Long tapers are always elegant, but shorter votive candles scattered across the table can have a whimsical feeling. Generally, designers would say that there can't be enough candles, so don't hesitate to really load up the space, but remember to always use unscented, dripless candles. Scented candles interfere with the enjoyment of the meal and and trigger allergies in many people.
Guidelines for centerpieces
Anything that shows a little creativity and flair is always a hit. Floral centerpieces are, of course, a time honored part of the dining experience. As with scented candles, stick with blooms that have little scent. Don't block guests from being able to make eye contact across the table. Ensure your arrangements are set either below the sight line for everyone, or on tall pedestals that raise them above the eye. Arrangements from a local florist are always nice, but you may find what you need right in your own backyard landscape. Small vases of greens and native wildflowers make wonderful arrangements. If you're hosting a fall meal, such as Thanksgiving dinner, make great centerpieces from the "bounty of the season" such as hollowed-out gourds filled with chrysanthemums, or stalks of wild corn tied together with pretty ribbon. Even glass apothecary jars filled with acorns or small pine cones can be elegant and eye catching.
A designer's job is to make the best use of a given space, make it comfortable for everyone who uses the space and make it beautiful. These are the same concepts employed when setting a beautiful table. Make it useful, make it comfortable and make it beautiful.
Linda Merrill is a Networx writer.
Updated June 26, 2018.
Looking for a Pro? Call us at (866) 441-6648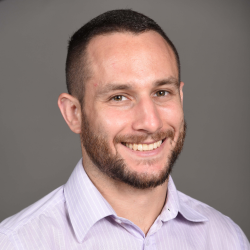 Landscaping Average Costs
Top Cities Covered by our Landscapers