Presenting Scrubba, the Portable Washing Machine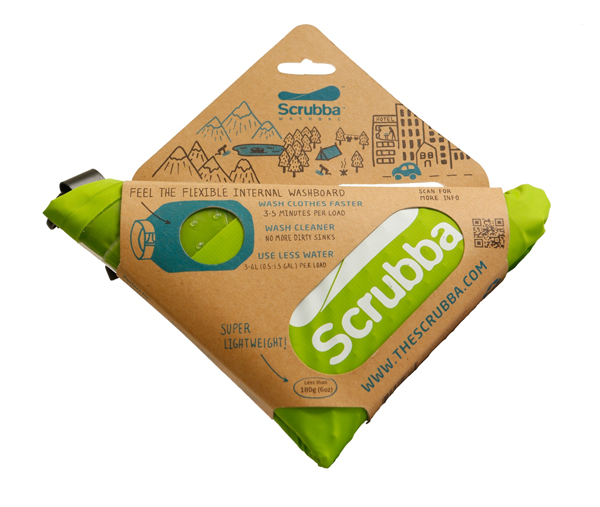 If you're a traveler, student or frequent mover, you may already be familiar with the plethora of so-called portable washing machines on the market. Most of these run on electricity and are geared toward apartment dwellers. Even those powered by a hand crank or foot pedal are basically rigid plastic tubs weighing at least several pounds … hardly "pack 'n go." Not so the Scrubba.
What Is It?
The Scrubba is a new portable washer designed for use in places like hotel rooms, hostels, dorms or campsites. The device weighs a mere 6 ounces and measures 2 square feet when laid flat; it may be rolled into a compact 6.3 x 2.4 x 2.4 inch package. Made of flexible plastic, it's super simple to squish into a suitcase or backpack.
I was favorably disposed toward the Scrubba from first glance because of its cute green color. The attractive chartreuse shade is available only in the US and Australia (where the product originated), though; residents of other countries have to make do with an unexciting olive drab.
What You Don't Need
Scrubba doesn't need any electricity. It relies for cleaning power on an internal "washboard," plastic nodules that scrub your clothes clean. Twice as effective as hand washing, the process requires no basin, bucket or any other equipment. Best of all, you don't have to put your fingers into icy water and laundry soap – no dishpan hands to spoil your camping trip!
What You Do Need
To use Scrubba, all you'll need is a little water, a tiny amount of liquid soap – laundry detergent (biodegradable, please, especially if you'll be dumping it directly onto the ground) or body scrub (if you don't feel like packing a lot of bottles) – and your dirty clothes. The device can hold about a gallon altogether of clothes plus water, which translates to a couple of t-shirts, a pair or so of socks and a few undies ... what the manufacturers consider two days' worth of summer clothes. If you go sockless, you can stretch that a little further.
How It Works
The process entails six steps, according to the manufacturers:
1. Put clothes, water and cleaning product into the Scrubba.
2. Roll down the top of the Scrubba bag and clip its ends closed.
3. Open the air valve and squeeze the bag to deflate.
4. Press on the bag to rub clothes against the built-in washboard. This takes 30 seconds to 3 minutes, depending on the amount of cleaning power you want. Vary the pressure according to how delicate your garments are.
5. Open the bag to pour out the dirty water. Rinse your clothes with fresh water in the bag or under a shower or faucet. (ME: Isn't this really two steps?)
6. Wrap clothes in a towel and press to remove excess water. Then hang on a line to dry. You can buy a kit that includes a Scrubba, microfiber towel and travel clothesline. (See my previous comment.)
Advantages
Customer reviews so far are very positive. The energy- and water-efficient Scrubba is capable of handling pretty well all types of clothing, even heavy denim jeans, and will hold up through hundreds of wash loads. If the machine springs a leak you won't need to call on a handyman to fix it. Just DIY using a bicycle patch kit or flexible glue. At $64.95, Scrubba is affordable. And it sure would have come in handy that time when I was stuck in hospital for several weeks.
Disadvantages
I do have some tiny quibbles with this mini washing machine. One is that you'll need a source of water, not necessarily easy to find when you're camped on a mountaintop. You also have to line dry the clothes after washing, a procedure which requires a certain amount of space and time; what if your duds are not dry by the time you're ready to move on? Finally, for most campers and hikers, the quintessential experience is getting away from civilization and the trappings thereof. Going for a few days without clean clothes is the equivalent of dining on simple fare like slightly blackened campfire-baked potatoes and gooey s'mores … pure, unsophisticated pleasure.
Laura Firszt writes for networx.com.
Looking for a Pro? Call us at (866) 441-6648