Popular Floor Materials and Their "Looks Appeal"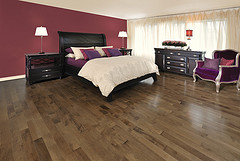 Funny how flooring tends to be one of the last things you think of when planning a home renovation. What's underfoot just doesn't seem as glamorous as marble countertops or elegant wall treatments. In fact, only about 7 percent of the typical remodeling budget is allocated for flooring installation. But a fabulous floor can be the perfect finishing touch to make your home truly sparkle. Let's examine the "looks appeal" of 6 popular flooring materials.
Hardwood
Hardwood is an enduring classic among flooring materials, treasured for its durability as well as its good looks. Its color varies according to the wood species and even which part of the trunk the lumber was taken from. For example, maple runs from white to light reddish brown, while walnut may be almost white to a deep purple-black! Surface finishes also affect the appearance of your hardwood floor, ranging in degree of sheen from satin to high-gloss, and often deepening the color or adding a tinge of pink, orange, green, or blue.
Laminate
Laminate is a relatively new type of floor material which has become extremely popular. It consists of a fiber or plywood backing topped with a plastic-coated photograph, usually of wood, though other textures, such as ceramic tile or stone, are also possible. Flooring produced in this manner is not only very affordable, it is also extremely low-care and easy to install, even atop an existing floor. Laminate comes in a vast assortment of wood grains and tones, from silvery "pine" to deep dark "hickory" or "tulipwood."
Bamboo
Bamboo is another new player on the flooring scene. Although a bamboo floor has the beauty and natural appearance of wood, it's actually made from a fast-growing type of grass. Slices, strips, or strands of bamboo are glued into planks with distinctive grains. The three grain patterns are:
flat or horizontal, made from slices of bamboo stalk; it shows off the growth knots typical of bamboo
vertical, composed of solid bamboo strips attached with adhesive; it has a stripy, sinewy pattern
woven, made up of thin strands of bamboo; it is, surprisingly, the strongest of the three and can be made in a plethora of styles.
Bamboo is a sustainable material, with a price tag just slightly lower than the cost to install hardwood flooring. Interestingly, it bears another resemblance to hardwood -- bamboo floors can be stained in a virtual rainbow of colors, and made as shiny or matte as you like.
Carpet
Carpet has long been a favorite floor covering, especially in bedrooms or dens, where a soft, cozy surface is desirable underfoot. You will find carpet in an amazing array of colors, textures, and pile heights. Berber carpet is trendy right now. Its low pile make it especially suitable for homeowners with disabilities (carpet with pile of 1/2" or less helps cushion falls but at the same time, allows for easy wheelchair movement) or even allergies, provided that the carpet is properly maintained. Go quietly neutral or bold and bright, whichever takes your fancy.
Vinyl
Vinyl floor has come a long way. This resilient, low-maintenance synthetic floor covering has done its eco-friendly homework and now comes in low-VOC versions (with adhesives low in volatile organic compounds to boot!). It has also brushed up its appearance. Better quality, thicker sheet vinyl flooring or vinyl tiles can be made to mimic wood or stone, quite successfully. If you're not so much into faux decor, choose vinyl flooring that looks like … well, vinyl, in fresh modern patterns like geometrics or paisleys, and even floor murals.
Ceramic Tile
Ceramic is a clay-based mixture, which is formed into a vast variety of tile shapes, sizes, and textures before being baked to hardness in a kiln. Color may be blended into the tile mix itself or added in a glaze which is applied prior to firing. There are several types of ceramic tile: glazed, extra-hard porcelain (glazed or not), earthy-colored unglazed terracotta, and rustic quarry tile. A ceramic tile floor may be laid in simple straight set rows or in intriguing custom patterns, often including decorative inlays or trims.
Laura Firszt writes for networx.com.
Looking for a Pro? Call us at (866) 441-6648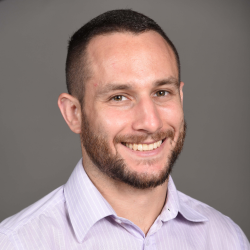 Top Cities Covered by our Flooring Contractors