Mother's Day Gift Guide For Home Improvement Fans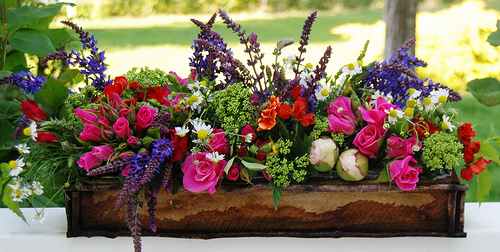 Mother's Day is an opportunity to give a gift from the heart. Or maybe from the workshop? If you or your mom are home improvement enthusiasts, check out this Mother's Day Gift Guide for seven gift ideas that she'll love.
1. DIY Mother's Day Centerpiece: Why give your mom an ordinary bunch of flowers when you could build her a robust and unique Mother's Day floral centerpiece? Think Thanksgiving centerpiece, but choose spring colors and fruits. Tulips, daisies, bee balm...choose big blooms with bright colors.
2. House Cleaning Services: Some mothers might take offense at this idea; others might totally love it. You know your mom; if she falls into the latter group, treat her to a gift certificate for a few hours of house cleaning service from a local house cleaning company.
3. Architectural Photo Books: Nice coffee table books are fun to get as presents. If you mother is fond of a certain style of decor or architecture, buy her a beautiful book of photographs featuring that style. Does she have a thing for "gingerbread" houses? French chateaux? Frank Lloyd Wright? A trip to your local book store could yield a gift that mom treasures.
4. A Glue Gun: I'm sorry if this sounds utilitarian, but bear with me. If your mom does not have a glue gun, buy her one. It's useful, and maybe will encourage her to get creative. Creative expression is a good gift to give someone.
5. Plants for Her Garden: One of the best things I've ever given my mom was three robust perennial plants for her garden. Cut flowers wilt quickly, but perennials bloom year after year. Herb plants make great gifts, as well as flowers.
6. Gift Certificate for Furniture Refinishing: Almost everyone has a piece of furniture that he or she needs refinished. Give your mom the gift of services of a fine painter, who will restore her favorite item of old furniture to its former glory.
7. Home Improvement Workshop: Stores like Home Depot offer home improvement workshops, a fun way to empower your mom if she has caught the DIY bug. Whether you are learning from a carpentry expert in San Diego or in New York City, a do-it-herself workshop could be a fun treat for Mom .. especially if you attend with her.
Updated November 8, 2018.
Looking for a Pro? Call us at (866) 441-6648