Master Bathroom Ideas That Will Delight The Most Modern Romantics
What's the most delightful bathroom remodel you can imagine? Renovating the master bath, of course. Being the proud possessor of private facilities adjoining your master bedroom implies that you have at least one other bathroom that you can use for the duration. (Whew!)
But even more, remodeling a master bathroom means creating the perfect private spot for relaxation and romance. At the same time, you can play with today's design trends, choosing what best pleases you and your partner.
Presenting … a photo essay featuring 10 romantic master bathroom ideas, followed by modern and practical bathroom remodeling tips.
1. Statement Tub As Centerpiece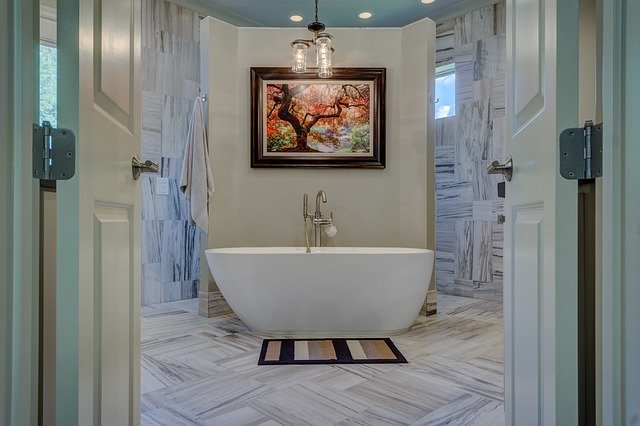 The romantic statement tub is one of the greatest master bathroom ideas ever. Here's an elegant, up-to-date example – a freestanding bathtub which dominates this room with its clean-lined simplicity. Boldly patterned tile and some intriguing wall art complement the bath to create a very pleasurable atmosphere.
TIP: When planning your master bathroom remodel that includes a statement bathtub, choose the tub first. Then select the rest of the elements to coordinate.
2. Bathtub Built For Two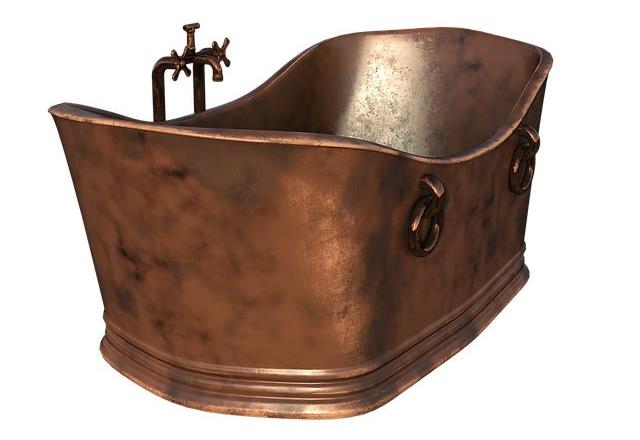 Check out the droolworthy copper master bath tub. Note an all-important detail – not only is this over-the-top tub large enough for two to cozy up in, the hardware is positioned in the middle, not at the end. That mean no one ends up squashed against the faucet.
TIP: Go as wild as you wish when installing a new bathtub. But avoid moving the plumbing, if possible. This simple tip will save you money on the cost to remodel your bathroom.
BONUS TIP: For a super-sized bath, you'll need a generous supply of steamy H2O. If your current hot water heater is not up to the task, consider a replacement or opt for an on-demand water heater.
3. Pick Your Pleasure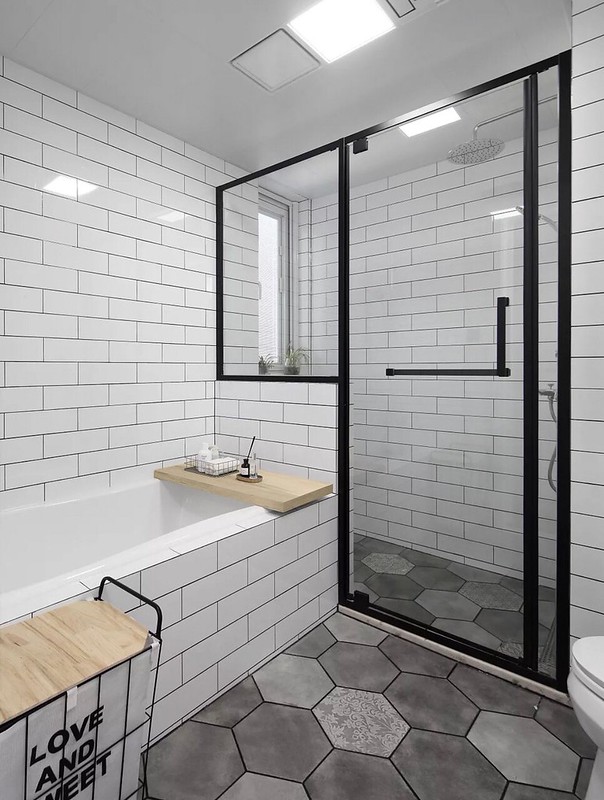 Who else is a fan of separating bath and shower in the master facilities? Here's a particularly pleasing example of this trend. Picture yourself briskly spritzing in that light, bright walk-in shower before work or after the gym, then luxuriating in the roomy soaker tub on a relaxed evening. Love: that very 2020's gray ceramic tile floor.

TIP: This type of tub/shower combo is ideal even if you only ever end up using the shower. It offers the kind of flexibility that adds value when you sell your home.

4. Free-Spirited Shower Spray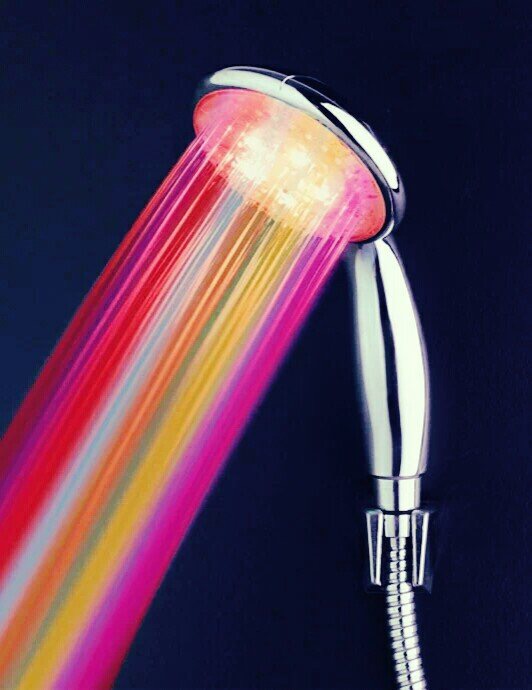 True, a multicolored LED shower could be cheesy, rather than charming. But somehow, shared with the right person at the right moment, this particular version promises to embody psychedelia meets disco meets techno in a lovingly lighthearted, of-the-moment way.
TIP: If your favorite color is "green," you'll be pleased to know that the energy-efficient lights in this shower are powered by the water pressure itself. And if you'd like to go green in a more subdued way, install a new WaterSense low-flow showerhead.
5. Concealed Commode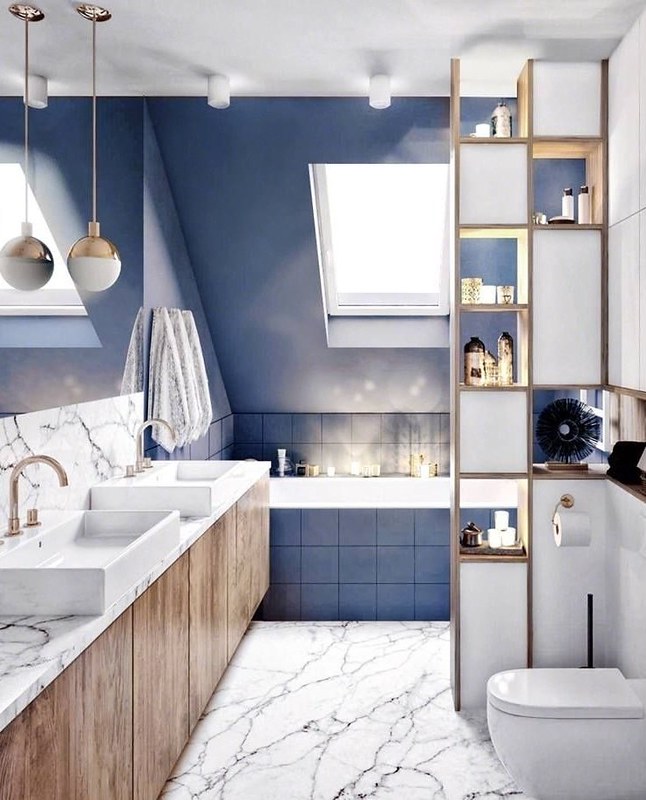 In a beautiful bathtub dedicated to romantic pleasure, nothing can spoil the mood as fast as a big ol' toilet dominating the landscape. Here's a fresh idea -- hide the WC discreetly behind a simple-to-install partition.

TIP: Build a few niches into the partition to hold all your favorite mood-enhancing essentials, like scented candles and massage oil.
6. Lower-Profile Toilet

An alternative way to de-emphasize the commode is to install a thoroughly modern tankless toilet. The wall mounted model shown here has a profile not much bigger than the vessel sink. Besides, the intriguingly colored wall tile and those exotic arches are much more attention-grabbing.

TIP: Spend bathroom time de-stressing, not disinfecting. Tankless toilets are super easy to keep clean, since they're constructed with fewer nooks and crannies.
7. About The (Ahem!) Bidet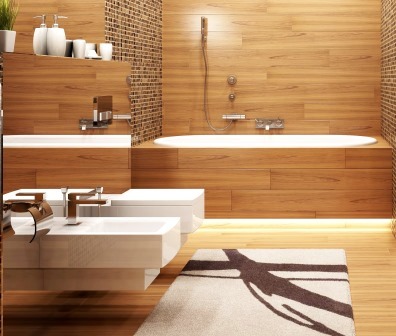 Speaking of discretion, a bidet is a must-have for very personal hygiene. This is definitely the classiest one we've seen, with plumbing fixtures in stylish squared shapes paired with a Zen rug and cozy wood look tile.

TIP: Give your retreat the luxe vibe of natural wood without the maintenance. Use easy-care wood look tile …. or the new waterproof hardwood.
8. Bedazzled Basins

Take your master bathroom sink style up up and away out of the everyday with hammered copper sinks like these beauties. Notice how the bling-y metallic theme extends to the gold-framed double mirrors and contemporary light fixtures, on a subtle background of creamy tile.

TIP: Small, attractively framed mirrors above the basins look much more modern (and flattering) than a huge expanse of glass. And they're lower-maintenance, to boot.
9. Va-Va-Voom Vanity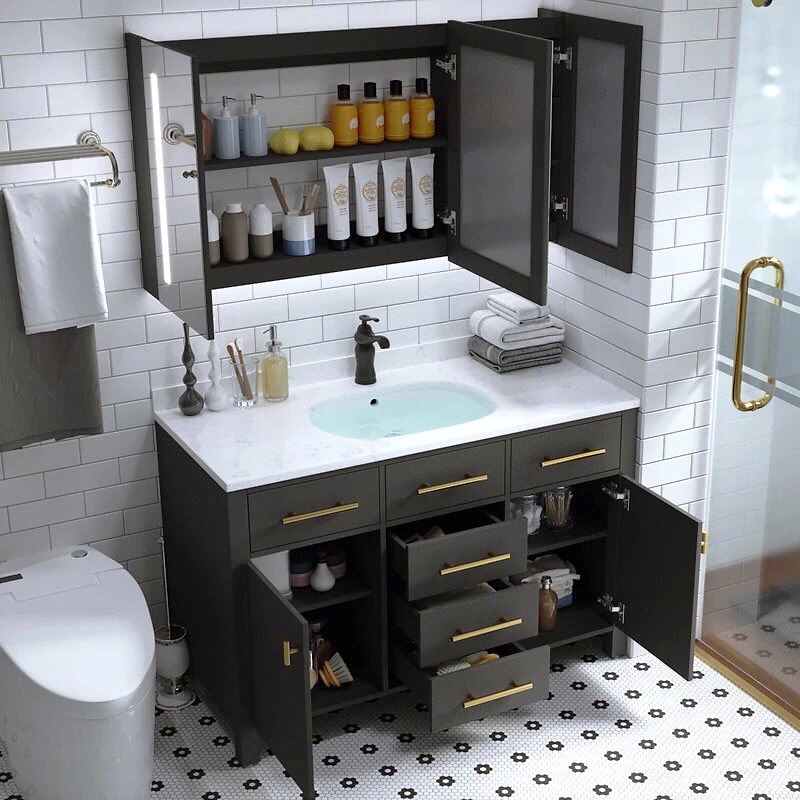 There are at least 3 major things to love about this clean-lined vanity. Its sultry black shade is oh so sensual, it nestles a sleek undermount sink, and it offers up an abundance of space – an expanse of quartz countertop plus storage for tons of skin care potions and shower supplies.

TIP: Countertop space matters, particularly when a single basin serves for the both of you. Here you have oodles of room for twin toothbrushes, towels, and more.
10. Little Things That Mean A Lot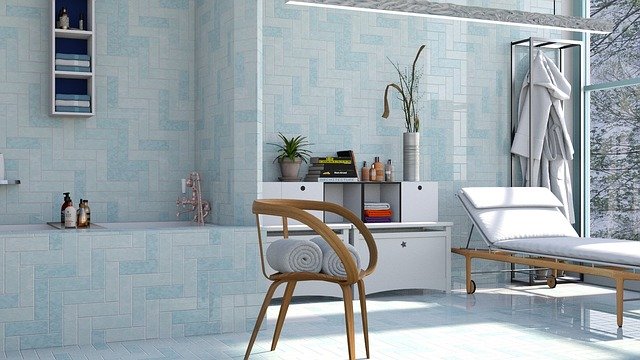 Loving attention to detail makes this stand out among all the master bathroom ideas. While the intriguingly-variegated offset subway tile is the star of the show, we also adore the air-purifying potted plants; the light, bright window; and the plush seating. What a soothing spot to lounge with your sweetie and talk about your hopes and dreams!

TIP: Find a remodeling contractor who'll take time to pay attention to the details and make your master bathroom dreams come true.
Laura Firszt writes for networx.com.
Looking for a Pro? Call us at (866) 441-6648