Make the Most of a Small Living Room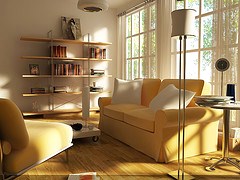 Small is beautiful … or so they say. Nevertheless, an undersized living room does pose a few unique decorating challenges. Learn how to keep your small salon feeling cozy, while at the same time taking away that unpleasantly cramped feeling.
Light it up. An abundance of light sets an airy, open tone in a living room of any dimensions, but is especially important in a small one, to prevent a claustrophobic feeling. While natural daylight is the best, installing electrical fixtures fitted out with low energy, full-color-spectrum bulbs is a close runner-up.
Color it bright. Don't be afraid to use a bright color that you love. Just be sure to confine the boldest tints to small quantities, or combine them with more subdued shades of the same hue. And stick to the "no more than 3 basic colors in one room" guideline to avoid overwhelm.
Unify. If, as is often the case, your limited living room is part of an open floor plan, perhaps in a condo or tiny house, unifying the various spaces will help to create a comfortable flow. The living room rug might pick up the turquoise background of a poster over your dining table, for example.
Declutter. Even the minutest amount of clutter will stand out like a sore thumb when it's in a small space. Makes sense, when you think about it: the mess does take up a greater percentage of a teeny room's real estate. Give away, sell, or recycle anything that does not serve an esthetic or practical purpose.
Multitask. In my own small living room, I have a pair of end tables, one on either side of my sofa -- convenient spots to put down a book or a cup of tea. Because each has two large drawers, they do double duty as the go-to place for stationery (yes, I still use the paper kind on occasion) and important items like the A/C remote and an emergency light for the frequent power failures we get around here.
Know yourself. Decide what furnishings work for your lifestyle. For instance, that same undersized living room I mentioned previously does not contain a coffee table. Even though it's normally considered a standard decor item, I just don't have much use for one … at least not enough to justify taking up valuable floor space.
Don't be shy. With a tiny room, it is oh so easy to fall into the trap of thinking there is just one possible way to lay out your furniture. Take a weekend hour or two to experiment with new locations -- you may just hit upon an arrangement you love.
Open up. Strategically placed, a salvaged vintage window or door looks amazing and creates the illusion of openness. Attaching a few coat hooks or a shelf or two will add functionality.
Mirror. Adding a mirror or two to the wallscape of a petite living room is a suggestion you'll hear often … because it works to visually enlarge the area. However, be aware that the mirror's placement is important. You want to reflect the sun streaming in, or a striking piece of art, rather than the entrance to your bathroom or a sink full of unwashed dishes.
Select a sofa. There's a bit of controversy about the best sofa style for a skimpy living room. Some people are in favor of skirted couches, which provide a discreet hidden storage space. Others prefer open-bottom style for an airier feel. Me? I have a sofa that shows off its shapely legs; my storage secret is the lift-open compartment under my bedroom mattress.
Laura Firszt writes for networx.com.
Looking for a Pro? Call us at (866) 441-6648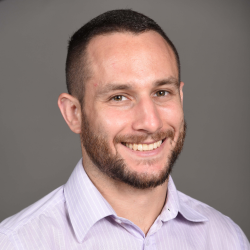 Top Cities Covered by our Electricians