How an Electric Outlet Will Enhance Your Outdoor Space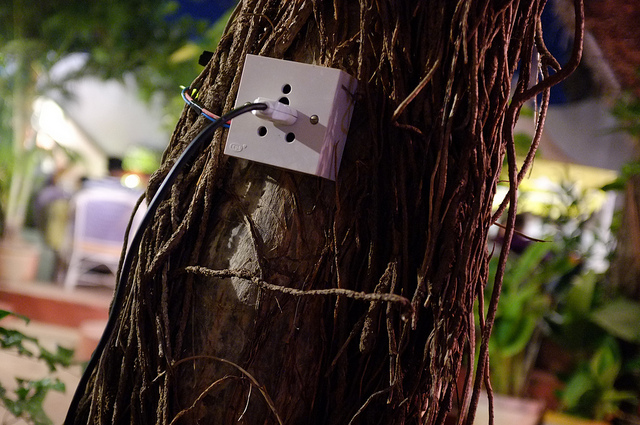 Who loves outdoor living as much as I do? Well … after a long, cold winter, the answer to that is probably just about everybody! Whether your home boasts a patio, a deck, a substantial outdoor room, or just the teeniest, tiniest urban balcony, there's something so pleasurable about being able to relax in the fresh air, without trekking too far from the comforts of home. And speaking of comforts, we've got an easy way to make your exterior space even more comfortable. Add an electrical outlet or two. Here are a few suggestions for the best ways to use it. TIP: Make sure that you install only a GFCI outlet for your outdoor needs, as required by the electrical safety code.
Light
Experiment with the type of outdoor electrical lighting that will ideally match your mood and enhance whatever excitement is going down at the moment. For example, a family cookout, followed by an evening of board games on the porch, will most likely call for illumination bright enough to determine whether it was, indeed, Miss Scarlet who offed Mr. Black in the study with the lead pipe. Or dazzle up a late night grownup party by hanging a few magical strings of twinkling fairy lights.
Cool and heat
Plug in either a weather-resistant outdoor fan or a gentle mist cooling system to provide a comfortable temperature in your outside area on the sultriest of dog days. In many states, summer days can often segue into surprisingly chilly evenings, so you may well find that an outdoor-rated heating system is a must even in July and August (and will extend the coziness zone to allow you to enjoy your deck or patio well into next fall).
Work
If outdoor work is your pleasure, tend to your yard or your vegetable patch with ease. An outdoor outlet will provide a convenient place for you to juice up the ol' garden tools. Trimmers, leaf blowers, saws, and the like will operate with a good deal more power than is available via battery, yet without the noise, mess, and general hassle that you get when you fuel up with gasoline. (Just think – no more winterizing your lawn mower or worrying about potential gas spills to contaminate your soil and pollute the air.)
Play
Bring your unique "garage band" beat out into the open as you practice your electric guitar, bass, keyboard, or kazoo under the sun and stars. If you – or the next door neighbors! – prefer a more tranquil, Zen inspired sound, make use of that handy outdoor electric outlet to run a soothing stream of water through your garden fountain, instead.
Cook
There's nothing like tending the flowers, playing on the lawn, or lounging in your deck chair with the latest bestseller to help a body work up a healthy appetite. When you install an outdoor electric outlet, it's simple to use small appliances to whip up your favorite treats, from fresh, hot popcorn to crispy grilled cheese sandwiches … or how about a batch of slow cooker mulled wine? Of course, for many folks, outdoor cooking is synonymous with searing slabs of beef – or gigantic Portobello mushrooms, according to your inclinations – directly over an open source of heat. An electric grill will heat up fast and is easy to clean. As an added advantage, it doesn't off-gas fumes and carbon monoxide, like charcoal or propane and it is fire safer, to boot. To accompany the meal, chill a vintage bottle in your outdoor wine fridge or prepare a refreshing pitcher of lemony tea, complete with ice cubes from your outdoor freezer.
Laura Firszt writes for networx.com.
Looking for a Pro? Call us at (866) 441-6648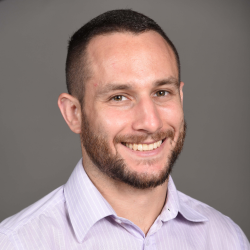 Top Cities Covered by our Electricians