Fall Lawn Care: Tips And Tools To Simplify This Autumn Chore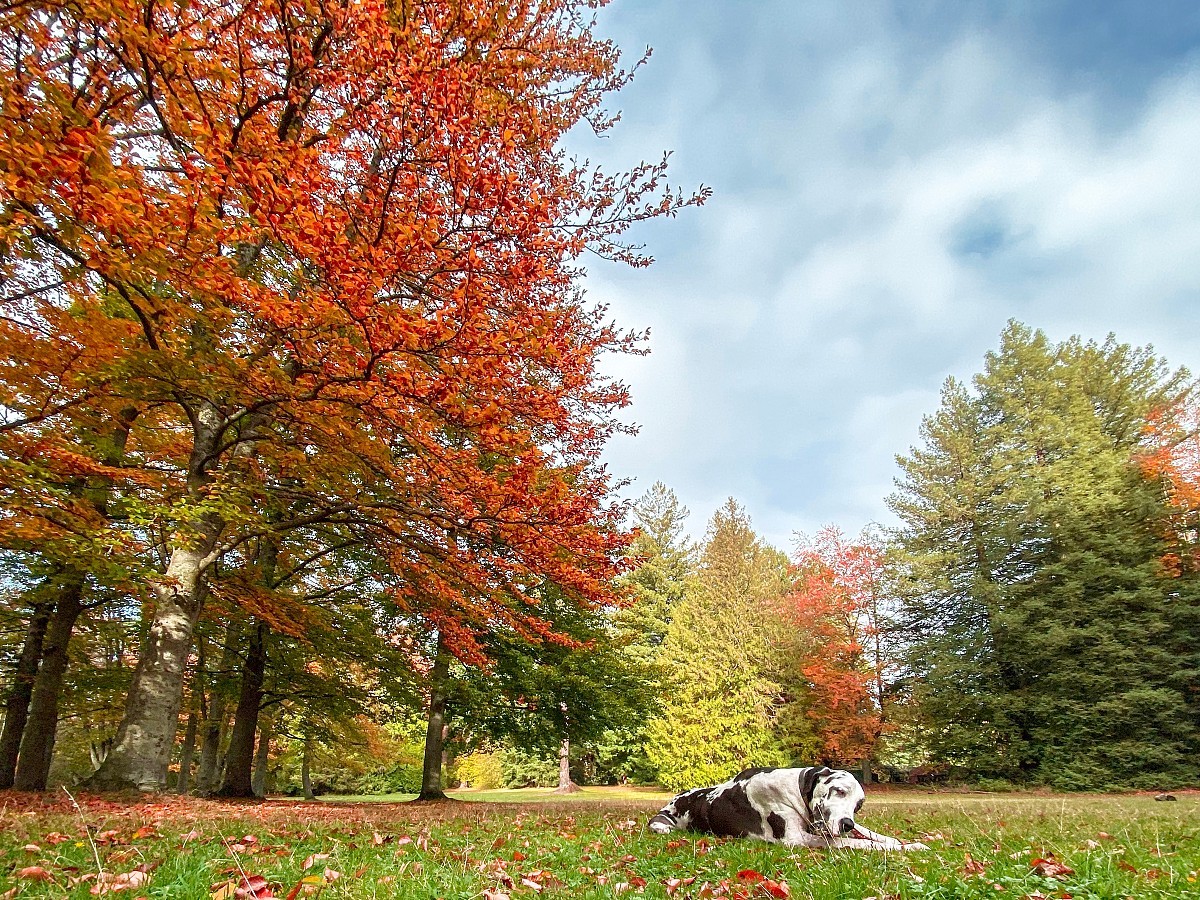 What does the word "autumn" bring to mind? If it conjures up pictures of yourself slaving away at lawn care tasks, maybe you need a little attitude adjustment. Take a look at these 7 tips for simplifying your lawn care and your life. They'll give you time for long walks through the colorful fall landscape, baking -- and eating -- apple pies, or cheering your heart out at a football game -- all the things that are truly important as the season changes.
1. Buy lawn repair in a kit. Chances are good that your lawn is looking a little (or a lot!) patchy after a long, hot summer. Overseeding your lawn in the fall will fill in those unsightly bare spots. Take the easy way out by purchasing an all-in-one lawn "repair kit," which offers a premixed blend of grass seed with fertilizer and mulch.
2. Simplify leaf clean-up from your lawn. Tempted to follow Dr. Google's advice and just let those fallen leaves lie? Beware. Too much of a good thing can not only smother your lawn but also put you in your HOA's bad books.
Instead, gather the tools you need to make autumn leaf clean-up a snap:
A large, lightweight rake will take care of basic Leaf Removal 101
A smaller metal rake will serve to loosen the remaining leaves that are stubbornly stuck in mud or grass
A leaf blower can either kick your fallen leaves to the curb … or blow them onto your garden bed to protect perennials against the ravages of winter
A leaf tarp provides the perfect surface to rake or blow the leaves onto for easy removal and disposal
3. Shred fallen leaves – it's fast, it's free … and even fun. Use your lawn mower to pulverize some of that pesky ol' fall foliage. Go on. We know you want to. Then repurpose the leaf shreds as a free source of garden mulch or brown matter compost. (Don't try this tip with wet leaves, though, unless you really want to make a soggy mess of your mower.)
4. Mulch around your trees to knock 2 tasks off your list at once. Mulching your property's trees with those newly shredded leaves will knock out 2 tedious lawn care tasks in one fell swoop. The leaf mulch will keep stray weed seeds from springing up, so you won't have to worry about weeding next to your trees. No more oh-so-carefully trimming your lawn around tree trunks, either.
5. Rent an easy-to-use aerator for an afternoon. If your lawn is planted with a cool-season grass species (such as bluegrass, fescue, or rye), bring home a lawn aerator from your local garden center one fall afternoon. Running this handy device over your grass will help achieve the healthy green lawn of your dreams. Wait till April or so to aerate warm-season grass.
6. Jumpstart next spring's removal of lawn weeds. Wouldn't you just love to welcome next spring with a smooth, weed-free stretch of grass? The best time to start on your project is right now. Apply an organic herbicide -- like corn gluten meal (yum!) -- as a spa-like lawn treatment in autumn, before daytime temperatures dip much below 60 degrees F.
7. Consider the simplest method of all -- "hands-off" lawn care. When you're short on time and energy to devote to lawn and garden maintenance, don't struggle on alone. Give yourself a break and consult with a landscaping expert. You may be surprised at the number of easy yardscape options available to you – they range from professional lawn care to replacing your lawn with low-maintenance ground cover or xeriscaping.
Looking for a Pro? Call us at (866) 441-6648