DIY Roofing – Is It Worth It?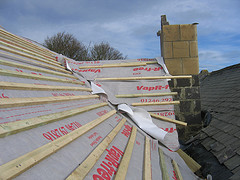 Bryn Pinzgauer, Flickr.com
A roof, by definition, is a dangerous place; it's high, usually sloping, and has no fence or rail around it. Any time you go up on a roof, you are in a dangerous situation. Therefore, when attempting to solve roof problems on your own, you should ask yourself some tough questions. Is this particular roof repair within your DIY capabilities? Do you already have the right tools and equipment? How much money would you save from a house roof replacement project by doing it on your own? Is it worth the time, effort, and risk?
Doing it Yourself
If you need to perform a minor repair, like fixing a leak or replacing a few shingles, you may be able to DIY. You can repair small sections of shingles that have broken or fallen off by simply detaching and replacing them using roofing cement and a caulking gun. But remember: this is only advised if you're comfortable spending time on the roof and can do so safely.
When working on the roof, make sure to wear rubber-soled shoes to prevent slipping, and always have someone else on the ground watching you. Do not attempt to go out on the roof in cold, windy or rainy weather and look out for power lines.
In addition, check out these 2 important considerations before you start:
Warranty. Will your warranty be voided if you attempt DIY roof repair? Read the fine print carefully.
Insurance. Does your homeowners insurance policy cover non-professional roof repair? If not, a future claim for damage may be refused and you might even have trouble financing or selling your home.
Advantages of a Professional Roofer
For major repairs that are beyond your expertise or complicated procedures that require spending long periods of time on the roof, it's best to hire an experienced professional from local roofing companies. Additionally, a roofer should inspect your roof periodically for damage caused by the elements. If you live in a cold climate like Buffalo, New York, freezing temperatures, snow, and ice place a burden on your roof. In warmer areas, high temperatures can warp or melt shingles. There are often signs of a problem waiting to develop that only a professional can identify. Also, a roofer may be able to spot insulation problems which might be reducing your home's energy efficiency.
Sometimes doing these small repairs on your own could save you a few hundred dollars. However, it's only worth it if you can fix the roof safely and successfully. If the job is more difficult and complex, such as installing hurricane-proof roof shingles an inexperienced homeowner may actually do more harm than good. When roofing problems aren't treated competently, they tend to recur or get worse, causing you to spend much more money over time.
Updated March 14, 2018.
Looking for a Pro? Call us at (866) 441-6648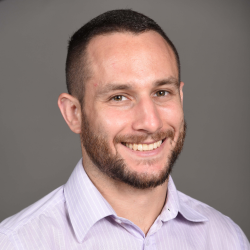 Top Cities Covered by our Roofers