Concrete Decks and Patios: Low Prices and Lots More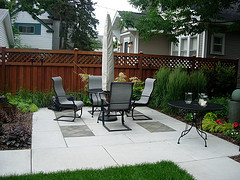 Thinking of adding a patio or deck to extend your home's living space? Concrete decks and patios have a well-deserved reputation as being easy on the budget. But their affordability is not their only virtue. Outdoor concrete installations have lots more to offer homeowners than low price alone.
Low Maintenance. Exterior concrete requires exceptionally low maintenance. There's no need to spend hours staining or painting. Usually a quick spray down with your garden hose will be enough to restore its attractive appearance.
Durability. Concrete is also strong and long-lasting -- it won't splinter, rot, burn, or become infested with termites. The downside, of course, is the difficulty of removal, so make sure you know exactly what you want before you install a concrete patio or deck.
Great for Building a Garden Living Space. If you'd like to create a garden living space that's usable for a large part of the year, think concrete. It's easy and safe to incorporate a fire pit or fireplace (or even an entire outdoor kitchen -- super trendy!) into a concrete patio design. Want to add a soothing water feature or a few pieces of handy built-in concrete furniture, such as tables and seating? No problem.
Gorgeous Textures and Colors. If you think a concrete patio or deck install will be drab and dreary, you haven't seen today's concrete finishes! The range of textures and colors available is simply amazing. Please be aware, though, that sealing is advised to protect the finish. While this tends to make the surface slippery, the problem can be avoided without affecting its good looks by mixing a grit additive into the final coat of sealant.
Concrete Paver Advantages. Concrete pavers can give a lovely casual air to a patio or path. They may require more maintenance than slab concrete, though, in terms of removing weeds that grow in the sand fill between the pavers (minimize this by proper preparation before installing.) On the other hand, they are the most flexible option, whether you want to reshape, expand, or reduce the size of your patio, or even remove it completely someday.
Cracking Control. Concerns about cracking are valid. Concrete does tend to crack as it settles. However this can be offset by adding control joints (deliberately weakened lines), usually as part of a decorative pattern. The concrete will then crack along the joints and not randomly, so that the appearance is not negatively affected.
Zoning and Building Permits. Don't forget to consider local zoning laws and building permit specifications when planning construction in your outdoor area. Although a permit may not be necessary if you build less than 30" above grade, this varies according to your location, especially if you live in a flood hazard area. Requirements are generally more demanding for decks. Please note that building a concrete deck is not a DIY job, but one for a licensed contractor experienced at working with poured in place concrete. (In fact, we're surprised that deck construction of any kind is often thought of as a great do-it-yourself project. When you're putting up a load-bearing structure several feet above the ground, you have to really know your local building code.)
Resale Value. A deck or patio may be almost a "must" if you want to market your home, especially when most houses for sale in your neighborhood have one. Although you are not likely to recoup the full cost to install a concrete patio or deck when you sell, it will add curb appeal and attract more potential buyers.
Laura Firszt writes for networx.com.
Looking for a Pro? Call us at (866) 441-6648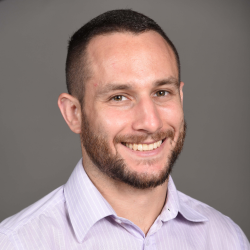 Top Cities Covered by our Concrete Contractors