The Best Type of Fence for a Dog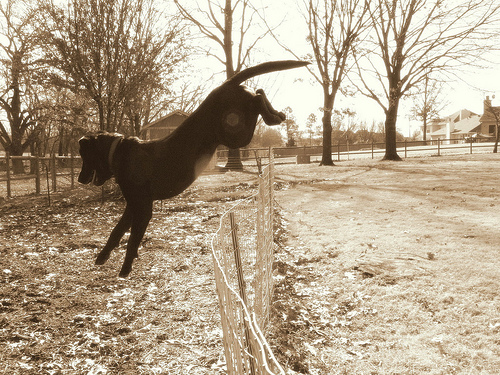 Photo of a dog jumping over a fence by OakleyOriginals/Flickr.

Congratulations on your new family member! Adding a canine companion to your household is such a life-changer, and in so many ways. Your new best friend will teach you and love you and protect you and always be there for a kiss and a snuggle. It's pretty amazing.

Of course, there are also a few adjustments you'll have to make. Budget for vet bills and pet food, schedule time for walks and sitters when you're away. Perhaps a puppy-training class. And very importantly, if your yard isn't fenced, you're going to need to get on that.

Fencing is essential to your dog's safety. It keeps them away from dangerous situations (like streets and bullies) and it also keeps other, potentially dangerous dogs out. Having a fenced yard will allow your furry friend to run and play and use that bathroom without having to be on a leash. It's great for them, and a whole lot easier for you, too.

So you may be wondering, what's the best type of fence for a dog? And the simple answer is: any fence that works. Really, that's the part that matters. The rest is mostly just aesthetics. So whichever fence you find good-looking enough to actually hire a contractor and install – that's the fence that's best for your pooch. Here're 5 of your options.

Chain Link
Common, and strong, but not so pretty. Chain link is a good option if you don't want to obscure your view, as it allows full visibility while remaining strong enough to restrain even the largest and strongest dogs. But visibility goes both ways, and with chain link you run the risk of exposing your dog to tormentors. Chain link (and other see-through fencing) is not recommended if you own a pit bull or other "bully" breed, as these guys are sometimes stolen for illegal dog fighting rings. It's sad, but definitely something to consider.

Picket Fence
These quaint and iconic options also offer great visibility, with quite a bit more charm. Picket fences come in various heights, but are usually best for smaller breeds. Just make sure that Fido doesn't fit between the slats!

Close-board Fence or Overlap Fence
If you picture a traditional cedar wood fence, you'll probably be imagining a close-board fence. Overlap fencing is similar, except the boards run horizontal instead of vertical. These fences offer the most privacy, as they are complete barriers and are often close to 6 ft tall. This is a great choice if you want your dog to be completely protected from the outside world. They're great for sensitive and easily-stimulated dogs, and also for breeds that are susceptible to theft.

Farm Fence or Snow Fence
These are similar in concept, though made from different materials. Farm fencing is made from simple wire in a rectangular mesh. Snow fencing is made from plastic and is also a mesh – imagine that orange plastic netting you see alongside the freeway. Both options come in rolls and are attached to simple wooden or metal posts. These are two of the very cheapest options, but you certainly sacrifice beauty. However if you prefer function over form, and find yourself on a tight budget, this may be just the right choice for you.

"Invisible" Fence
This is a system whereby an electric wire is buried under the ground around the perimeter of the home. The dog wears a collar which delivers some sort of warning (often electrical shock) when the dog nears the wire, thus creating a discreet barrier that the dog will not cross. Many people (or HOAs) prefer the look of an unfenced, open yard. Many others object to this sort of fence as cruel.

Good luck, and have fun with your new friend!
Updated June 18, 2018.
Looking for a Pro? Call us at (866) 441-6648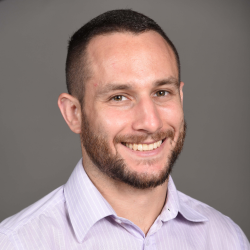 Top Cities Covered by our Fence Contractors