Beetle-kill Lumber Offers Inexpensive Alternative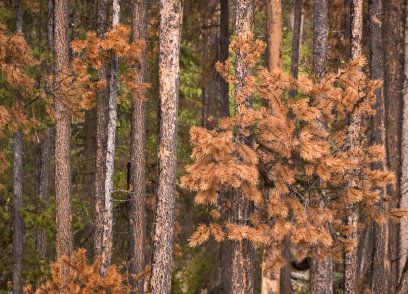 The gradual recovery of the building and remodeling industries is being slowed by high prices for lumber. However, there is a plentiful, sustainable alternative in beetle-kill wood that needs more government and consumer support.
The US Census Bureau reported 20 percent more new construction in March 2010 over March 2009. However, Associated Builders and Contractors, a construction trade group, reported higher costs for materials for all that new construction.
Lumber prices jumped 11 percent in the first quarter of 2010, and 24 percent from March 2009 to March 2010. Random Lengths, which closely tracks North American lumber prices and sets futures prices, releases a weekly average price for 1,000 board-feet of lumber. The price reached $353 on April 16, the highest price since May 2006.
Analysts say demand is suddenly outstripping supply. Many companies shut mills and reduced production at the start of the financial crisis, when the housing market crashed and construction halted. Capacity remains low.
A sustainable alternative
On the other hand, there is plenty of wood in western US states and Canadian provinces waiting to be sold - if there is enough demand. Western forests have been ravaged in recent years by a bark beetle epidemic. The insect has killed trees across 3.5 million acres of forest in Colorado and southern Wyoming alone, according to federal agriculture official. This week, he told a U.S. Senate subcommittee that the bark beetle is killing 100,000 trees per day.
The problem is widely blamed on wildfire suppression and global climate change. The former allows the beetle to spread quickly through thick pine forests that would naturally be thinned by forest fires. The latter is making winters warmer and milder, so the beetles are less likely to freeze and die in winter months.
The result is large swaths of dead trees that can now cause larger fires and possibly hasten global climate change by releasing tons of carbon. Instead of culling new trees for lumber, wood companies could be milling already-dead trees.
Peak To Peak Forestry is working in several Colorado counties to remove and sell the wood. However, Eric Hopkins of Peak To Peak told me he cannot bring production to viable commercial scale because of low demand and government regulations.
He said the wood sells in Colorado for 80 cents per board foot, which is comparable to other local lumber products, but higher than basic framing studs at warehouse home-improvement stores that sell high volumes at low prices.
Lowe's and Home Depot are not selling beetle-kill pine, and Hopkins said there is not enough awareness of the availability of beetle-kill pine as an alternative to standard lumber. Also, some municipalities bar the use of beetle-kill wood for framing and other structural work.
He is fighting these regulations. He said he has safely built all kinds of structures with beetle-kill wood, also known as blue-stain wood for the discoloration left by fungi the beetles carry into the wood. "I don't see where staining in the wood can affect the grain of it," Hopkins said. "... I don't see any problems."
An official federal forest service document also states that blue-stain wood is strong enough for framing work. "Structural lumber that will be concealed should not be downgraded for the presence of blue stain," notes the Forest Products Laboratory report."
Beetle-kill pine has a variety of uses in place of other lumber, but it is a limited-time opportunity. Experts suggest that beetles will have killed off at least 80 percent of lodgepole pines in British Columbia by 2013.
Looking for a Pro? Call us at (866) 441-6648