Basement Remodeling 101: Keep It Dry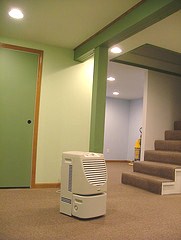 Would you like to add square footage to your house … for a home office, extra bedroom, or perhaps that deluxe new entertainment center you've been dreaming of? Remodeling the basement is an excellent way to expand your usable space without the hassle and expense of extending your home's footprint. What's more, it will reap about a 78 percent return on your investment when you sell your property. Don't forget the essential first step of any basement remodel, though: getting rid of moisture and keeping the space dry.
Moisture Due to Condensation
Unfinished basements are often humid due to insufficient ventilation. Open the windows and run fans in the area for several days before starting your remodel. To avoid long-term humidity problems, install an exhaust fan. If your laundry facilities are in the basement, make sure that your dryer is properly vented to the outdoors and never hang wet clothes inside to dry.
Reduce condensation in the air by insulating your cold water pipes to avoid "sweating" in the summer (theirs, not yours). To deal with a serious condensation problem, operate a dehumidifier and apply a waterproof coating to the walls.
Moisture that Enters via the Foundation
Water can seep into your home through the foundation in a variety of ways, and if it does, the basement is where it will end up … unless you take proactive measures to keep it out.
Clear out your gutters to prevent overflow. Make sure you have enough downspouts -- one for every 600-800 square feet of roof. Inspect the downspouts for leaky seams and check that they are safely channeling runoff from rain or melted snow a minimum of 5 feet (or even better, 10 feet) away from your home's foundation. If not, protect your foundation by installing downspout extensions.
Grade the soil of the surrounding yard so that it directs moisture away from the foundation. The ground should slope downward 1 inch per linear foot.
Plant bushes and flowers at least 1-3 feet away from your house, depending on their size. Their roots tend to trap water (particularly if they rot) and you don't want that close to the foundation. Decorative garden edgings, such as brick flowerbed borders, should be placed a similar distance away from the building.
Any cracks in the foundation or in your concrete driveway and walkways can also permit water to accumulate below grade. You can attempt to fix these yourself, using one of the kits on the market, but be warned: concrete cracks are both tricky to repair and potentially very hazardous to your foundation. For the most reliable work, consult a professional concrete contractor.
Anti-Moisture Installations
If you happen to live in a locale with an especially high water table (the natural level of water under the ground), you may need to have a sump pump (be sure to get a battery backup system!) or perimeter drains installed to control moisture below the surface of the soil.
While simply painting the basement's concrete floor is often suggested as a very affordable finish, it will not be a viable solution when you have an undersurface dampness problem. Instead, seal off moisture with a layer of dimpled polyethylene atop the concrete. Then go ahead and install new flooring. Ceramic tile or vinyl is a good water-resistant choice.
When the remodeling project begins, have a vapor barrier installed on both the walls and the floor. Use metal or wood furring strips to offset the framing from your exterior walls. Add insulation, which should include vapor protection to make sure that you stay warm and dry.
Laura Firszt writes for networx.com.
Looking for a Pro? Call us at (866) 441-6648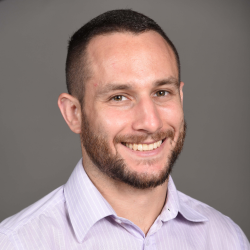 Top Cities Covered by our Concrete Contractors