A Gorgeous Gallery of September Flowers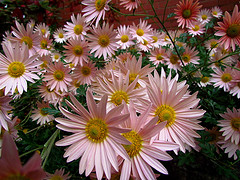 September is the time of year when children head back to school and the harvest begins to wind down in the Northern Hemisphere. While the weather is often mild and sunny, there tends to be a feeling of sadness in the air – if autumn is settling in, that means winter will eventually arrive. To cheer you up, we've assembled a virtual gallery of flowers that bloom in September. Enjoy the gorgeous blossoms … and the season.
Marigold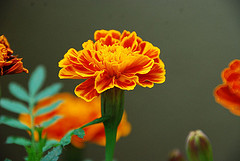 In brilliant shades of yellow, gold, and a rich tone close to burnt sienna, the multi-petaled marigold is an annual flower that brightens sunny gardens throughout the summer and fall. They are long-lasting in bouquets and can even be dried to provide indoor beauty all year around. Marigolds were one of my mother's favorites when I was a child … and one that I heartily disliked. At that time, I liked only pastel colors and delicate spring flowers. Now I've learned to appreciate this hardy, cheerful bloom.
Nasturtium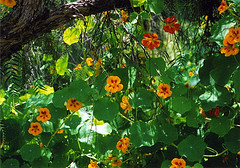 The nasturtium also glows in vibrant yellow and orange, but boasts large, pleasant-scented trumpet-shaped blossoms. Like the marigold, nasturtiums are sun lovers (though they prefer coolish temperatures), and thrive through the summer well into autumn in the north of the USA. You may see creeping varieties along Boston fences in late October, barring a frost. The leaves and flowers make – tasty – and gorgeous! – salad ingredients, and even the nasturtium's buds can be pickled as a sort of faux caper.
Pansy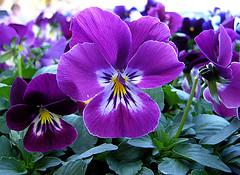 The shy pansy actually prefers cool weather and a bit of shade. Commonly thought of as an annual, it is actually a self-seeding perennial and blooms during the winter in the Southern states. This dainty flower can be found in colors ranging from deepest purple-black to pure white, with hues of mauve, gold, burgundy, and navy in between. The most familiar pansies have a single yellow spot at their center and five flat petals, although there are varieties which are full and ruffled.
Tiger Lily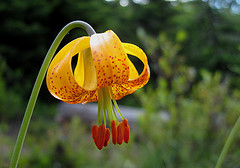 Well known as both a wild and a garden flower, the tiger lily is a tall and striking perennial, reaching heights of up to 4 feet. The plant bears lemon to dark copper blossoms which are often accented with dark brown "freckles." These stately lilies are literally late bloomers. From the time they begin to sprout in spring, it takes them approximately 3 months to flower, so they are at their most profuse in late summer and in autumn.
Rose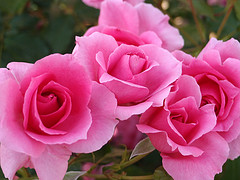 An article on September flowers would not be complete without a mention of the rose, although it is difficult to choose which of this flowering shrub's many virtues to focus on. Breathtakingly lovely; sweetly perfumed; and stunning in terms of variety of size, shape and color, roses are nevertheless surprisingly sturdy. These perennials do enjoy plenty of sunshine, room to grow, and organic matter for nourishment. Roses are at their best in the early summer and fall.
Aster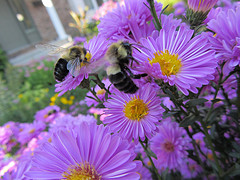 The aster is the archetypal September flower. It shows up in its delightfully vivid lavender, scarlet, pink, and white hues just as most of the other garden flowers are starting to look bedraggled. Ranging as tall as 8 feet in height, asters are perennials which do well in sun, but need cooler temperatures, particularly when evening comes. Their blooms resemble colorful daisies, with long, flattish petals surrounding a tawny center.
Hydrangea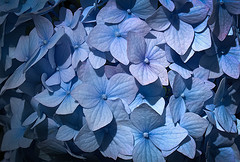 The hydrangea is an old-fashioned type of bush still beloved today. It flaunts showy multi-colored bunches of blooms. The periwinkle blue flowers are most typical, but pink, lilac, and white are also seen. Flower color depends on the pH of the garden's earth – acidity fosters blue, while alkaline soil produces pink. These lush, easy-care plants do best in partial sun, rich soil, and plenty of moisture.
Laura Firszt writes for networx.com
Looking for a Pro? Call us at (866) 441-6648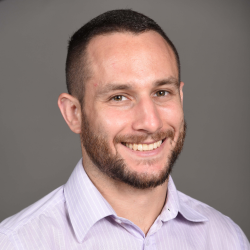 Landscaping Average Costs
Top Cities Covered by our Landscapers