8 Amazing Hometalk Ideas to Fancy up Your Fence
Fencing plays a starring role in the home decor news these days. You'll see weathered pickets or rugged fence planks ingeniously repurposed as living room wall art or headboards for the bedroom. Though sometimes a fence is just a fence – not a vintage find to be recycled, but an actual structure that provides privacy, security, and shade to your yard -- there's no reason for this essential item to be boring.
Presenting 8 fences imaginatively decorated by Hometalk members. Try one of these pretty fencing ideas yourself ... to delight the eye and add curb appeal to your home.
1. Marble-Embellished Fence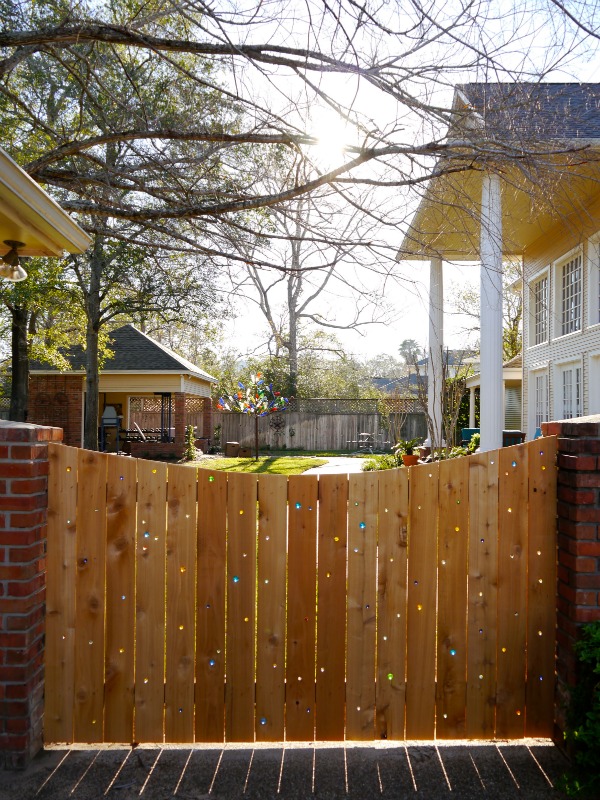 Here's a whimsically embellished fence courtesy of Creating Really Awesome Free Things (C.R.A.F.T.). Her mom created the shiny decorations by drilling holes in wooden fencing and wielding a mallet to pound in a jillion children's marbles. Who else loves the sparkle?
2. Peek a Bark Fence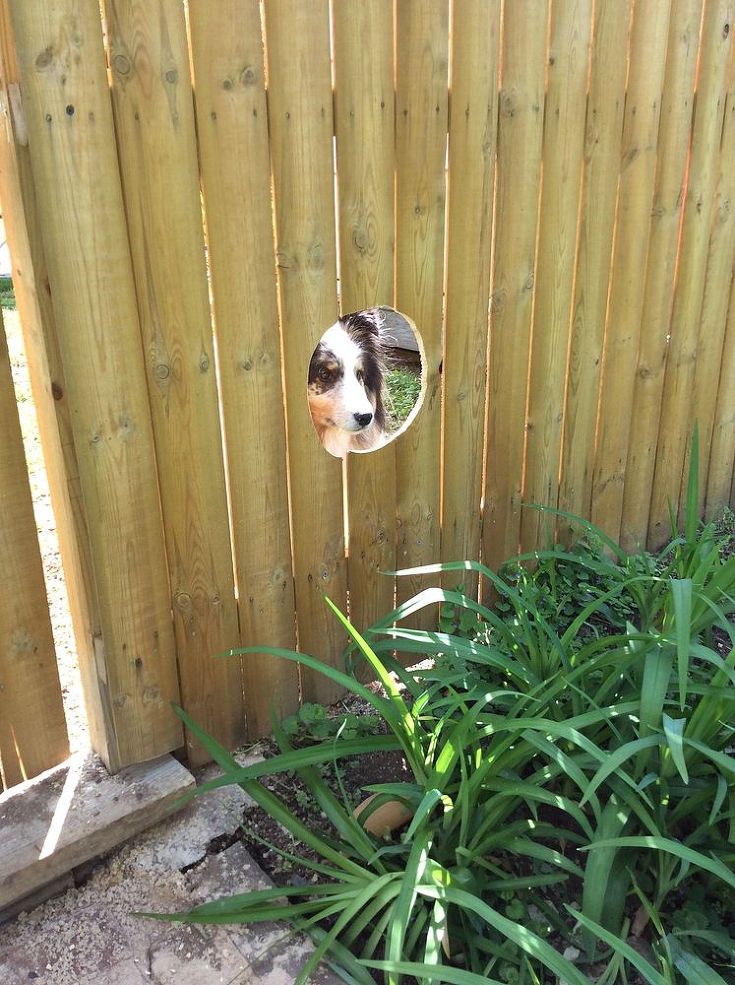 A privacy fence will keep passersby from peeking in, but what if you have a four-footed somebody who wants to peek out? Joe L cut a hole in his board fence to let his beautiful Sheltie buddy Blaze watch what everyone was doing in the back field. The peek a bark hole is lined with plywood so Blaze's fur doesn't snag.
3. DIY Repurposed Tin Can Hanging Planters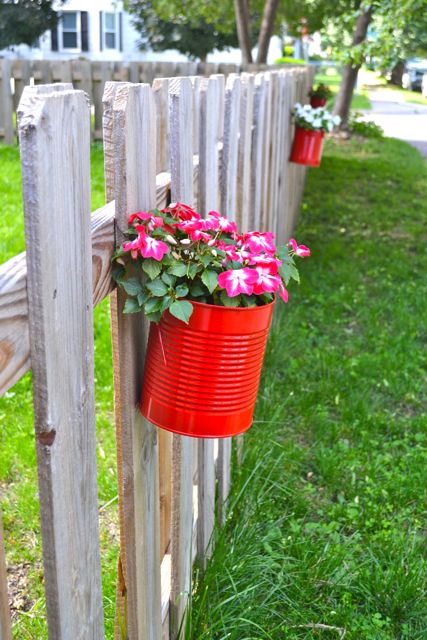 Try this cheap and easy way to add charming pops of color to an uninspiring stretch of fence. NewlyWoodwards hung her fence with spray-painted tin cans full of flowers. Voila! Instant rustic planters that brighten up the landscape on a budget.
4. Sunflower Fence Art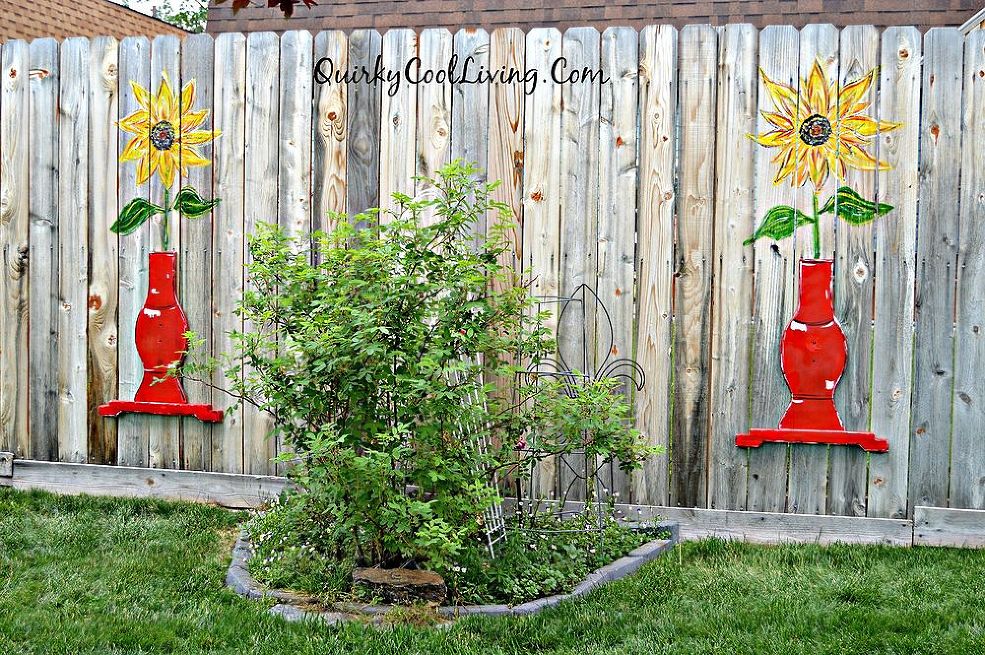 Quirky Cool Living used her backyard fence as a blank slate, on which she expressed her inner artist with the help of repurposed table parts. She daubed the table legs lipstick red and added a cheerful painted sunflower to each one.
5. Planter Boxes to Beautify a Fence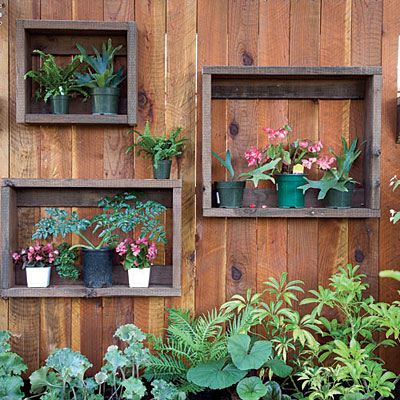 My Garden Shine crafted reclaimed pallet wood planter holders to beautify this fence, and then brushed them with waterproof deck stain. The protective finish keeps the boxes looking lovely no matter what the weather. Plants can be swapped out according to the season.
6. Fence "Planted" with Wheel Cover Flowers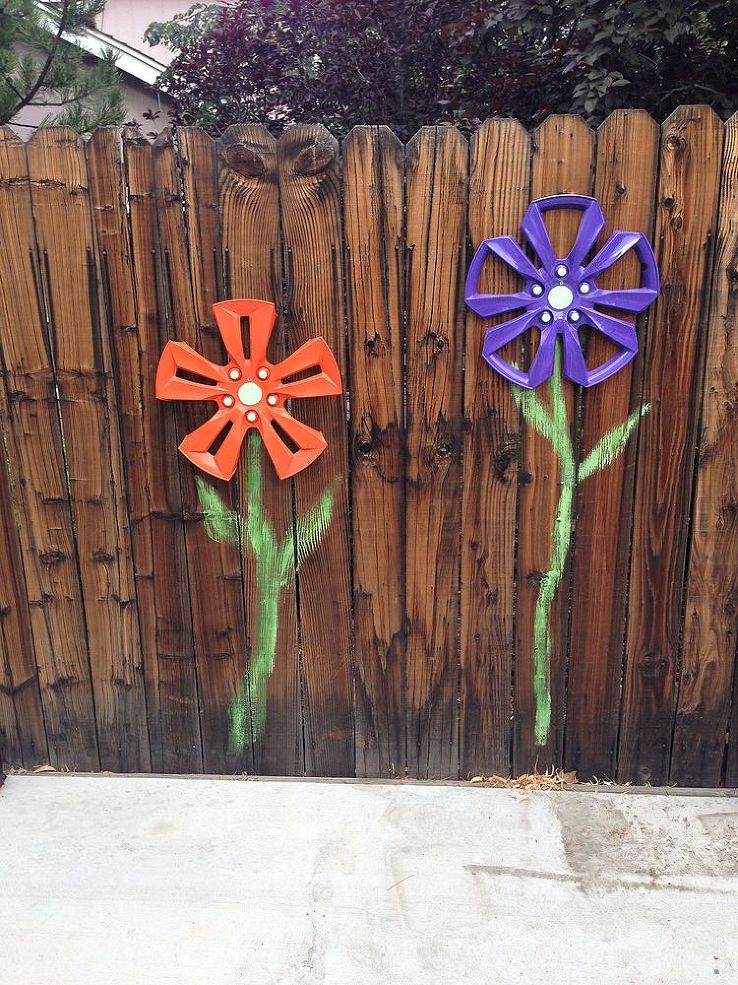 This imaginative fence update comes from Susan Shinn Cesarini and her mother. They painted metal wheel covers to look like flowers, attached them to the fence, and added free form "leaves." Way to keep your garden colorful all year round!
7. Spring Fence Flower Hangers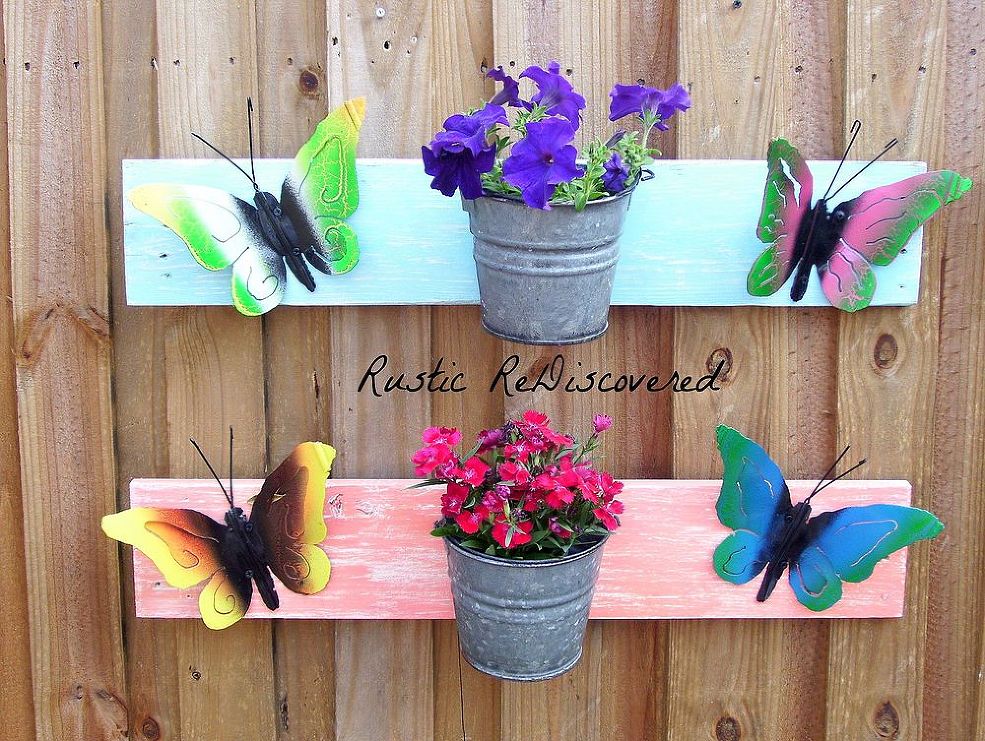 Galvanized buckets, metal butterflies, and scrap wood are three popular garden décor elements. Rustic Rediscovered combined them into brilliantly hued flower hangers that look tempting enough to attract some real-life butterflies to her Orlando fence.
8. Fence-Mounted Bird Houses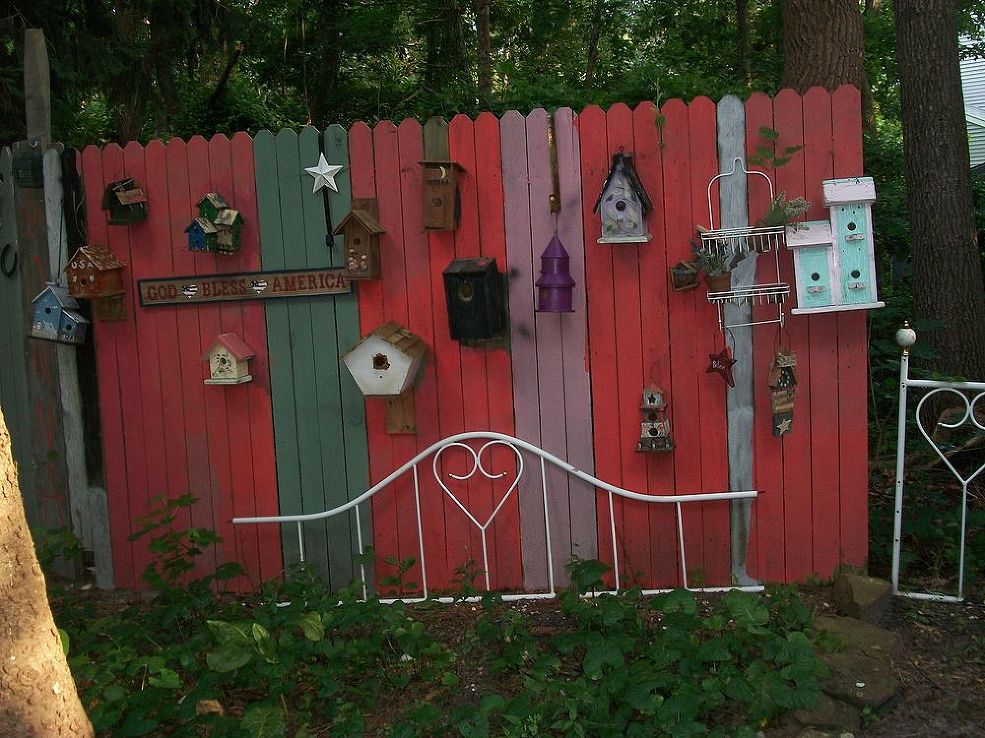 Donna S did a fabulous job of decorating her fence using recycled roadside finds and other bits and pieces. She started by using up leftover paint on the fence's eclectic color scheme and topped it all off with a fabulous collection of birdhouses plus a vintage iron bed frame.
Laura Firszt writes for networx.com.
Updated October 22, 2018.
Looking for a Pro? Call us at (866) 441-6648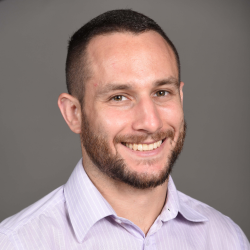 Landscaping Average Costs
Top Cities Covered by our Landscapers