10 DIY Renovation Pitfalls to Avoid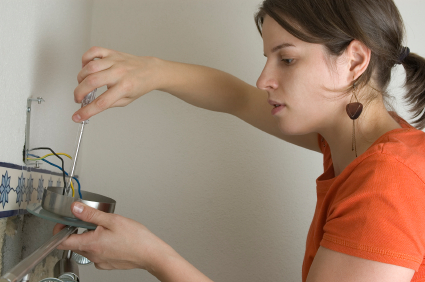 You are a happy homeowner, but you could be happier. Why? That avocado kitchen remodel that the previous owner completed 30 years ago makes your morning coffee taste bad. You ask yourself, "Is this a renovation I can do? Or do I need to bring in some professional help?"
Before you pick up your toolkit, check out the top 10 mistakes that amateur do-it-yourselfers make, and how to avoid them:
1. Underestimating Project Complexity
Can I do this? This, by far, is the first question you should ask yourself. The answer you give will dictate how well you are prepared for your project. The project needs to be looked at with a global view: one that incorporates all your skills (or lack thereof) and the multitude of possibilities that the project may entail.
The scope of the project and your skill set need to be aligned. Obviously, a bump-out kitchen remodel with all of its tasks is far less suitable for a newbie than a bathroom paint job, or installing a ceiling fan.
2. Unrealistic Budget
Unless you are very wealthy, you'll probably have a budget in mind. To ensure that potential unknowns are covered before work begins, allow a 15-20% budget surplus. This will ensure that you can complete the project without having to scramble near the end if things get more complicated than you first planned.
3. Failure to Expect the Unexpected
If you are working in an older home, there may be some physical damage that needs to be fixed as part of the project. For instance, one thing that I often see in bath remodels is water damage. The damaged area may not be huge, but it still has to be repaired. Although less reputable builders might just cover it up, I work with the homeowner for a repair that will stand the test of time, without blowing their budget sky high. The solution here is to keep an open mind, have the padding in your budget, and schedule and be prepared for some "what if" problems.
4. Scope Creep
This condition is more often seen in projects where a contractor is doing to the work, but it still happens with DIY projects. You may think, "While I'm in there, can I do this...and that...and...?" Next thing you know, the project is twice as big, the schedule and budget are totally out of whack, and your project is still not completed. Fight the urge to expand the bath remodel into a whole house remodel. Save a project for next time. You will appreciate the down time to recover your wits, and let the home remodel fund gain some strength.
5. Lack of Tools or Skills to Use Them
I have to admit it -- I have a lot of tools. But I use them on all types of projects. I do custom cabinetry, furniture, tile and hardwood flooring, in addition to trim carpentry, and framing. Chances are you will not have all the specialty tools that make a job go quickly and safely. Since I have used these tools for years, I am familiar with the safety issues and the best way to use them. If you need to rent or borrow tools, you may have a steep learning curve, and there is no substitute for experience.
If a 250-pound, 220-volt floor sander scares you...get help. Running a floor sander can be a rewarding experience. It can also punch a big hole in your wall if it gets away from you (see Items 2, 3 and 4 above).
Congratulations! You are halfway through the top 10 mistakes that amateur do-it-yourselfers make, and how to avoid them.
6. Poor Material Choices/ Over Build, Under Build
Picking tile or figuring out what type of hardwood flooring will look great in your living room is one of the fun parts of a project. The lesson here is to balance reno materials and appliances with the style and value of your home. That six-burner $5000 Wolf gas range is cool, but will it fit in your 88-square-foot kitchen? On the other hand, a linoleum tile floor just doesn't fit with granite slab counters. Keep things balanced and in line with the rest of your home.
7. Aggressive Timeline
Most projects will take longer to complete than you first thought. Chances are, you still have your day job, so your project is being done on weekends and evenings. This gets old pretty quick. I lived through that when I added 960 square feet to my home about a decade ago. After putting in an 8-9 hour workday, do you really want to sand drywall for another 3 to 4 hours? No, not really. This pattern will erode your enthusiasm, and slow you down. Plan for it!
8. Improper Sequence of Tasks
I have been called in to finish some projects that some owners started, but they ran out of steam (see 7 above). Once on site, I found that they began some tasks before others were finished. Learn from their mistakes: Don't schedule the carpet install before the drywall is done; it may seem obvious, but it happens. This same attention to sequence holds true for just about every type of project. Research here will pay off in the end.
9. Wanting it Now
This is one urge that is hard for beginners to control. You're raring to paint the bath TODAY after seeing a home improvement show on TV. But before you jump in, take a step back and look at the whole room. Plan your actions and ask yourself, "Do I want to replace any lighting, fixtures, cabinets?" Once you have the scope set, do the proper prep work, patch or repair the drywall if needed, clean the walls, remove fixtures etc. Then get out your painter's hat.
10. Changing Your Mind
Change is inevitable and it comes with the passage of time. One experience may trigger another, and then another. Proper planning and research will keep the project in your mind for a while before any work is done. This repeated "vision" will imprint into you, and allow you to plan effectively. What you don't want is to have a "new vision" happen halfway through your project, or a few months after the project has been completed.
If you're a brand new homeowner, before you jump into a big project, spend some time living in your home. Prior to moving in, it's safe to do some simple things like painting, but don't start moving rooms around. Live in the space, feel the day-to-day breath of the house, the ebb and flow of the seasons. You might like the way the winter sun reaches back into the dining nook. Then after you and your home have bonded, think of how to make it more your style. It is your home, and with proper planning and some sound advice, you will fall in love with it over and over again.
I hope you have enjoyed reading the top 10 mistakes that amateur do-it-yourselfers make, and how to avoid them. The fact that you found this article shows that you have put some thought into your project and have already mastered item 9.
Updated November 28, 2018.
Looking for a Pro? Call us at (866) 441-6648