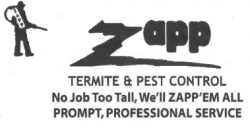 Peoples Choice
Overview
Reviews

(1)

Photos

(2)
Main Services:
Control and Elimination of Insects, Termites, Bed Bugs, and Rodents
Zapp Termite and Pest Control located in Neptune, New Jersey has been in business for over Thirty Years, serving the New York, New Jersey, Philly areas. Contact us and we will be more than happy to assist you with any of your Pest Control needs. From Bed Bugs, Roaches, ants, spiders, squirrels and other Rodents There`s no Job Too Tall We`ll ZAPP`em ALL !!. Call us @732-642-8770

Dave Hudson
Work Description: He placed chemical around our outer building to get rid of termites.
Comments: Danny did a great job. I would use him again.