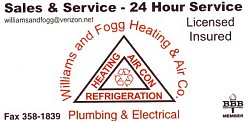 Williams & Fogg Heating & Air Conditioning Company Plumbing and Electrical
Write a Review
Prescreened by Networx
Williams & Fogg Heating & Air Conditioning Company Plumbing and Electrical

License:

2705-115430

Main Services:

Residential Plumbing and Electrical. Residential and Commerical Heating and A/C and All Types of Refrigeration for Commercial Customers

Years In Business:

12

Company Overview:

With over 30 years of experience, Williams & Fogg remains Richmond's premiere service for all your residential and commercial electrical, plumbing and heating & cooling needs. Saving you time and money, Williams & Fogg offers dependable service at competitive prices.


Electrical-

We have expert electricians that do all types of Electrical Services; Repairs, New Installation, Replacements & Upgrades, Receptacles, Lights, Fans, Panel Boxes, Water Heater Repairs & Installations, High Tech Visual repairs and much more. Our friendly technicians are trained to work quickly and efficiently. For all your service calls ... THINK WILLIAMS & FOGG!!

Plumbing-

We have expert plumbers that do all types of plumbing repairs, replacements and installations. Our friendly technicians are trained to work quickly and efficiently. For all your service calls....THINK WILLIAMS & FOGG!!

Heating and Cooling-

Williams & Fogg Heating & Air Co. in Richmond, Virginia, is your emergency repair service provider for heating, air-conditioning, and refrigeration issues. If your walk-in refrigerator or central heating unit goes out on you, don't hesitate to let us know. We service commercial and residential applications using the latest technology and methods. Williams & Fogg Heat, A/C, Refrigeration, Plumbing and Electrical is committed to outstanding quality and service at an extraordinary value. We consistently deliver A/C and refrigeration craftsman ship with great skill and attention to detail.

We view your business and/or your home as if it was our very own, and we offer complete professional consultation. Your problem or discomfort becomes ours. We help you solve either. Each and every Williams and Fogg customer will experience 100% satisfaction with our workmanship. This you can be assured.

Website:

http://www.awilliamsandfogg.com
Reviews By Customers
Review by: J. H.
Work Description: Cleaned up wiring in an electrical outlet box
Comments: Randy did the work. Very prompt, courteous and efficient. Would (and will) recommend William & Fogg to others.
Review by: S. R.
Work Description: replace cutoff valves to furnance and hot water heater, capped pipe to gas dryer and replaced venting for furnance and water heater. charged 1100.00 for this.
Comments: the vent he replaced the old one with is bent, was supposed to have been new but it was damaged. would not call again nor would I recommend services.
Review by: L. N.
Work Description: clogged pipes
Comments: problem has been fixed. thank you for your time and information. we were able to get the pipes unclogged.
Review by: D. G.
Work Description: replumbed camper trailer
Comments: Plumbers were very curtious and friendly. would definetly hire them for any further plumbing needs.
Review by: A. K.
Comments: I was especially pleased that the electrician was able to come to my house only a few hours after my initial phone call. He was very professional and worked quickly. I am very pleased with his work.
Review by: J. T.
Review by: M.
Work Description: Replaced florescent light ballist
Comments: Technician was friendly, punctual and professional.
Review by: Customer
Review by: B. O.
Review by: C.
Work Description: Numerous heating and air-conditioning installations and repairs.
Comments: These guys have excellent customer service they do the job right the first time but if there ever is a problem they will not hesitate to come back and fix it. I have been very happy with them and hope you enjoy them as much as I do.